Trucking news and briefs for Wednesday, Oct. 20, 2021:
JK Moving raises annual income for CDL drivers to $100K
With demand high for professional drivers, JK Moving Services – the largest independently owned and operated moving company in North America– has increased annual guaranteed income for experienced OTR Class-A CDL drivers to a minimum $100,000 – twice the national average for the position.
"We have a driver shortage in our country that has been exacerbated by growth in online retailing," explained Chuck Kuhn, CEO, JK Moving Services. "Despite the difficulty in attracting drivers, we remain committed to providing a best-in-class experience for our customers and that starts with investing in having a great team."
With the guaranteed income, JK salaries put CDL drivers among the Top 25 highest paying jobs in the nation, according to Glassdoor, a leader on insights about jobs and companies. In fact, in its annual list of highest-paying jobs in America, financial planning and analysis managers ranked No. 25 at $94,874, below the JK pay for CDL drivers. In addition, JK's CDL driver pay is well above the national industry average of just over $50,000 for this position, reported by Glassdoor. The minimum guarantee also ensures drivers, who can be stationed anywhere in the country, have steady income throughout the year.
Navajo Express begins migration away from 3G tech
Navajo Express (
CCJ
Top 250
, No. 121), one of the many trucking companies that rely on 3G cellular-based devices, is winding down its use of the soon-to-be-antiquated technology ahead of a nationwide phasing out of 3G in favor of 4G and 5G networks.
"3G technology sunsetting is a big deal: it's real, it's happening now, and companies should develop a transition plan now," said Deryk Powell, president and COO of Velociti , who is helping the Denver-based carrier implement the technology upgrades necessary for Navajo Express to maintain its fleet efficiency during the transition. "Now is the time to plan a fast and smooth transition to a network that is faster, more efficient, and better able to handle the exponential growth in the use of wireless devices."
By the end of the year, Velociti will replace Navajo's ORBCOMM 3G devices with 4G on-board systems, a transition planned to make sure Navajo remains in compliance with the mandated hours of service regulations.
ATA Truck Tonnage Index increased 2.4% in September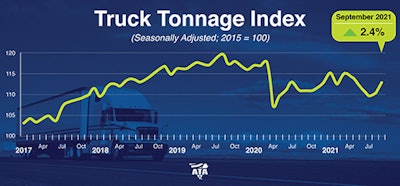 American Trucking Associations' advanced seasonally adjusted (SA) For-Hire Truck Tonnage Index increased 2.4% in September after rising 0.3% in August. In September, the index equaled 112.9 (2015=100) compared with 110.2 in August.
ATA Chief Economist Bob Costello pointed out that September's sequential gain was the largest this year. "It is good that tonnage rose in September, but it is important to note that this is happening because each truck is hauling more," he said, "not from an increase in the amount of equipment operated as contract carriers in the for-hire truckload market continue to shrink from the lack of new trucks and drivers. The drivers of truck freight, including retail, construction, and manufacturing, plus a surge in imports, are helping keep demand high for trucking services."
Compared with September 2020, the SA index rose 1.7%, which was the first year-over-year gain since May.