Trucking news and briefs for Friday, April 1, 2022:
Labor Secretary visits with Yellow to promote Registered Apprenticeships
Secretary of Labor Marty Walsh this week joined Pennsylvania Gov. Tom Wolf, leaders of the International Brotherhood of Teamsters and Yellow Corp. (CCJ Top 250, No. 5), and union members to announce the expansion of the Yellow's 17th Commercial Driver's License Driving Academy in Carlisle, Pennsylvania.
The expansion comes in response to the Biden-Harris administration's 90-Day Trucking Apprenticeship Challenge to get more well-trained drivers behind the wheel in good-paying jobs through Registered Apprenticeships.
Walsh met with Wolf, Teamsters' Vice Presidents Sean M. O'Brien and John F. Murphy, Yellow Corp. CEO Darren Hawkins and President Darrel Harris, and Teamsters Local 776 truck drivers and dockworkers at Yellow Corp.'s facility.
"The success of Yellow's CDL Academy in producing some of the safest drivers on the road reflects the great power and promise of apprenticeship to be a proven workforce tool in the trucking industry," Walsh said. "The 90-Day Trucking Apprenticeship Challenge has shown that joint labor management programs and public-private partnerships are critical, and that we succeed when we work together."
TCA accepting nominations for safety professional award
The nomination period for the 2022 Truckload Carriers Association Safety Professional of the Year — Clare C. Casey Award begins Friday, April 1. The nomination period is open through April 14.
The award recognizes a TCA member who goes above and beyond in the name of safety. Individuals can nominate themselves, someone within their organization, or another industry safety professional.
The nomination period consists of two rounds. Round 1 is open April 1-14. The Round 1 entry form includes questions regarding nominator and nominee information, the recent safety performance of the nominee's company and the nominee's industry involvement.
After the panel of judges has determined which applicants will move on to Round 2, nominators will be notified and will have until May 5 to submit a second entry form. Round 2 questions ask about nominee employment history, achievements and community involvement.
The winner will be announced at TCA's 2022 Safety & Security Meeting, June 5-7 in Nashville, Tennessee.
FMCSA acting administrator gets to 'touch a truck' at MATS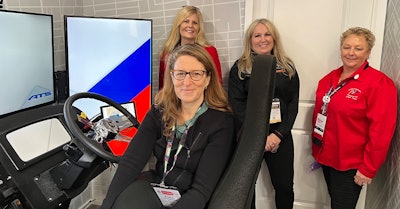 The Women in Trucking Association recently hosted Federal Motor Carrier Safety Administration Acting Administrator Robin Hutcheson on a "touch a truck" visit of WIT's traveling tractor-trailer at the Mid-America Trucking Show last week.
Hutcheson was given a detailed tour of the association's ambassador trailer, WITney, and its tractor that pulls the educational trailer.
"Part of WIT's mission is to encourage the employment of women in the trucking industry and to minimize obstacles they face," said Ellen Voie, president and CEO of WIT. "Many of these obstacles are directly related to safety of professional drivers on the road, including driver fatigue, supply chain requirements such as tight delivery windows, safety training, and harassment of female drivers."
WIT's driver ambassador, Kellylynn McLaughlin, provided Hutcheson with a detailed tour of the WITney trailer, which includes interactive kiosks on trucking 101, common myth busters, and a digital quiz for visitors to determine if a career in professional truck driving would be a good fit for them. In addition, McLaughlin demonstrated a customized state-of-the-art driver simulator, designed by Advanced Training Systems, that allows visitors to experience truck driving in different scenarios, regions of the country, and weather conditions.
TForce Logistics expands in Canada
TForce Logistics, a subsidiary of TFI International (CCJ Top 250, No. 7) announced an expansion of its dedicated last-mile delivery capacity in Toronto with the opening of its fourth facility in the greater metropolitan area.
The new Hamilton facility, an 8,140 square foot distribution center, is located in Stoney Creek and gives TForce Logistics the ability to provide next day delivery service down the Highway 401 corridor from Hamilton to Niagara Falls, the company said.
"This expansion is an important step forward to better service our customers, and their customers," said Luke Henshaw, vice president, operations, TForce Logistics Canada. "Even as restrictions ease from the global pandemic, the trend in online shopping continues and the expansion into Hamilton will provide TForce Logistics' customers with a cost effective and fast shipping option to keep up with this trend."
Henshaw added that as with its expansion last year into Kitchener, the current move allows TForce Logistics "to stretch further out to the population while reducing costs and giving our fleet more hours to be on the road making deliveries. We continue to examine the landscape and to look at opportunities to improve both the delivery experience for our fleet and the service we provide to our customers."
The Hamilton center can support the full complement of e-commerce customers currently serviced by TForce Logistics with order fulfillment, final-mile delivery and returns management.