Trucking news and briefs for Monday, June 27, 2022:
Fleet honors drivers at NASCAR race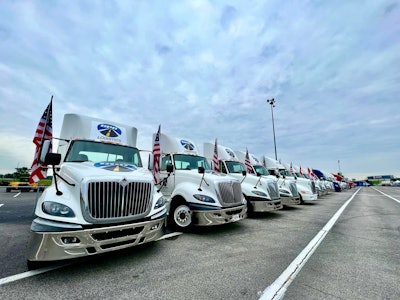 CPC Logistics recognized 18 of its Hall of Fame and All-Star Drivers from across the United States and Canada at the inaugural Enjoy Illinois 300 NASCAR Cup Series race June 4-5 -- which drew a crowd of 100,000 people -- at World Wide Technology Raceway.
The drivers recognized were:
Hall of Fame Drivers
Randy Packham, Grimsby, Ontario
Steve Smith, Regina, Saskatchewan
Drivers of the Year
Kent Alexander, Tabor, Iowa
Nicky Kelly, Fayetteville, North Carolina
Adrian Madrigal, Moreno Valley, California
Guillermo Luevana, Perris, California
All-Star Drivers
Donald Hill, Edwardsville, Illinois
James Bloodworth, Sweetwater, Texas
Paul Jankowsky, Mehoopany, Pennsylvania
Patrick Miehle, Carol Stream, Illinois
Cornell Richardson, Albany, Georgia
Les Lasenby, Jacksonville, Florida
Wayne Smith, Kinston, North Carolina
Glen Manning, Davenport, Iowa
David Nunn, Sharonville, Ohio
Stuart Shuck, Davenport, Iowa
Jeffrey Venhaus, Torrance, California
Chris Trice, Lebanon, Tennessee
"In the past, we have sent drivers who were being recognized by the National Private Truck Council to an annual conference, but due to the COVID-19 pandemic, we were unable to take them to those locations in 2020 and 2021," said CPC President Butch Wallis. "This 'Driver Salute' event was a special way for all of us at CPC to thank those dedicated drivers for their hard work."
The Driver Salute event began when the drivers and their guests arrived for their stay at St. Louis Union Station Hotel on June 4. That evening, CPC hosted a reception at PBR St. Louis in Ballpark Village, where each driver was recognized for their achievements during an awards ceremony led by Wallis, CPC Managing Director Duane Trower, and CPC Vice President of Operations and Safety Daniel Most.
On June 5, before the sold-out race started, the drivers drove two laps in their semi-tractor trailers around World Wide Technology Raceway's oval During their laps, an announcer read each driver's name and accomplishments while their picture was broadcast on the jumbotron. After their laps, they were able to enjoy a CPC VIP tent and more.
Kenworth hosts inaugural truck parade in Chillicothe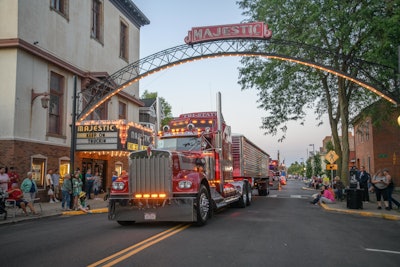 The Kenworth Class 8 truck assembly plant in Chillicothe, Ohio, recently hosted its inaugural Kenworth truck parade in downtown Chillicothe.
The 2022 Kenworth Truck Parade featured more than 50 Class 8 new, classic and customized Kenworth trucks, including models built in 1967 and Kenworth's latest models, such as the T680 Next Gen.
Truck drivers from 28 states and Canada traveled to Chillicothe to showcase their trucks in the parade. The parade began at dusk, allowing drivers to show off their truck's light features as they made their way through the historic downtown area of Chillicothe.
To support the local community, the Kenworth Chillicothe plant raised money for the United Way of Ross County. During the parade, Kenworth Chillicothe plant employees and members of the United Way of Ross County collected donations with all proceeds going to the non-profit organization.
Leading up to the truck parade, the Kenworth Chillicothe plant held events at its facility for drivers and their families participating and attending the parade. Drivers had an opportunity to take a tour of the plant to see where the majority of Kenworth's Class 8 trucks are built. The plant also hosted a family event on the plant's property during the day of the parade.