Thanks to record-high diesel prices and volatile pricing swings at the fuel island, fuel prices unseated the driver shortage as the industry's No. 1 concern, according to the American Transportation Research Institute's (ATRI) 18th annual Top Industry Issues report.
Register today for "2023 Outlook for Trucking" webinar
Economists and industry experts discuss the market forces, business conditions and supply chain issues that will impact carrier operations in 2023. This complimentary CCJ webinar is sponsored by Bestpass. This CCJ webinar is sponsored by Bestpass.
The driver shortage took the No. 2 spot after holding the top for five consecutive years. This is the first time fuel has made the top 10 list in nine years, coming in at No. 8 in 2013.
The 2022 report, which was shared Saturday afternoon at the American Trucking Associations Management Conference and Exhibition (MCE) in San Diego, had over 4,200 participants – the largest response to date – among carriers (39%), commercial drivers (47%) and other industry stakeholders (14%).
Cargo Transporters (CCJ Top 250, No. 170) President and CEO Dennis Dellinger said he isn't surprised fuel prices topped this year's overall list as many of the survey respondents were independent contractors or owner operators who have less ability to negotiate surcharges and bulk discounts, but larger carriers were affected too.
"From 2020 to 2021, we saw about a 15% increase (in fuel costs), and from 2021 to 2022 around a 63% increase," Dellinger said. "I think there's a large disparity between smaller carriers and larger carriers when it comes to fuel. From the standpoint of a carrier, you have the ability to do a better job of purchasing bulk fuel … versus an independent contractor or owner operator. You have to run a good fuel surcharge program … and that's something the independent or owner operator can't do. The biggest thing also is speccing your equipment for optimal fuel mileage," which isn't something owner operators can always afford.
Fuel prices – rising 35% year-over-year – were the No. 2 and No. 3 concern for drivers and motor carriers, respectively. The driver shortage remained the top concern among motor carriers, while truck parking took the top spot for drivers.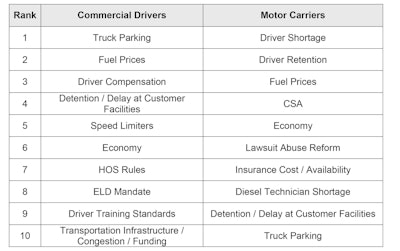 Driver shortage remains
Fuel prices may have taken the top spot on this year's overall list, but Dellinger said the driver shortage issue is on the list to stay for some time to come.
The industry saw many baby boomers – who make up the majority of the driver population – retire due to COVID-19. The industry is working to lower the driver age so it can recruit directly from high schools, but driver retention and compensation are also factors in the shortage that need to be addressed.
The driver shortage took the No. 2 spot on the list this year, while driver retention, which held that spot last year, dropped to No. 7. Driver compensation, which fell one spot from last year's ranking to No. 4, plays a big role in retention.
ATRI President Rebecca Brewster said average starting bonuses were up 26% over the previous year, but retention bonuses were up 57%, according to ATRI's annual Operational Costs of Trucking report, which shows that companies are acknowledging the need to better compensate their workforce.
"You've got to pay your drivers; they are the workforce that is building what you have," said Dee Sova, America's Road Team Captain, truck driver and driver trainer at Prime Inc. (No. 16). "Just like you're trying to build success in your entire company, these drivers need to be able to provide for their families. They need to be able to show a return on the efforts that they're putting out in terms of their time away from their friends or family; they're giving up so much of their lives."
Sova, who started driving in 1991, went from being on welfare with four daughters, to making six figures as an owner operator leasing equipment from Prime.
"Trucking took me out of poverty," she said.
Pay is an important motivator, Brewster said.
ATRI had enough write-in comments on its survey that driver compensation was upgraded to a Top 10 issue for the first time in 2019. She said ATRI asked drivers in separate research about what led them to choose this career, and 83% of company drivers and 90.4% of owner operators and independent contractors said income potential was the motivating factor. Driver wages have gone up 9.8% from the previous year, according to ATRI's operational costs report, she said.
Dellinger said Cargo Transporters has made a conscious effort over the past couple of years to evaluate its pay and benefits, recently adding an extra week of vacation, among other benefits, and increasing driver pay by 22.4% over the past two years.
Pay is a big factor, but panelists at MCE included work-life balance, a clearly defined career path and transparency in driver expectations from what they're told in the recruitment phase to the reality once they're operating.
Speed limiters and truck parking
Other issues in the top 10 that affect the driver shortage because they impact driver satisfaction include truck parking, which moved up the list from No. 5 in 2021 to No. 3, detention/delay at customer facilities (No. 6) and speed limiters.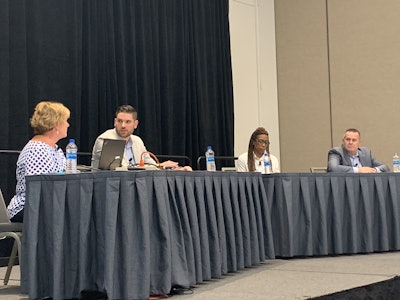 This is the first time speed limiters entered the overall Top 10 as the Federal Motor Carrier Safety Administration this year revived potential speed limiter implementation.
Similarly, a shortage of diesel technicians cracked the carriers' list (No. 10) for the first time last year. It slid to No. 15 overall this year and landed at No. 8 on the motor carrier's list after having been No. 7 in 2021.
Brewster noted diesel tech's fall was more attributable to the rise of other matters than the number of technicians no longer being a looming threat.
"Fuel prices coming on the list along with speed limiters pushed others that were in last year's Top 10 out – diesel technician shortage, infrastructure, insurance cost/availability," she said.
Speed limiters were new to the Top 10, and the diesel tech shortage fell off, but truck parking has been a perennial top five issue, ranking third on the list – up two spots from last year.
While the U.S. Department of Transportation is funneling money – including recently announced $40 million in Florida and Tennessee – into increasing parking capacity, Dellinger said it's still not enough.
"We need a lot more than the federal government. I think it has to start at the level of the state and local municipalities. They have to do better planning for development, ensuring that parking can accommodate the number of trucks that are going to be in and out of those industrial parks," he said. "It's going to take more than the money we've talked about allocating to this issue."
Lawsuits and the rising cost of insurance
Speaking of more money, insurance costs are on the rise because of lawsuits, landing lawsuit abuse reform at the No. 10 spot on the list.
Insurance costs have risen 47% over the past 10 years, according to an ATRI study on insurance costs, Brewster said.
There has been an increase in nuclear verdicts and lawsuits in general, and while Dellinger said his company will do everything it can to settle a case, it doesn't always work out that way.
Hayden Cardiff, chief innovation officer at Idelic, which sponsored ATRI's session, said it's causing some trucking companies to have to shutter their doors.
"If you look at the industry as a whole, it would be so much more straightforward if we could defend cases on the merit of what acutally happened with that driver, in that cab in that instance, but plaintiffs attorneys are putting the fleet on trial," he said. "We're seeing it with large verdicts; we're seeing it with small verdicts; it's a consistent pattern where fleets are getting grilled for their hiring practices, their training and coaching practices, retention practices, instead of the actual facts of the case. That has always been the biggest challenge in law reform."
Cardiff said what has helped the industry in combatting negative outcomes is moving away from individual one-off coaching to a more holistic approach, documenting and identifying driver behaviors as opposed to reacting to telematic events. Operationalizing safety, he said, builds a stronger culture that is much more defensible in court.
FMCSA safety program Complaince, Safety, Accountability (CSA) also made the top 10 again falling two spots to No. 8.
The economy
Rounding out the Top 10 is the economy, moving from the No. 8 spot to No. 5.
From skyrocketing inflation and severe parts and component shortages to wage pressures and record-high diesel fuel prices, the trucking industry has had a tough year.
Along with fuel prices, dentention/delay at customer facilities and truck parking, the economy ranked on both the driver's (No. 6) and carrier's lists (No. 5).
Truck parking was at the top of the list for drivers, while it was at the bottom for carriers.
"That's a large disparity in the two," Dellinger said. "It makes me wonder, are we as trucking leaders out of touch with our drivers? Are we doing everything we need to be?"