Trucking news and briefs for Wednesday, March 8, 2023:
Yellow recognizes multi-million-mile safe drivers
Yellow Corporation (CCJ Top 250, No. 6) recently recognized drivers who, in 2022, achieved the milestone of driving more than one million miles without a single preventable accident.
Last year, four Yellow drivers reached the four million mile safe-driving milestone, while 32 drivers surpassed three million miles. Overall, 298 Yellow drivers achieved a status of one million miles or more of safe driving, as of last year, according to the company.
"The number of Yellow drivers who join the Million Mile status each year is another testament to the fact that we have the best people in the industry," said Darren Hawkins, Yellow's CEO. "Their leadership, dedication and focus on safety every day they are behind the wheel is commendable, and I'm so proud to have these drivers on our team."
Yellow drivers who reached four million miles of safe driving in 2022 were:
Michael Baldwin - Aurora, Colorado
Lawrence Steffel - Chicago Heights, Illinois
Lloyd Spearman - Memphis, Tennessee
Steven Kenemuth - Copley, Ohio
Yellow drivers who reached three million miles in 2022 were:
Marvin Colbert – Fresno, California
Pedro Fuentes – Santa Clara, California
Marcus Goodrich – Aurora, Colorado
Donald Anson – Council Bluffs, Iowa
Shannon Hise – Atlanta, Illinois
Nicholas Golich – Chicago Heights, Illinois
Milan Vranjes – Chicago Heights, Illinois
Henry Keys – Edwardsville, Illinois
Randall Deters – Wyoming, Michigan
Steve Duncan – Kansas City, Missouri
Terry Cooper – Olive Branch, Mississippi
Eduardo Braun – Olive Branch, Mississippi
Darren Freeman – Charlotte, North Carolina
Raymond Shamblen – Copley, Ohio
Bernard Drexler – Copley, Ohio
Jeffrey Rose – Copley, Ohio
Douglas Skamer – Copley, Ohio
Elbert McNeely – Oklahoma City, Oklahoma
William Crawford – Memphis, Tennessee
Kenneth Clarett – Memphis, Tennessee
Terry Mingle – Nashville, Tennessee
Jimmy Kirby – Nashville, Tennessee
Gary Murley – Nashville, Tennessee
Terry Brown – Nashville, Tennessee
Lee Gaskin – Irving, Texas
Henry Whitley – Irving, Texas
James Ellis – Irving, Texas
Charley Bradley – Irving, Texas
Mark Smith – Irving, Texas
Jeffrey Payne – Cedar City, Utah
Marlin Allington – West Valley City, Utah
James Schroeder – Nennah, Wisconsin
Since 2008, more than 361 Yellow drivers have achieved a safe driving milestone of three million miles or more. In the past decade, eight drivers have had the distinction of achieving five million safe driving miles.
Ryder selling its Miami HQ for $42.1 million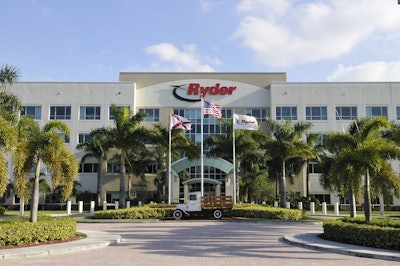 Ryder System, Inc., (
CCJ
Top 250
, No. 14) on Tuesday said it has sold its Miami headquarters campus – a 16.8-acre property that has housed Ryder's 248,989-square-foot headquarters office building since 2005.
Like many companies post-pandemic, Ryder Chairman and CEO Robert Sanchez said the company determined it needed much less office space than what it was utilizing.
"We were pleased with the current location of our headquarters office, but with the vacant space in the building and the very attractive rates for a buyer to move in or redevelop the site, we knew selling and downsizing was the right decision to make," he said.
Ryder will lease back the company's current Miami headquarters location for up to 12 months as it completes its search for a new headquarters. Ryder is currently exploring office space options in Coral Gables and surrounding areas. The new headquarters will be sized to a hybrid work style and be a customer showcase for Ryder technology and innovative solutions.
Love's founder dies at 85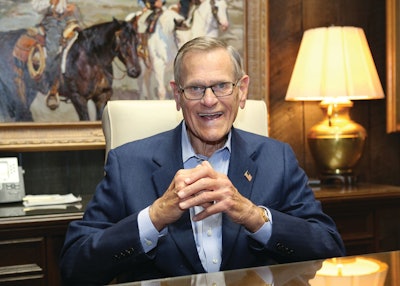 Tom Love, who, along with his wife and business partner, Judy, founded Love's Travel Stops & Country Stores, passed away at 85 in his hometown of Oklahoma City on Tuesday.
A respected community and business leader, Love was admired for his genuine humility, good-natured disposition, generosity and helpfulness toward others.
"Tom Love was a man of conviction who never wavered from the principles of honesty and integrity in the 59 years he spent developing the company he started with his wife, Judy," said Shane Wharton, president of Love's. "These tenets still guide our company and will as we move forward. Tom always listened and was sincerely interested in knowing the stories of employees and customers. He wanted to hear their thoughts, ideas and hopes for them, their families and the company. He credited the company's success to the people who worked for us. He could relate to all employees but had a soft spot for those on the frontline at stores. In many respects, he was an ordinary person who built an extraordinary business alongside his wife Judy and his family, who he loved deeply."
In 1964, Tom and Judy Love used $5,000 to lease an abandoned service station in Watonga, a small rural town northwest of Oklahoma City. From a modest beginning, the then-named Musket Corporation opened 40 stores in eight years in western Oklahoma.
Tom's keen and discerning sense for business and vision to grow the company resulted in Love's establishing a new concept – the country store – that combined existing business models for grocery and convenience stores with a self-service gas station. In 1972, Tom's country store in Guymon, Oklahoma, became the first store in the nation to combine self-service gasoline and grocery items.
Under Tom's leadership, Love's opened its first travel stop on Interstate 40 in Amarillo, Texas, in 1981, catering to professional truck drivers and the motoring public who sought convenience and efficiency when traveling across the country. Throughout the decades, Love's has expanded its services to include hot and fresh food items, truck care maintenance and warm showers.
The company has flourished under Tom and his family's leadership – opening its 600th location in October 2022. The Love's Family of Companies has grown to include businesses focused on truck maintenance, logistics, commodity supply and alternative energies.
TEL expands trailer leasing services to Midwest, Southwest
Transport Enterprise Leasing (TEL) is expanding its semi-trailer leasing services beyond its headquarters region in the Southeastern U.S.
Brandon Lairsen, vice president of trailer leasing, said the company is adding staff and a new state-of-the-art location in Indiana to serve new customers in Midwestern states, while expansion into Texas and Southwestern states will follow.
"At a time when trailers are hard to come by, we have access to large quantities from the factory, including trailers from Hyundai, Wabash and other brands," Lairsen said. "We also provide like-new equipment off lease."
Available trailers range from dry vans and refrigerated trailers to flatbeds.