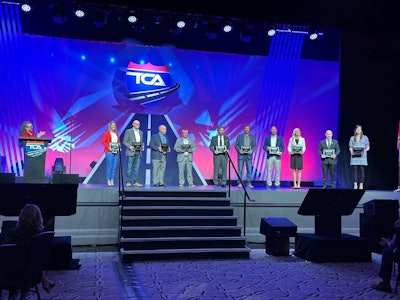 Angel Coker
C.A.T. Inc., of Coteau-du-Lac, Quebec, Canada, and Grand Island, Nebraska-based Chief Carriers Inc., were recognized as the overall winners in the large fleet and small fleet categories, respectively, of the 2023 Best Fleets to Drive For program.
The Truckload Carriers Association and CarriersEdge announced at the annual Truckload Convention in Orlando on Monday the Top 20 fleets, including 10 large carriers for being able to connect with drivers despite their size, averaging just under 90% driver satisfaction, and 10 small carriers for proving teamwork and creativity can trump big budgets and expensive technology with an average of over 91% driver satisfaction.
"(C.A.T.) is a fleet that's no stranger to the program; we had our eyes on them this year though because they knocked our socks off with their innovative programs that engage their entire team, and judging by their surveys, their drivers agreed," said CarriersEdge CEO Jane Jazrawy. "(Chief Carriers) is another example of working towards action. We saw continued improvement over the last couple of years, and we've been really impressed with their proactive, balanced approach to improving driver experience as well as tackling the industry's larger problems."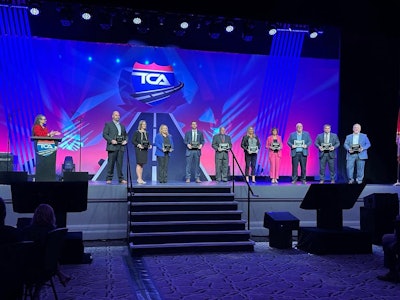 In addition to C.A.T. and Chief Carriers, the 18 other carriers recognized for providing exemplary work environments include American Central Transport of Kansas City, Missouri; Challenger Motor Freight of Cambridge, Ontario, Canada; Continental Express of Sidney, Ohio; Decker Truck Line of Fort Dodge, Iowa; Erb Transport of New Hamburg, Ontario; Fortigo Freight Services of Etobicoke, Ontario; Fremont Contract Carriers of Fremont, Nebraska; Jetco Delivery, a GTI Company, of Houston, Texas; K & J Trucking of Sioux Falls, South Dakota; Kriska Holdings Limited of Prescott, Ontario; Leonard's Express of Farmington, New York; Nick Strimbu of Brookfield, Ohio; PGT Trucking of Aliquippa, Pennsylvania; Thomas E. Keller Trucking of Defiance, Ohio; TLD Logistics Services of Knoxville, Tennessee; Transland of Strafford, Missouri; Veriha Trucking of Marinette, Wisconsin; and Wellington Group of Companies of Aberfoyle, Ontario.
[Related: TCA unveils 2022 Best Fleets to Drive For]
To be considered for the Best Fleets program, for-hire companies operating 10 or more power units had to receive a nomination from one of its company drivers or owner-operators. For the 2023 class, 165 companies were nominated. The fleets were then evaluated using a scoring matrix covering a variety of categories, including total compensation, health benefits, performance management, professional development and career path/advancement opportunities, among other criteria. Driver surveys, with feedback from 9,400 drivers this year, were also conducted to collect input from drivers and independent contractors working with these fleets.
The program was expanded last year with the addition of a Hall of Fame category. This recognition level is above the regular Top 20 and honors fleets demonstrating Top 20 performance for extended periods of time. To be eligible for the Hall of Fame, fleets must be named as a Best Fleet for 10 consecutive years, or 7 years with at least one overall award, and must continue to qualify as a Top 20 to be eligible.
Garner Trucking of Findlay, Ohio, and TransPro Freight Systems of Milton, Ontario, were added this year to the Hall of Fame, and returning recipients included Bison Transport of Winnipeg, Manitoba, Canada; Boyle Transportation of Billerica, Massachusetts; Central Oregon Truck Company of Redmond, Oregon; FTC Transportation of Oklahoma City, Oklahoma; Grand Island Express of Grand Island, Nebraska; Halvor Lines of Superior, Wisconsin; Nussbaum Transportation Services of Hudson, Illinois; and Prime Inc., of Springfield, Missouri.
Also recognized were five fleets to watch, including Lincoln, Nebraska-based Crete Carrier Corporations and its Shaffer Trucking Division; Mill Creek Motor Freight LTD of Ayr, Ontario; Skelton Truck Lines of Sharon, Ontario; Steve's Livestock Transport of Blumenort, Manitoba; and USXL of Foristell, Missouri.