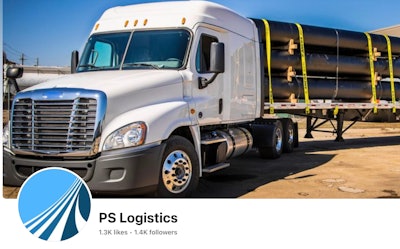 Facebook

DID YOU MISS THIS WEBINAR?
Fleets face never-ending challenges when it comes to finding and keeping good drivers even in a down market. CCJ recently hosted a webinar where leading fleets weighed in on what's working for them and how they established driver cultures that are foundational to their company's success. This CCJ webinar was sponsored by Bestpass.
Managing social media content with authentic, positive messaging can help boost recruiting and retention efforts, but it may require getting out of your comfort zone.
In a webinar hosted by Commercial Carrier Journal and Bestpass on Thursday titled "Recruiting & Retention Strategies for the Long Haul," HR veterans from Chief Carriers and PS Logistics (CCJ Top 250, No. 33) weighed in on a variety of topics that influence driver recruiting and retention.
Seth Beck, vice president of sales and recruiting at CCJ's parent company Randall Reilly, pointed out that a declining freight market has brought driver demand down to 2019 levels while "the driver pool on the other hand has gone way up."
Mastering social media can help lure prime candidates from that broader pool where companies have an opportunity to promote their people and their values.
That's definitely been the case for PS Logistics. Kim Daigle, who serves as vice president of enterprise capacity development at the Alabama-based carrier, pointed out how social media has helped with recruiting.
"For us, it's really taken off," she said. "Over the pandemic I think it really took off. That's when we brought a lot of our social media management in house and really started to develop it, and so that was a good choice because now it is booming and bringing in leads of its own, which is phenomenal."
[Related: Fewer women driving trucks survey finds]
PS Logistics' most popular post yet came as a surprise and serves as an important lesson. The driver was celebrated for obtaining his title through a lease purchase program. The driver's photo, likely a selfie, wasn't the best quality, but that didn't make any difference in the end.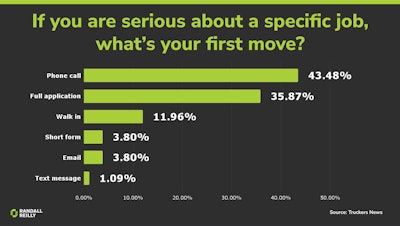 "We put it out there, and we celebrated him, and that thing's gone through the roof," Daigle said. "It is the most successful post we've ever had. We've put no money behind it, but it's just gone crazy, and it's all positive. Every single one of the comments in it … I didn't see a single negative comment. It was all just 'congratulations' and 'well done driver.' I think that a lot of that is coming about because our focus is on their real-life stories. The authenticity comes through, and I think that's really crucial to getting the drivers to feel positive about you on social."
Andrew Winkler, general manager of Chief Carriers, a transportation company headquartered in Grand Island, Nebraska, said in addition to learning how social media works, it has been helpful to encourage others at the company, including drivers, to better master a platform. But first he had to turn to social media experts for help.
"We've used social to really just help tell our story," Winkler said. "We were that little carrier in central Nebraska that nobody really knew about, and we finally partnered with a marketing firm out of Omaha, and they had a unique approach compared to everybody else. They really put the strategy behind it, and they put it in a way that I understood it."
Winkler was provided with a social media playbook that helped the company and its employees gain insights into how to get their voices heard.
"If you know anything about Facebook and some of those platforms, when you do a post, it's a very small part of your audience that actually ever sees that post unless there's some activity in it that drives the algorithms to change and push out to more people," Winkler said. "So the playbook was about educating our team, our drivers and our internal team about how you can help us push those algorithms up to get that story out to more people."
Winkler also took on a podcast called Driven too Far, which has helped boost the company's profile. It was something that was definitely outside of his comfort zone.
"I was probably a little defiant with the idea of a podcast, first of all, because I wasn't comfortable doing that," Winkler said.
In addition to being recorded on audio, Driven too Far is video recorded and posted online for the world to see. Since rolling out in November as a weekly series, the views continue to come in.
"I think we're getting close to 40 episodes, and we're a little over 26,000 downloads so far," Winkler said. "It was one of those things that just blows me away every time I get an update. It's like, man, there really are people out there listening to this stuff."