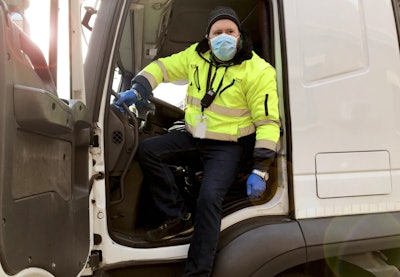 A lot can happen in a parking lot. In this case, when I was taking my 15-year-old son to work earlier this week, I noticed people walking toward their car with masks on. I even saw some folks still wearing their masks while driving off.
'Here we go again,' I thought. 'COVID part II.'
Just when I thought I would no longer have to fish through my glovebox for a mask before heading inside to wherever the masses congregate, mounting reports this week concerning a big rise in the COVID Delta variant have deemed otherwise.
One of the more head-turning reports came Tuesday from CDC Director Dr. Rochelle Walensky who, while testifying during a U.S. Senate hearing, said that 83% of new coronavirus cases had been traced to the Delta strain and, worse yet, COVID fatalities had risen 48% from the week prior. The highly contagious Delta variant, though not considered as dangerous as the original strain, is now the world's leading coronavirus, according to Reuters.
[Related: COVID hours, CDL waivers extended]
Given the surge in cases, White House chief medical advisor Dr. Anthony Fauci told CNBC Wednesday that even those who have been vaccinated may want to consider wearing a mask indoors just to play it safe.
The World Health Organization and the American Academy of Pediatrics share that view but as of late, the CDC still points to its roughly three-month-old guidelines that say masks need only be worn by the unvaccinated.
But that's where things get confusing as conflicting reports continue to emerge regarding vaccine efficacy against this latest strain.
The Wall Street Journal reported recently that half of the adults infected with the Delta strain in Israel had received a COVID vaccination and yet still contracted the new variant.
Counter that with reports from other media outlets including CNBC which stated this week that COVID vaccines "do hold up incredibly well against this incredibly contagious variant."
Do they? Fauci, according to CNBC, said Wednesday that "U.S. officials are concerned that they are seeing more breakthrough infections in fully vaccinated people in the U.S., even if they are more mild cases."
So while the back and forth on vaccine efficacy concerning the latest strain continues to play out, it makes sense to take precautions to avoid getting sick no matter your vaccination status.
[Related: Fleet manager with COVID credits CDC for reducing risk]
After all, at a time when businesses – particularly those in trucking, dining, travel and leisure – are short on labor, taking steps to slow the spread of COVID and other illnesses makes good sense.
This is old hat for most of us. Wash or sanitize your hands regularly and if you elect to wear a mask, get one that has an impressive micron rating that stands a better chance at blocking a microscopic virus. While these popular black masks may make you look like a ninja, they may not stop as many airborne nasties like that white, drab N-95 mask or its equivalent, the KN-95. Supplies appear to have rebounded online and additional colors are available — at least for now.
Also, keep up with any COVID policy changes prior to your next outing or trip. For instance, during an emergency meeting this week, Nevada's Clark County — which includes Las Vegas, a popular destination for countless industry events — implemented a mandatory mask requirement for all employees working indoors in public places, USA Today reported.
The Southern Nevada Health District chief medical officer told county commissioners that everyone should wear a mask whether vaccinated or not. However, the board opted to apply the new policy to employees only. They'll revisit the issue on Aug. 17 to determine if a rising tide of COVID cases in the county has been brought under control. If not, then the policy could be expanded to apply to everyone.
Los Angeles County in California went a step further and in a statement wrote that masking is now required "for everyone while indoors, regardless of vaccination status, as Los Angeles County sees more than a seven-times increase in new cases since the June 15 reopening."
Know before you go. Searching for updated COVID policies online only takes a few moments and could spare you the hassle of digging through a coat pocket or glovebox for a mask.