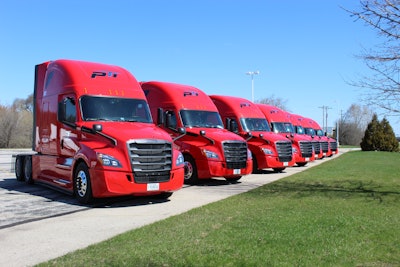 Trucking news and briefs for Wednesday, July 21, 2021:
Paper Transport partners with investment firm
Sam Zell's private investment firm Equity Group Investments (EGI) recently invested in Paper Transport (CCJ Top 250, No. 112). EGI is partnering with Paper Transport's senior management team, who will continue to lead the business and retain an ownership stake in the company.
The partnership provides additional capital for add-on acquisitions and strategic support for the organization's growing truckload, intermodal and truck brokerage offerings. EGI President Mark Sotir, Managing Director Evan Harwood, Advisor Rob Silberman, and Senior Associate Tyler Goldstein are joining the De Pere, Wisconsin-based truckload fleet's board of directors.
"We've been impressed with Paper Transport's management team, who have demonstrated an ability to grow, innovate and diversify the business during their tenure," Sotir said. "One of our strengths is aligning with like-minded partners. EGI's deep experience in the transportation industry and track record of scaling businesses, coupled with Paper Transport's experienced leadership team and growth mindset, makes this partnership a win-win."
Paper Transport was named a CCJ Innovator last year.
"After 30 years of steady growth, our partnership with EGI will accelerate our strategy," said Jeff Shefchik, president of Paper Transport. "EGI has a history of doing things differently than what the marketplace has done – we believe that same strategy is what has led to Paper Transport's success in the past. We believe partnering Paper Transport with EGI will allow us to outpace the industry in both innovation and growth."
New nonprofit forms to help recruit trucking's next generation
A recently launched nonprofit, The Next Generation in Trucking Association, is partnering with schools to provide CDL driver and diesel technician programs for young adults in Kentucky, Wisconsin and California.
The group was started by leaders in the trucking industry to engage the next generation of trucking industry professionals by partnering with both public and private schools and community/technical colleges to offer training opportunities that will eventually lead to jobs.
"Programs like this one are critical game changers for not only developing a skilled workforce but also creating pathways for that skilled workforce to advance in their careers in the trucking industry," said Lindsey Trent, Ryder Customer and Business Development Manager and co-chair of Next Generation in Trucking. "We are eager to train, mentor and match a fresh generation of drivers to the 21st century needs and demands of the trucking industry."
The Next Generation in Trucking Association aims to bring new drivers to the industry while at the same time providing access to well-paying careers to students without the need to incur college debt. Their goals of the group are to:
Promote trucking as a positive career field
Encourage the training and employment of young people in the trucking industry
Promote their education and connect them to training and employment opportunities
Create a diverse, equitable and inclusive workforce in communities nationwide
The Next Generation in Trucking Association partners with schools around the country to launch CDL programs that fit their needs. Recent partnerships include Lawrence County High School in Louisa, Kentucky; Jessamine Career and Technology Center, Nicholasville, Kentucky; Fairdale High School, Louisville, Kentucky; and Lux-Casco, Luxemburg, Wisconsin.
The Next Generation in Trucking Association has been approved by the U.S. Department of Labor as a Nationally Registered Apprenticeship Program for CDL Driving.
Benore purchases first EV truck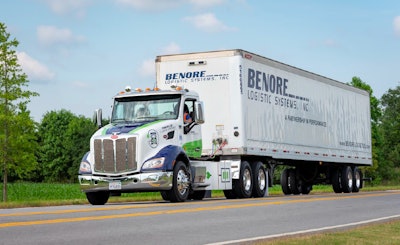 Benore Logistic Systems (CCJ Top 250, No. 144) recently announced the purchase of its first Peterbilt 579EV to be added to its fleet.
During an event at the company's Greer, South Carolina, headquarters, Jeffery Benore, President and Owner, announced the implementation of an electric fleet. The goal is to add 50 electric class 8 tractors over the next two to three years and to convert half of the entire fleet over the next five to ten years to electric units.
By implementing an electric fleet, Benore will be able to reduce its carbon dioxide output by one metric ton for every 100 gallons of fuel saved, the company said.
Kenworth adds Hendrickson suspension option
Kenworth is now offering the Hendrickson Haulmaax EX as an option for the Kenworth T880, W990, T680 and T480 models.
The Hendrickson next-generation heavy-duty lightweight rubber suspension is designed for vocational applications such as dump, concrete mixer, refuse, logging, crane/boom, platform, and fire/rescue. The new suspension replaces the Hendrickson Haulmaax family of 40,000- and 46,000-pound capacity suspensions and also adds a new 52,000-pound capacity.
In addition to the increased capacity range, the Haulmaax EX provides a higher site rating and maintains the same weight and durability compared to its predecessor. The suspension utilizes a unique rubber spring design that balances empty-ride quality and loaded stability. Angled bolster springs and a unique progressive load spring provide extra stability for demanding applications such as refuse, concrete mixers and dumps.