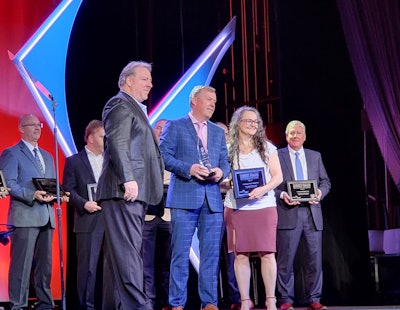 Challenger Motor Freight and Garner Trucking were named the large fleet and small fleet category winners of the 2022 Best Fleets to Drive For program by the Truckload Carriers Association and Carriers Edge. The two companies were recognized for creating the best workplace experiences for their drivers. Fleets in the program are evaluated against a range of different criteria, including programs for drivers, driver satisfaction, and results in safety and retention.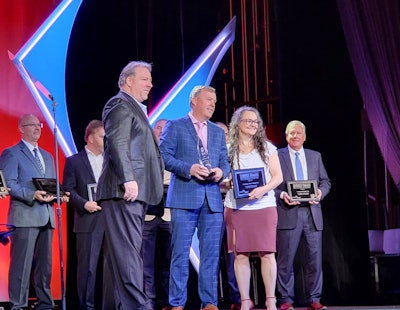 Challenger Motor Freight was cited for its range of professional development programs that extend from driver apprenticeship through management training, as well as its investments in driver efficiency, cybersecurity and military support.
"I need to thank our employees, the 1,600 colleagues back at home that continue to do what they do despite what's going on in the world around us," said Jim Peeples, president and COO of Challenger Motor Freight. "All the credit goes to them for what they do for us and our customers."
In addition to its efforts to further the image of the trucking industry, Garner Trucking stood out for its new entrant program and diversity efforts, as well as recognition and driver support programs typically only seen in much larger companies.
"We have a tremendous staff of not only management team, safety people, recruiting and dispatch folks, but a great team of drivers that help us build a great organization," said Tim Chrulski, COO of Garner Trucking, which celebrated six consecutive years as a Best Fleet finalist.
The other finalists in the large fleet category included American Central Transport, Continental Express, Decker Truck Line, Erb Transport, Fortigo, Fremont Contract Carriers, LandStar Transportation Logistics, Leonard's Express and TLD Logistics Services. Finalists in the small fleet category averaged 94 percent driver satisfaction. In addition to Garner, finalists included Transpro Freight Systems, Thomas E. Keller Trucking, Brenny Specialized, Chief Carriers, K&J Trucking, Liberty Line Haul, Transland, Veriha Trucking and Wellington Group of Companies.
Five carriers were also named as fleets to watch for demonstrating excellence in their programs: Epes Transport Systems, GP Transco, Magnum Limited, Stokes Trucking and TP Trucking.