One of Ross Bernstein's failures was the source of one of his greatest successes.
The lifelong sports fan and author of nearly 50 sports books decided to try out for the Minnesota Gophers team, but that didn't pan out as planned.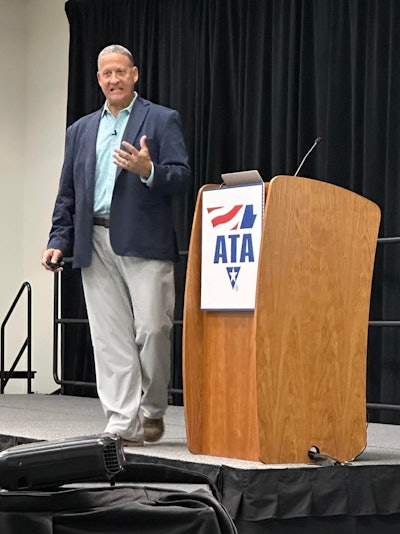 During his walk-on, he smashed into team captain Todd Richards, who was wearing a jersey with a red cross, indicating that he was injured. That knocked Bernstein out of a spot on the team … at least as a player. But it led him to become the Goldy Gopher mascot, which ultimately gave him the idea that started his career as an author: writing his first and successful book titled Gopher Hockey by the Hockey Gopher.
Like in his situation, Bernstein encouraged trucking leaders to find the silver linings. That was No. 11 on Bernstein's list of 13 ideas on how to think about diversity, equity and inclusion (DEI) and generate momentum that he spoke on at the American Trucking Associations' Management Conference & Exhibition in San Diego on Sunday.
"I made lemonade out of lemons," Bernstein said.
Bernstein used different sports figures throughout history – coaches and players – to relate business principles to the trucking industry, starting with Minnesota Twins pro baseball player Kirby Puckett, recognizing his passion.
Puckett had a performer's mentality, and would check his ego at the door, hanging out with ticket takers and concession workers on his days off, Bernstein said.
"It all starts with passion (No. 1), and you can't fake it." Bernstein said. "Find a job you love, and you'll never work a day in your life; that was Kirby Puckett. If you're not really, truly authentically passionate … about what you do, then you might need to think about what you do because people choose to do business with, to be led by, to be influenced by people who genuinely really love what they do … You need to be passionate knowing you are helping run companies that are literally moving America."
One of Berstein's friends and mentors was Minnesota and Team U.S.A Olympic hockey coach Herb Brooks, who had a passion for getting children from all walks of life to play hockey. Since his passing, Bernstein has created the Herb Brooks Foundation to carry on his legacy.
One of his pieces of advice on how to create a diverse, equitable and inclusive culture is to think about your legacy as a leader (No. 13) and be compassionate (No. 4).
"The name on the front of the jersey is always more important than the name on the back of the jersey," Bernstein said, reciting a quote from Brooks that was used in the Disney movie Miracle made in Brooks' honor and chronicles the U.S. Olympic team's improbable win over the Soviet Union at the 1980 Winter Olympics dubbed The Miracle on Ice. "Are you making a difference? Will there be a guy on a stage talking about you when you're gone?"
It starts with culture, he said, which starts at the leadership level, and a good leader thinks about the supporting members of their team.
"To Herb, those were the most important people," and in this case, Bernstein is referring to truckers and support staff.
"If you want to connect with young people today, it's not about screaming and yelling; it's about speaking their language; it's about understanding the power of praise … and understanding that for young people, it's not about the money; it's about the culture," he said. "It's about being part of an organization where they feel valued and respected, and there's a pathway to success; and (being part of a) company that does good and does well in the community and hires people of all backgrounds."
Be generous (No. 2) and principled (No. 8) were also on his list because the most important thing in business is relationships, he said, and people want to do business with those who are givers and those who stand up for their beliefs. It's also important to build trust (No. 3), he said, and that was exhibited in the late Pat Summitt, the former coach of the University of Tennessee Lady Vols basketball team who had accrued the most wins in college basketball history at the time of her retirement.
Bernstein said it's so difficult to hire and keep people now, and trucking companies could take a page from Summitt's playbook: choose the right players, not the best players.
He said Summitt looked at body language, which kids paid attention in class, which ones were team players, their work ethic and even their family and friends when considering someone for her team. She found the potential in them and built upon it, creating trust between her and her team, which encouraged them to play harder.
He said it's a leader's job to inspire greatness – No. 7 on his list – by finding the potential in emerging leaders.
Tony Dungy, who served as head coach in the NFL with the Tampa Bay Buccaneers and Indianapolis Colts, would seek out players who had been benched and coach them back to life. He also inspired greatness through understanding. Bernstein said Dungy understood work-life balance and encouraged his players to go home to their wives and children or hit the golf course for a break. That understanding garnered respect, and those players would come in on their off days because they wanted to play for Dungy.
Bernstein said it's trucking leaders' job to see potential in their team members and build them into leaders too.
"You have to start thinking differently about these young people … We have to take our game to the next level, but it's your job as leaders to see their potential, pull it out of them and coach them up.
"We have a problem hiring people these days because we can't find people. You have to think differently about how you recruit because young people today want to work from home. You can't create culture on Zoom. It's a challenge," Bernstein said. "Start hiring from the categories you want. I have some clients who will only hire, not farm kids, but dairy farm kids. Why? Because cows don't take days off. The Ritz Carlton recruits people with amazing smiles. I can teach you how to make a drink, run a cash register, make a bed, but I can't teach you an amazing smile."
He said if you can't find anyone to hire, you're looking in the wrong place.
Bernstein recently attended an HVAC conference in Texas, and learned what they were doing differently to attract and keep young hires.
"They're trying to recruit women and people of color," he said.
He spoke with a leader of a precision manufacturer making parts in Chicago that was losing all its older employees to retirement. The company's solution was to buy a community college that was for sale due to competition with online education, put in old machines and bring back some of its retirees to teach. They purposely recruited kids they thought would be good in the industry: kids whose parents already work in the industry, high school shop class students, farm kids, gearheads at the racetrack, etc.
They also implemented some fun attractions like video games, music, snacks and beer for those old enough to drink, and it drew in a new pipeline of talent but also attracted their retired employees back.
So don't be afraid to be the first (No. 10) to branch out and try something new.
"The spirit of DEI is all about being brave and willing to go first to hopefully inspire the next generation like Jackie Robinson did. In 1947, he became the first African American to play Major League Baseball," Bernstein said.
He said it inspired the next generation, like Serena Williams and Tiger Woods, creating a domino effect. And when you do hire diverse people, he said fight for equality (No. 9) like American tennis player Billie Jean King, who won the "Battle of the Sexes" tennis match against Bobby Riggs. She also won the equity battle when she lobbied for and gained equal prize money for men and women at the U.S. Open.
"There's so much we can learn from sports that really applies to business," Bernstein said.
Rounding out his list, take risks (No. 12) even if it means failing; lead with integrity (No. 5) and create a culture of when you see something, you say something; and keep setting and resetting your goals (No. 6), always raising the bar like pro skier Lindsey Vonn, who went from more wins than any American to more wins than any woman in the world.
In the midst of a severe driver shortage in the trucking industry, Bernstein said this list can help companies drive momentum and encourage and grow DEI, which will help when seeking recruits from younger generations. Use this list to tell your company's story, he said.
"What silver linings have you found recently? How do you make lemonade out of lemons? How do you give back?" Bernstein prompted.
And don't forget to have fun (bonus No. 14) because people like to be led by fun people.