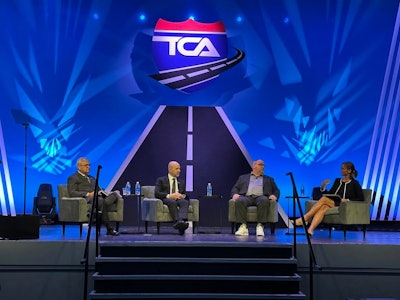 Angel Coker
All industries have experienced in recent years the vast and fast-paced changes in technology. But organizations have been facing another change as Baby Boomers age into retirement to be replaced by a younger working population.
The trucking industry is no exception, especially as the driver shortage is continuously exacerbated by the aging driver population. Employee generational overlap, along with differing cultural life experiences, has ushered in new concepts and expectations of what work should look like.
Trucking company cultures are having to evolve to meet the differing expectations of fresh talent and veteran employees in order to recruit while retaining.
It starts with treating people as individuals, Garth Pitzel, associate vice president of safety and driver development at Bison Transport (CCJ Top 250, No. 50), said during a panel at the Truckload Carriers Association annual convention in Orlando.
"People of my generation want to do things a certain way, and the younger generation [wants to do things] a certain way. If you look at it from a driver perspective, on the development and training, we've always said we have to be able to deliver training specific to the needs of each and every driver," he said. "I think that applies to the development of our people too. If you can do that correctly, if you give that plan, you can then help yourself or help that leader create that success … I think that's the most important part; that ability to see that in each individual so that you can give them the opportunity to grow and develop and then deliver on that plan."
Investing in training and development
Pitzel said he popped into an interview that one of his employees was performing recently and asked the candidate why they want to work for Bison. Their answer was Bison University, the company's skills development program for its office staff.
"Word on the street is that we develop people so it's a great retention tool, but it can turn into a great recruiting tool," said Pitzel, whose company has continuously been recognized by the Truckload Carriers Association's Best Fleets to Drive For program.
Garner Trucking, another Best Fleet, also has a development program called Aspire. The four-year program, which isn't mandatory but offers some financial incentive, includes all employees, from drivers and technicians to operations and leadership, and allows them to step into the shoes of fellow employees. For example, someone in HR can participate in the driver track to learn more about the life of a driver.
"The nice piece of that is now it starts to bind us all together because now I have a better understanding of this individual's life … and what they're dealing with," said Tim Chrulski, chief operations officer of Garner Trucking. "Our hopes with that program are that we all become a bit more sensitive to each other's jobs and the disciplines that are required and the talents that are needed in order to do those jobs."
Best Fleet Challenger Motor Freight (No. 77) launched a nine-module program to develop leadership and team-building skills for those in leadership positions or those with a high potential to enter a leadership role. Offering these types of programs to help an employee grow in their career is as important as a paycheck in today's work environment, said Geoff Topping, vice president of people and culture at Challenger Motor Freight.
For organizations looking to improve its culture and invest in its people to gain a competitive edge, Topping said the No. 1 move is to do discovery into what's happening currently within your organization. To do this, Challenger created focus groups and performed a large number of one-on-one interviews with employees to learn what they liked about working for the company and where they thought the company could improve.
"Get some help with that; get people that understand organizational behavior and are trained in how to diagnose things to help you with it," he said. "It's an investment; it's going to cost some money, and improving or changing your culture is a journey. It's not something that happens overnight. Go ahead and get that information. Get some help with boiling it down into the main themes, and then put a plan together to address those themes."
He said the same applies to employees.
"Sit down with the employee and map out what they want to do with their career. Help them recognize areas for improvement and areas they already thrive in. Then invest in that person," he said. "Don't be afraid to get an external coach or mentor. It can make a big difference; [having] another set of eyes with a different perspective."
Investing in technology
Chrulski said the younger generations of employees want to work for a company that invests in their growth and philanthropic endeavors but also technology, which he said is a challenging area for his small organization of 85 units.
"One of the tough things with that is you have individuals that have what lots of people call tribal knowledge, and a lot of that knowledge is important to the business," Chrulski said. "Then there are those things you want done differently. So it's important, I think, to at least transmit those tribal pieces that are business critical and then give an opportunity for those new individuals that are coming in and replacing our retirees to let them kind of take new form and function and find a better way to do things."
Pitzel said technology has provided Bison some great advantages and benefits, and going beyond the executive level to include drivers in the decision-making process is key. Bison had to learn that the hard way, having once deployed a technology that it came to find the drivers didn't want or need.
"You can you think you have the right design or the right plan, yet the user has a different view of that. So again, it's important to us to talk to (the drivers)," he said.
Topping said it's important to have a change management plan when it comes to implementing new technology or a new process because it affects more than one area of the business. Have a good plan for training, monitoring the change and then reacting to it because there will be things that don't work right immediately upon release, he said.
"Our change management plans would include anybody we think it could touch. We follow a workflow, or a pattern or chart... of everybody we think it could touch, and we bring all of those departments into the planning sessions," Topping said. "Usually there are other people within the organization that will say, 'Oh, and it's going to affect Bob in the shop, and warranty is going to need to know about this because it's going to change how they do something,' and then we roll those people in, and the team gets bigger and bigger."
The measurement of success
Pitzel said Bison has seen great success because of its training and development program, peer-to-peer-nominated awards and career-path program, and a great indicator of that is employee referrals. Challenger also has peer-to-peer recognition programs: one for drivers called The Extra Mile and one for non-drivers called Made It Happen.
Pitzel said it's important to invest in those kinds of programs to encourage professional growth and teamwork, which increases employee satisfaction and in turn benefits the company. He said Bison also pays to receive the details of its Best Fleets to Work For surveys to learn what's working well and what isn't so it can change accordingly, and that has earned the company a spot in the Best Fleets Hall of Fame.
Topping added that continuous communication with employees will also help companies gauge its success.
"Get out and talk to your teams … We don't always want to hear some of the things we do hear, but if we're not having people come forward and make suggestions and say they have concerns about certain things, they're not being honest with us. And if we lose that, we've really got a problem as an organization," Topping said. "So, whether you go out and have a coffee in the driver's room, or you phone a driver that you know on a regular basis, or those drivers that phone you on a regular basis to give you what they're hearing on the road, when they stop calling, that's a concern. I think that's a real heavy measurement."