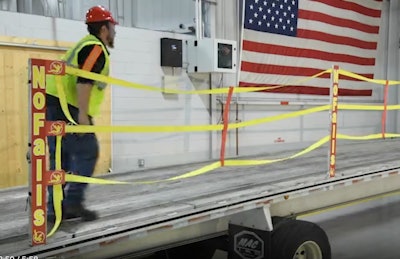 Slips, trips and falls make up the majority of general industry accidents, according to the U.S. Department of Labor, and more than a quarter of all truck and transportation workplace injuries, and are the leading cause for worker compensation claims.
Nearly a decade ago, a driver for a contracted carrier fell off a flatbed trailer at one of Eaton Steel Corp.'s, plants. This event cost the parent company of Adica Trucking Company a $1.4 million settlement.
[Related: Fleets using new technology to remove busywork, improve safety outcomes]
About three years ago, Adica had one of its own drivers fall off an open flatbed onto his head. The driver was bending over and lost his balance, said Jeff Bronson, Adica Trucking Company director of transportation. "That hit us in the face like a 2x4."
Bronson, along with Adica Fleet Services & Trucking Company Director of Safety Marc Scibilia and the company's corporate counsel, David Gunsberg, began exploring ways to prevent falls – or at least prevent a driver from falling off the working surface. The group scoured the Internet and found nothing that was both lightweight and portable.

Thus, the NoFalls was born "out of necessity," Bronson noted.
At 85 pounds per side, NoFalls is fairly lightweight and portable. It's quick to assemble and disassemble, and it also meets or exceeds the OSHA guidelines for fall protection (1910.28).
"We had the product tested by an independent lab and have the report to show the results," Bronson said.
NoFalls is a network of stakes and straps that creates a split-rail-type barrier along the edge of the trailer. It also acts as a guide wire when walking along the deck, much like a handrail on a staircase.
"Many warehouses have rolling platforms that bump against your deck so if you fall, you fall even with the deck," Bronson said, "but what if you are at a job site or a facility that does not have any protection from falling? The driver has had no choices in the past to protect himself or his income. Companies have millions of dollars in exposure and no one has filled the need to cover that exposure."
Bronson said the company has equipped all of its warehouses and processing facilities with NoFalls and Adica has begun equipping all its flatbeds with them. About 30% of the private carrier's trailers have been outfitted so far, but Bronson said, "we are installing them daily as they come through the yard. We have 110 trailers scheduled."
The system features four horizontal safety straps and five heavy-duty aluminum, C-channel and square tube posts that create a 52-inch-high safety fence alongside the trailer. The straps have a workload limit of more than 1,400 pounds.
"When I tested it, I weighed 285 pounds and I ran right at it and hit it," Bronson said, "and I'm an old hockey player."
From the ground level, the driver inserts the posts into the trailer stake pockets. The posts with the straps go at each end and posts with slots are placed as close to the center as possible. Quick release pins affix the unit to the deck. The driver then inserts the strap hooks from the bottom, the middle straps on each end of the center post, and tightens each with the ratchet. Once the lower straps have been secured, the driver can climb onto the trailer and secure the top straps to the center post and tighten them.
The system meets DOT requirements for a fixed feature and can be left up when traveling down the road, but Bronson notes it wasn't designed to provide cargo securement protection.
Bronson estimated the entire system could be assembled and taken down in about 10 minutes and could be stored against the inside of the bulkhead. Safety products on the market exist for flatbed drivers, but Bronson notes that most are heavy, expensive and difficult to store when the driver needs to haul open deck.
"We didn't get into this to make money or create a massive company," he said. "We got in to it to protect our guys. The drivers average [age] is about 50 or 51. Their balance isn't what is was 20 years ago. You're really increasing your chances of a fall."
What started out as a project to "just to protect our drivers," Bronson and Scibilia agreed, has evolved into protecting an industry. Bronson said he's received inquiries from other flatbed companies who have seen Adica's drivers using the system, and made the $2,000 system available for public purchase via truckfallprevention.com.