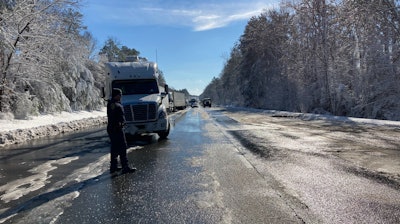 Virginia State Police
At the top of Virginia Department of Transportation's homepage this week is a large headline from their press team that reads: "Crews continue to clear primary and secondary roads."
Can't blame them for that. Virginia Governor Ralph Northam and the state's snowplow force under his watch at VDOT were slammed with an avalanche of criticism after drivers, including Senator Tim Kaine (D-Va.), became stuck on I-95 overnight following what VDOT calls an "unprecedented snowfall" on Monday.
Some reports say hundreds of drivers were left stranded on the interstate north of Richmond, while others say it was thousands. Whatever the number, it was enough to generate plenty of complaints on social media and elsewhere.
After Kaine finally made it to D.C. — typically a two-hour trip that turned into 27 — he called his time on the interstate a "miserable experience." At one point during his ordeal he Tweeted that he was "frustrated, but not in serious trouble."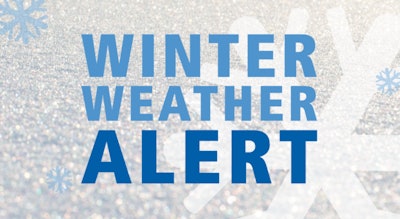 Thankfully, that seemed to be the case for most drivers, including Canadian long-hauler Matthew Marchand who Tweeted, "I did an interview in the middle of the night. Never thought I'd do that. I also never thought I'd sleep on an interstate highway. The fact that Virginia is a winter state and has taken so long to clear the interstate is nothing short of incompetence."
In an interview with The Washington Post, Northam chastised drivers for venturing out in rough weather, many of whom were commuting to work like Kaine. The massive back-up started Monday morning following vehicle crashes north of Richmond.
"We gave warnings, and people need to pay attention to these warnings, and the less people that are on the highways when these storms hit, the better," Northam, a Democrat, told The Washington Post.
Some critics aren't buying Northam's explanation, including Republican strategist Matthew Whitlock who told his 58,000 followers on Twitter: "WILD. 24 hours after snow had stopped, big portions of busiest freeway in the state hadn't seen a single plow—but it's drivers' fault for trying to get to work?! Lots of frozen roads today because they still haven't plowed. Good riddance @RalphNortham."
(Northam's last day in office is Jan. 15 at which point he'll be replaced by Republican Glenn Youngkin.)
Northam Tweeted on Tuesday that "all vehicles have been removed from I-95" and advised that drivers "avoid travel unless absolutely necessary" given below freezing temperatures.
Northam went a step further on Wednesday and Tweeted that he had declared a state of emergency as Virginia braced for another winter storm.
"These back-to-back storms will generate landmark winter weather that requires extra flexibility—particularly as many continue to deal with power outages," he said.
Communication breakdown
Having experienced hurricanes and earthquakes, I've learned to appreciate the importance of staying informed with those in the know. Here in Bay County, Florida, I'm signed up with an automated alert system called Alert Bay. If there's a concern with intense rain, flash flooding, tornado, road closures, missing persons, etc., I receive a phone call and a text. I take this alert system seriously.
While out driving, I've had Google Maps alert me to road issues ahead and offer detours to get around a potential headache. Other drivers undoubtedly receive warnings about road travel prior to leaving the house. Maybe that was the case with drivers in Virginia on Monday, or maybe it wasn't. I haven't found much on that topic other than Virginia losing a valuable source of real-time data (their traffic cams) through power outages.
VDOT did issue plenty of warnings about their first winter storm on Twitter (unfortunately, most messages came during and after the storm) and referred users to their weather and traffic monitoring website, 511virginia.org. The site's not very user-friendly on my phone, but loads up nicely on my laptop. Long before the first snowflake dropped from the sky on Monday, VDOT asked drivers to avoid non-essential travel.
Okay, that term "non-essential" probably wasn't strong enough to convince people to stay off the streets. Most folks, including Kaine, view commuting to work as essential, especially during a labor shortage.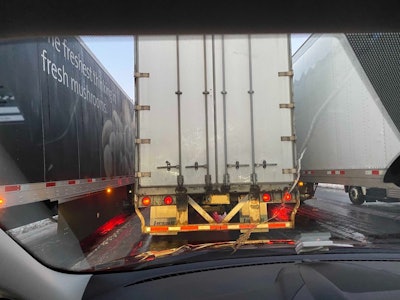 Perhaps it would have helped if some companies told their employees to stay home for the day? Maybe, but a forecast Tweeted Sunday by VDOT showed up to 9 inches of snow — not the 14 inches that fell in some areas making travel even more challenging.
To their credit, VDOT warned drivers on Sunday that they couldn't pretreat the roads ahead of the snowstorm because of concerns with rain.
"If it starts as rain and then turns into snow, we're not able to pretreat because a bond can't be formed between that brine and the pretreatment of the roadway," VDOT spokesperson Kyle Gibson told ABC affiliate 8 News.
On Monday morning, work commuters, truck drivers, holiday travelers returning from vacations and others took to the highways and streets. And according to VDOT's long Monday timeline on Twitter, it wasn't long before accidents happened and traffic came to a standstill in the frigid snow.
Government agencies can be put in a tough spot when it comes to shutting down roads and bridges, so sometimes they lean on the public's good sense. But there are times when travel has to be called off and limited to a select few, like first responders. When winds reach certain speeds in our area, bridge travel — an essential part of commuting here — is nixed. Same goes for flooded roads.
As more information continues to pour in regarding how government officials in Virginia handled their first winter storm, we'll eventually end up with an important lesson that will hopefully prevent such frustrating and frightening scenes in the future.
In the meantime — as we learned with Hurricane Michael here in Panama City — never underestimate the power of weather and its ability to get worse quickly. Forecasters had originally pegged Michael to top out as maybe a Cat 2 or 3. In the early morning on Oct. 10, 2018, Alert Bay woke me up to say that the storm had strengthened and shelters were closing fast. It eventually reached Cat 5 status and devastated the area like nothing before.
Government officials here did their best to prepare folks and then respond to unbelievable damage, but they're not omniscient and certainly far from perfect. I think that's where individuals need to do their part and assess the risks and talk it over with their family and employer before heading out into rough weather. It's that or rely on government to make all the right moves, which history has repeatedly shown can prove to be a risky play.