The trucking industry is always looking for ways to attract the next generation to the industry, whether it's truck drivers, dock workers or other personnel.
There are school programs and other initiatives to help draw young people's attention to the industry, but one logistics professional is taking a different approach to drive interest in logistics. 
In this episode of The 10-44, hosts Jason Cannon and Matt Cole speak with Thomas Geurts, a customs administrator for Arvato Supply Chain Solutions in the Netherlands, who designed a Lego set aimed at celebrating logistics, transport and trucking, and is hoping it gets enough support to be made into an official Lego set.
In designing his set, which he calls Transport, Inc., Geurts wanted to create something that would be fun for kids and get them interested in logistics, specifically the warehousing sector.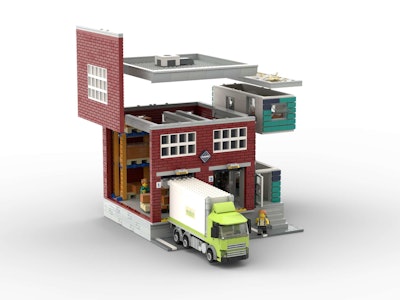 The proposed Lego set features a truck, a forklift and a pallet jack; an office where drivers would check in; a warehouse space with storage racks for freight; and a canteen/break room. 
Geurts submitted the idea in the Lego Ideas program, which requires public support through votes in order for the set to be considered by Lego to be made into an official set. Currently, Transport Inc. has more than 1,900 votes with more than 500 days remaining to hit 10,000 votes. If his Idea gets to 5,000 votes within that time frame, an additional six months will be added to the time to get to 10,000 votes. Anyone interested in supporting Geurts' project can vote for it here. 
CCJ's 10-44 is a weekly video feature covering the latest in trucking news and trends, equipment and technology. Subscribe to our YouTube channel here.