Darren Epps (Ryder), Michael McDonald (Benore Logistic) and Keith Wilson (Titan Freight) will be presenting during a CCJ Symposium session, "Finding Profitability in Renewable and Alternative Energy Sources." Click here to register, or here to see the full agenda.
Environmental initiatives by shippers and fleet executives, along with coming regulations, are steering fleets towards zero-emission replacements for diesel-powered trucks.
CCJ Symposium: Time to Transform
Future-proofing your fleet operations for the road ahead
Join us in person at the the 2021 CCJ Symposium, August 9-11, in Birmingham, Ala. CCJ Symposium assembles fleet executives, thought leaders, industry analysts and leading suppliers to give you concrete action items for trucking's most pressing issues. We'll have multiple sessions to talk through how to:
Transform Your Operation
Transform Your Equipment
Transform Your Workforce
Don't miss what might be your first chance in a long time to collaborate and socialize in-person with your peers at the picturesque Renaissance Ross Bridge Golf Resort & Spa.
The transition is slow but for the early adopters of electric, hydrogen and low-carbon fuels, the change seems revolutionary.
California's clean air agency, CARB, is behind the regulatory push to zero-emissions. Starting in 2024, 5% of Class 4-8 vehicles sold in California have to be zero emissions. The CARB timetable accelerates to 30% of new Class 4-8 trucks sold in 2030.
A nearly identical timeline will likely be adopted by 15 states that signaled this intent last year by signing a memorandum of understanding (MOU).
Fleets are already testing Class 8 electric trucks in anticipation of production models arriving in 2022. The drawbacks for electric powertrains are limited range (300 miles max) and cost — approximately $220,000 for a Class 8 truck and $20,000 for a charging station.
At the CCJ Symposium, Aug. 9-11, in Birmingham, executives from Ryder, Benore Logistic Systems and Titan Freight and will share their experiences in the marathon race to achieve zero emissions.
On-demand electric rentals
Ryder, a commercial fleet management, dedicated transportation, and supply chain solutions provider, has become familiar with how to obtain grants to purchase zero-emission vehicles. The company actively works with shipper and fleet customers to subsidize the cost of equipment conversions.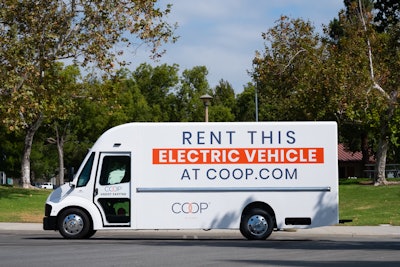 "We consider that part of a turnkey solution we offer for customers," said Darren Epps, Ryder's senior director of advanced vehicle technology.
Ryder (CCJ Top 250, No. 13) has been testing and deploying electric yard tractors from Orange EV and Loanstar with customers. The company also has two Workhorse electric step van delivery vehicles available for rental in California. Fleets can rent the vehicles through the company's COOP platform.
[Related: Ryder's truck sharing platform expands to south Florida]
Additionally, Ryder has four Workhorse EVs deployed with lease customers, Epps said. Fleets that rent or lease the Workhorse EVs can use Ryder's network of charging stations.
Ryder also has new trucks on order from manufacturers. As the new products hit the streets next year, Ryder will continue to serve as an "extended research and development arm for our customers," Epps said.
At this point, electric vehicles do not have a secondary market since battery packs are expected to last about eight years. Epps expects resale values to become clearer in 2022 and beyond.
Bringing electrics to SEC country
Benore Logistic Systems (No. 144) has a Peterbilt Model 579EV on order that is scheduled to arrive in September. The company is already working on specs for an additional 6 to 10 electric trucks that will be arriving in 2022.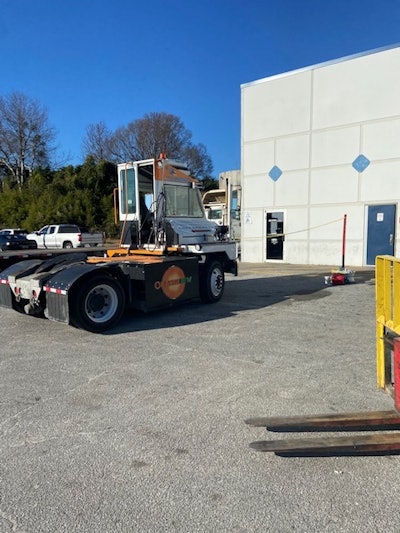 The company has been demoing the Peterbilt 579EV since May in a dedicated contract to supply loads of automotive parts and materials to a BMW manufacturing plant in Greer, S.C. The plant is BMW's largest and makes all models in the company's SUV lineup worldwide . Overall, Benore makes about 1,500 round trips to the plant each day, he said.
"We've always been involved in innovation," said Michael McDonald, director of maintenance.
About 90% of the pick-ups for the customer are within 50 miles of the plant. The slow road speeds and stop-and-go traffic of these routes are "terrible" for emissions, he said. Benore had an abnormally high number of DPF filter regen events, prompting the carrier to take a look at electric trucks. Having a willing partner in BMW sped the process.
"They were very interested in us trying electric technologies," McDonald said.
The Michigan-based fleet will use a charging station at the customer plant and is in the process of installing a second charging station at its terminal in Greer, which costs about $50,000. Benore is in the process of working on grant money for the 2022 truck purchases. It purchased the first truck without a grant.
[Related: Benore Logistic brings electrics to the southeast]
With the demo truck, the company was able to go one shift and a half between charging events. The trucks can fully charge in four hours, and drivers are getting a charge during their lunch break. McDonald believes it will be possible for the new trucks to operate for two 10-hour shifts before getting a 4-hour recharge.
Benore Logistics had already demoed electric "switcher" trucks from Orange EV in November 2020 to do yard moves for a separate customer, Michelin, at manufacturing plants in South Carolina. The trucks could do two shifts a day between recharging events.
"Drivers loved it," McDonald said. "It really worked well."
McDonald sees a number of maintenance advantages from electric trucks. Besides eliminating DPF filters, he believes the regenerative braking system will "last virtually forever." The HVAC system is completely different without as many belts, hoses and wear items.
He is planning to put an auto greaser on the trucks and use a tire pressure monitoring system (TPMS). The cost per mile will be less than half of what the company currently spends on truck maintenance, he predicts. Increased tire wear could be a wild card, but McDonald is considering adjusting launch torque, much to driver's chagrin.
That may be the only thing drivers might complain about. Those who have driven the demo truck "love it," he said. "It is silent, and the HVAC works seamlessly."
Bridging the gap to zero emissions
Last month, Titan Freight submitted an order to Freightliner for six eCascadia trucks. The trucks will cost 2.5 times more than a diesel engine truck, but the numbers show a return on investment, said Keith Wilson, president of the Portland, Oregon-based fleet.
Wilson has worked closely with the Environmental Protection Agency (EPA), Freightliner and Portland General Electric to prepare for the transition.
To bridge the gap to a zero emission fleet, Titan Freight began using a new fuel in the second quarter of 2020 that significantly reduces emissions and creates a low-cost advantage. The product, renewable diesel (RD, or R99), has been available in California and Oregon for a few years.
Produced from feedstocks like animal fats and vegetable oils, the low-carbon RD molecule is refined to the same standards and specifications as conventional diesel and uses the same fractional distillation process.
[Related: Fleet executive plans to bridge the divide to electrics]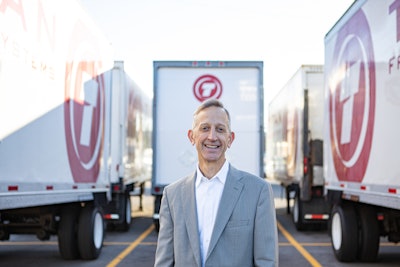 Titan Freight buys RD locally at the same price per gallon as diesel from a supplier that delivers to its onsite tank in 10,000-gallon increments. The company has fueled its trucks with RD for more than a million miles.
RD produces 66% fewer lifecycle emissions than diesel, Wilson said, and he calculates the fleet has reduced carbon emissions by 1,217 metric tons. Lower-carbon emissions have also reduced maintenance costs while keeping the same 6.7 mpg as trucks that run conventional diesel.
Titan Freight has seen a $0.015 per-mile savings by eliminating exhaust system replacement parts and downtime from clogged DPFs. Trucks running RD have had zero regens or filter replacements, Wilson said. The company has also reduced oil costs by 75% from extending drain intervals on account of fewer contaminants entering the crankcase.
The oil savings come in at one-half cent on a per-mile basis. Finally, cleaner emissions has resulted in less diesel exhaust fluid needed. Titan estimates this savings to be $0.001 per mile. With the combined maintenance savings, the fleet has reduced its operating costs by $0.021 per mile.