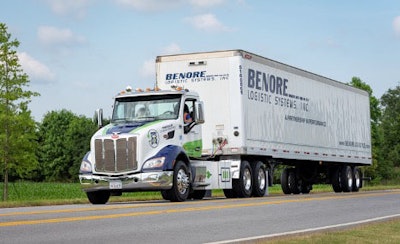 Note: CCJ will hold its annual Symposium event August 9-11, in Birmingham, Alabama. Among the topics covered will be "Finding Profitability in Renewable and Alternative Energy Sources" where fleets using a variety of alternative fuels and technologies will discuss their processes and findings. Click here to register, or here to see the full agenda.
California may be ground-zero for the electric truck explosion, but South Carolina – 2,500 miles east – is in the fallout zone.
CCJ Symposium: Time to Transform
Future-proofing your fleet operations for the road ahead
Join us in person at the the 2021 CCJ Symposium, August 9-11, in Birmingham, Ala. CCJ Symposium assembles fleet executives, thought leaders, industry analysts and leading suppliers to give you concrete action items for trucking's most pressing issues. We'll have multiple sessions to talk through how to:
Transform Your Operation
Transform Your Equipment
Transform Your Workforce
Don't miss what might be your first chance in a long time to collaborate and socialize in-person with your peers at the picturesque Renaissance Ross Bridge Golf Resort & Spa.
Benore Logistic Systems, Inc., (CCJ Top 250, No. 144) has purchased its first fully electric Peterbilt Model 579EV. The asset-based supply chain services company headquartered in Michigan has been running a 579EV demonstration unit on routes in its South Carolina network since mid-May. Dennis Kunz, Benore's vice president of revenue strategy and operation development, said the company should receive its first production model in September, and he expects to get a range of up to 150 miles.
The carrier currently operates a large fleet of Peterbilt diesel tractors, and Benore President and Owner Jeffery Benore said that prior relationship made selecting an electric Pete easier.
"Implementing the Peterbilt EVs will be a quick adjustment for our drivers," he said, "as they are very familiar with the diesel version of the vehicle."
The carrier has developed a plan to ensure that the charging time required will not impact the delivery schedule to customers, but when used in conjunction with a recommended DC fast-charger, the high-energy density battery packs should recharge in three to four hours. Benore's long-time business partner, BMW Manufacturing Co., LLC, is installing a high-capacity electric charger at its U.S. plant in Greer, South Carolina, to support the truck.
These early routes will provide Benore with insights into the performance of Class 8 electric trucks and all the information gained, Kunz said, will help Benore accelerate its transition to an electric fleet.
The Model 579EV demonstration unit being used by Benore is part of a California Air Resources Board (CARB) and South Coast Air Quality Management District (SCAQMD) Greenhouse Gas Reduction Fund Zero Emission Drayage Truck Demonstration Project, funded by the California Climate Investments, a statewide initiative that puts billions of Cap-and-Trade dollars to work reducing greenhouse gas emissions, strengthening the economy, and improving public health and the environment — particularly in disadvantaged communities and the SCAQMD's Clean Fuels Fund through a $6 million contribution towards the project. Data from the Benore demonstration will further data collection and unique duty cycle performance information for the grant project.