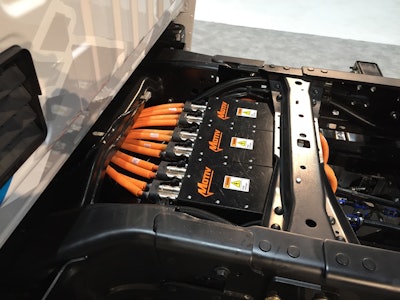 Tom Quimby
Experts say that electric trucks have far fewer parts and require much less maintenance compared to internal combustion. Naturally, this translates to fewer tools, equipment, parts and even technicians required for service.
While personnel and inventories inside a shop may decline with EVs, the shift will require new tools, equipment and company-wide practices to service these high-tech workhorses.
Few commercial EVs are in service today compared to internal combustion, yet optimism for fleet savings is strong but shops accustomed to a robust level of service revenue are cautiously approaching the mandated technology as it slowly but surely pulls into view.
[Related: Quick spin in Volvo's electric VNR]
"EVs are expected to require less maintenance and the industry will likely be doing more swapping of components versus rebuilding engines, which will likely result in less billable hours in a shop, and likely the need for less technicians, once EVs achieve critical mass in the market," said Jason Gildenmeister, vice president of fixed operations for TEC Equipment, a Volvo Trucks North America dealership group in Portland, Oregon.
TEC Equipment, which is headquartered in Portland and has locations in Arizona, California, Nevada and Washington, Arizona, sells and services Volvo's all-electric VNR day cab and sleeper. CCJ asked Gildenmeister if battery-powered trucks required fewer tools since they have less parts than conventional powertrains.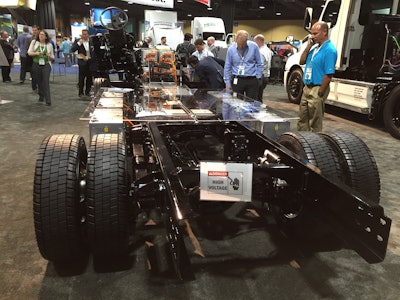 "That is correct," he said. "There are less engine-specific tools, as well as a reduction in certain types of shop equipment that would be required to service an EV truck. There is some EV-specific tooling required but it is not as significant as what is required for a traditional internal combustion engine."
The all-electric 2022 Ford E-Transit and 2022 Ford F-150 Lightning claim to offer fleets a roughly 40% cut in total cost of ownership compared to conventional. The reduction in TCO parallels a 40% drop in moving parts which will translate to some changes at the shop.
"From a technician's perspective, the amount of tools needed to service an EV is likely to be reduced, as there is less need for specialized engine, transmission or driveline tools," said Elizabeth Tarquinto, manager of technical support operations at Ford Customer Service Division. She also added that while overall fewer tools may be needed, new shop equipment will be necessary.
"Repair shops will have an investment in EV equipment in order to lift, move and charge the battery," she said.
[Related: Transition to zero emissions puts pressure on reefer fleets]
While the need for conventional, wrench-wielding technicians may drop, other new positions will emerge to support EV service.
"Although EVs require significantly less maintenance, which results in significant operation and maintenance cost savings, the growth of EVs across all segments will also see a growth of a multitude of roles, such as technicians, customer support, driver trainers, electrical engineers and software developers," said Joanna Hamblin, senior marketing manager at Motiv, a California-based company that specializes in electrifying work trucks, step vans, shuttles and busses.
"Also, new higher-skill work in facility-vehicle management is emerging to ensure reliable and optimized charging of EV's within the context of a facility that uses energy in increasingly diverse and complex ways," Hamblin continued.
New tools, new methods
Professor John Frala, longtime alternative fuels training coordinator at Rio Hondo College in Whittier, Calif., said a laptop has become the tool of choice for techs working on electric trucks.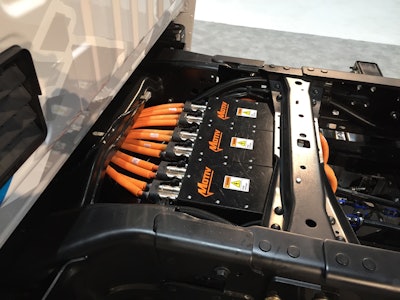 "It's firmware basically and we can do all of that online," Frala said. "We can flash firmware while the trucks are parked sleeping."
The National Institute for Automotive Service Excellence (ASE) in Leesburg, Va., said it's possible that EVs may bring about two groups of technicians in the shop.
"​While EV maintenance might not be as significant as ICs, the vehicles still will need regular maintenance on all the other systems: brakes, HVAC, suspension," said Trish Serratore, senior vice-president of communications at ASE.
"There is some thinking that there will be a single tech or team to handle the EV side and the other techs wil handle regular maintenance. Tech population here will be flexible until EVs are a great source of the car park."
[Related: Great interest in electric trucks as utilities swoon]
It's not just the vehicles themselves that will require a new set of tools and personnel, but infrastructure as well.
"While the vehicles themselves require significantly lower maintenance there will be significant upgrades needed in the infrastructure systems associated with electrification and other alternative fuels," said Bill Van Amburg, executive vice president at CALSTART, a national non-profit that works with key industry stakeholders to help advance clean transportation technologies.
"Technicians will be needed across the sector including charger installation and troubleshooting, ongoing utility upgrades, and vehicle-to-grid integrations," Amburg continued. "The infrastructure installation and maintenance may outweigh any vehicle production and maintenance. There will be a time of transition and CALSTART strongly supports smart and long-term workforce training and transition investments."
The transition to new EV tools, equipment and a new breed of mechanic will be a long one.
"Eventually we could see less demand for techs based on the lower maintenance requirements with EVs. However, the need to service IC vehicles will continue for the near future," Tarquinto said.
Mike Roeth, executive director at the North American Council for Freight Efficiency (NACFE), also believes that the switch to all-electric commercial vehicles will be more of a marathon than a sprint. After studying various technologies through NACFE trials, including most recently all-electric trucks, Roeth is convinced that both diesel and electric will fill fleet rosters for years to come.
"We will need to continue to do both," Roeth said. "It is a mistake to compare diesel needs to electric ones. We should all be thinking diesel now, diesel and electric for decades and ultimately just electric. But that is quite a ways off."