Trucking news and briefs for Friday, Jan. 28, 2022:
Semi among Tesla products in production holding pattern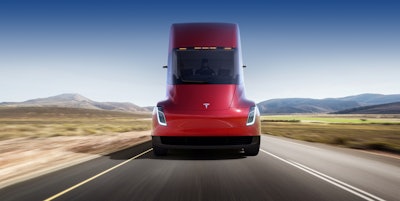 Tesla's fully electric Class 8 has been delayed three times and is more than two years overdue, but company founder Elon Musk said Wednesday the company still planned to kickstart production on his vaunted Semi next year.
Semi was included in a list of Tesla products that are in the company's pipeline, including Cybertruck, Roadster and Optimus, that Musk expects to "do a lot of engineering and tooling and whatnot to create those vehicles," he said, "and be ready to bring those to production hopefully next year."
Optimus – a humanoid robot Tesla introduced last August – Musk said would be among the company's priorities this year. "I think, actually, the most important product development we're doing this year is the Optimus humanoid robot. This, I think, has the potential to be more significant than the vehicle business over time."
When the sleek zero-emission tractor was unveiled in 2017 in Hawthorne, California – the home Tesla Motors' design center and company founder Elon Musk's SpaceX rocket factory – production was penciled in for 2019, and orders began to trickle in from the likes of UPS, FedEx, PepsiCo, Anheuser-Busch, J.B. Hunt, Walmart and others.
FTR: Shippers Conditions improved in November
FTR's Shippers Conditions Index (SCI) for November improved to a -9.0 reading from October's -12.4. October's reading had been the lowest reading since the all-time low was reached in March of 2021.
Stable diesel prices in November led to better market conditions for shippers, FTR says, but other factors still made for the toughest conditions since June aside from the October dip. The outlook for the SCI is for mildly negative readings throughout 2022.
"Shippers are unlikely to experience a material improvement in their conditions in 2022 as congestion and service issues will remain prevalent for most of the year," said Todd Tranausky, vice president of rail and intermodal at FTR. "It is likely to be 2023 before shippers experience a material gain in the performance of the supply chain."
Roehl to pay $3.5M in safety incentives this year
Roehl Transport (CCJ Top 250, No. 59) announced it will pay company drivers more than $3.5 million in safety incentives in 2022. That amount is based on how much the company paid drivers in 2021 after a sweeping increase in accident-free pay.
"At Roehl, safety is synonymous with professionalism," said CEO Rick Roehl. "Safety is our cornerstone value, and we reward our driving teammates for their professionalism as they drive."
Roehl drivers earn accident-free pay when they do not have preventable accidents and complete all assigned training. Instead of having to wait to receive a quarterly or other bonus, Roehl drivers earn additional cents per mile for each accident-free mile they drive, as they drive them.
In 2021, more than 90% of Roehl drivers who were eligible for accident-free pay earned it, the company said.
FleetPride acquires Louisville's Nationwide Truck Service
FleetPride announced this week that it has acquired the assets of Nationwide Truck Service of Louisville, Kentucky.
Founded in 1989 and owned by Eric Adkins, Nationwide Truck Service offers a wide range of repair services from its 21-bay facility and mobile repair units in addition to 24/7 roadside support. The Service Center at 355 Farmington Ave. will team up with the existing FleetPride parts branch at 4670 Jennings Lane in Louisville, creating a complete value proposition for customers. Adkins and his son Jake will remain involved in the day-to-day operations.
"This is an outstanding opportunity for our valued customers and our team," Adkins said. "Our customers will appreciate the access to a nationwide network of parts and service, and our employees will have the ability to grow and advance in FleetPride's new service organization."