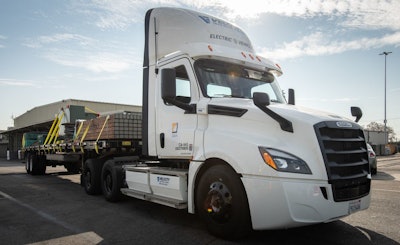 Southern California Edison
Alabama Power Company Electric Transportation Manager Cedric Daniels and Rachel Moses, commercial business head for Electrify America, will join a CCJ Symposium panel discussing the infrastructure available to refuel and recharge alternative power vehicles. Click here to register, or here to see the full agenda.
CCJ Symposium: Time to Transform
Future-proofing your fleet operations for the road ahead
Join us in person at the the 2021 CCJ Symposium, August 9-11, in Birmingham, Ala. CCJ Symposium assembles fleet executives, thought leaders, industry analysts and leading suppliers to give you concrete action items for trucking's most pressing issues. We'll have multiple sessions to talk through how to:
Transform Your Operation
Transform Your Equipment
Transform Your Workforce
Don't miss what might be your first chance in a long time to collaborate and socialize in-person with your peers at the picturesque Renaissance Ross Bridge Golf Resort & Spa.
If you put out some generous incentives, will they come? Evidently so.
Southern California Edison (SCE) expects to see thousands of medium and heavy-duty electric trucks roll out in Southern California thanks in large part to its Charge Ready Transport Program.
SCE's program is part of a growing effort at utilities around the country that are stepping up fast to help educate and prepare fleets to transition to EVs which includes pointing out generous incentives.
Duke Energy in North Carolina has also been busy creating avenues for businesses to drop the pump and plug in their trucks and vans. Last week the Charlotte-based utility, one of the nation's largest, announced that it's seeking approval from the North Carolina Utilities Commission for a $56 million phase 2 program "to continue the advancement of transportation electrification in North Carolina."
[Related: Report: Battery electric not slowing down after transformative 2020]
But it's really California, and more specifically, SCE that's been attracting more and more fleets not only by revealing state and federal incentives but also by providing extensive information on fleet electrification at their website.
"We have really great interest from our customers for electrifying their fleets," said Chanel Parson, SCE's principal manager of transportation electrification operations. "As part of this [Charge Ready Transport Program], we are seeking to electrify over 8,000 medium duty and heavy duty vehicles at over 800 sites and we have $356 million allocated for this program.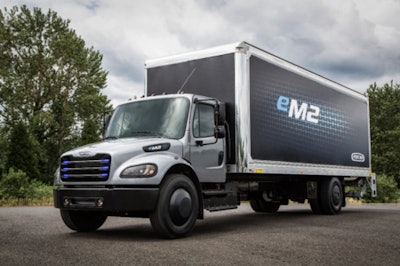 "We've had a lot of interest for customers applying for the program," Parson continued. "It provides a lot of support for the infrastructure needed."
While Duke also sees the value in providing infrastructure for commercial electric trucks and vans, they're also looking ahead to battery lifecycle management. Once EV batteries reach about 80% degradation, or the point at which they're no longer suitable for powertrain use, they can become candidates for second-life use, such as power storage for charging other EVs or for back-up power. Beyond second-life use is recycling which can recover costly elements such as cobalt and nickel.
[Related: Charging infrastructure better than we think?]
Depending on fleet needs, Duke will be on hand to help from power infrastructure and charging requirements to battery management.
"It's a big culture shift from going from gas power trucks and diesel to electric," said Duke Energy communications manager Randy Wheeless. "There's a whole other infrastructure at work with batteries, battery management and other [operation and maintenance] expenses. And we know that business. We know batteries and battery management.
"We've done a lot of work with batteries over the last decade," Wheeless continued. "So we think we can bring a lot of value to fleet management in doing that. Let them focus on getting the emissions reductions that they're looking for, but not have to build a whole new infrastructure to do it."
Clicking for answers
As with so many other new ventures, fleets can turn to online resources for commercial EV research. Several utilities, such as SCE, Duke and the nation's largest energy provider, Pacific Gas & Electric, have developed online guides that offer varying degrees of information pertaining to EV acquisition.
While SCE, Duke and PG&E all offer EV calculator tools that can quickly show the energy savings realized from operating EVs, it's clear that SCE has forged ahead with its Charge Ready Transport Program website which focuses on fleet electrification.
Creating such a site for fleets made sense for SCE which provides power to roughly 5,000 large businesses and 280,000 small businesses in an area that's long been a busy hub for commercial trucks and vans.
[Related: From maintenance to charging, fleets detail experiences so far with Class 8 electric trucks]
The Charge Ready Transport Program provides plenty of information on building up infrastructure, shopping for chargers, using less costly power during off-peak times and sizing up incentives. But beyond that, the largest subsidiary of Edison International has no plans to sell EVs. Verizon, Sprint and AT&T's model of selling cell phones and service does not apply in this case.
"Southern California Edison's position in the electric vehicle space is really to try to help get early adopters on board," Parson said. "Our intent is not to be in the electric vehicle business. We're really trying to help provide these subsidies and make it easy and be really helpful for early adopters to get into the market.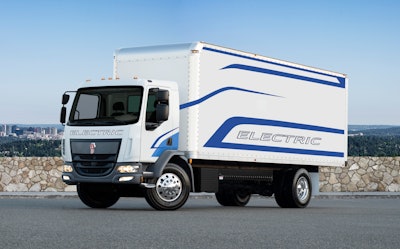 "As you well know, there's a lot of players who are working to accelerate vehicle electrification. And we think this is great," Parson continued. "And honestly, once the market gets to a place where we have plenty of EVs and we have plenty of chargers, then our role is to step back. We're really just trying to help the market get going and help California in particular meet our greenhouse gas emission goals and some goals that we've made for clean energy."
On the well-to-wheels topic where businesses are looking more closely at their carbon footprint--including the sources that produce their power—the push for electrification remains strong, Parson said, despite increased competition from biofuels including renewable natural gas which frequently has a carbon intensity score below electric.
"I think in the near term, there's so much momentum around electrifying," Parson said. "As a utility, we're doing a lot to procure green energy. If a fleet is interested, it's worth asking their utility how clean the energy they procure is. But I think they're parallel issues, and I think the momentum around electrifying is very strong."
That momentum extends to SCE's own fleet which in November announced that it had become the nation's first utility to receive and test a Class 8 electric Freightliner eCascadia. The truck, with a 250-mile range, is being used to haul heavy utility equipment like transformers, wire reels and switch gears.
Duke plans on rolling out electric trucks in its fleet. It inked a non-binding agreement with Lordstown for 500 electric Endurance pickups but delivery on the trucks "has gone a little slower than we expected," Wheeless said.
Lordstown told Commercial Carrier Journal that production on the Endurance will begin in September with a rollout following later this year.