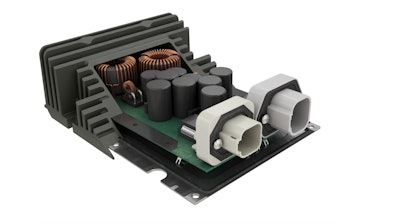 Eaton
Vehicle electrification does not always have to mean range anxiety and expensive charging systems.
As Eaton reminded Commercial Carrier Journal this week, mild hybridization through a 48-volt system can reduce emissions and save fuel while avoiding the higher costs of going all-electric along with the additional challenges of range anxiety and hunting for the next EV charger.
Carl Smith, commercial manager of sales, inside sales and applications engineering at Eaton, also pointed out that a 48-volt system doesn't require costly lithium-ion batteries. Lead acid batteries, whether absorbed glass mat, traditional flooded or deep cell can be used to power accessories like fuel-thirsty air conditioning, power steering, lift systems, etc. on a broad range of hardworking vehicles including Class 8 long-haul tractors.
"We're seeing a tremendous amount of interest [in 48 volt systems]," said Smith.
[Related: TMC panel discusses merits, challenges of 48-volt hybrid]
To help fleets transition to 48 volts, Eaton introduced low-voltage power components this week for both commercial and off-highway vehicles. However, it's best to let OEMs and suppliers handle the conversion.
"It's going to have to be OEM and supplier driven," said Smith, who led a Technology and Maintenance Council panel on 48-volt systems. "What I mean by that is in my opinion the OEMs and suppliers have to pull together to develop systems that work together as an integrated system on the vehicle because you've got starters, alternators, battery banks, cables, etc.
"You can test on a modified platform, but you would really need to design this for a ground up system to incorporate 48 volts," Smith continued.
In addition to lowering fuel use and emissions, the advantages of using 48 volts versus 12 include smaller gauge wire which reduces cost, size and weight of wire harnesses and supporting components like the alternator. Challenges include the potential for an uptick in faulty grounds owed to increased corrosion and dangerous arcs. 
Nonetheless, as fuel costs rise alongside emissions requirements, Smith sees growing interest for 48-volt hybridization including Class 8 long-haul. In addition to powering a truck's A/C system while the driver waits at the ports or at a loading dock for instance, a 48-volt system can also serve as a more efficient power source for 110-volt accessories in the sleeper like a fridge, microwave, CPAP machine, and other needs.
"One of the biggest electrical power consumers on a truck can be an inverter [which steps up 12 volts to 110]," Smith said. "You have to put in about 12 amps at 12 volts to support one amp at 110. But if you use a 48- to 110-volt inverter, you you've decreased your input current by a factor of four, because you're going from 12 to 48. So moving those high current consumers over to 48 volts is one of the driving factors. Another driving factor would be air conditioning. You can now power an air conditioning compressor off of a 48-volt battery bank as opposed to running an engine all night to spin the alternator to power that air conditioning circuit."
Smith said 48-volt systems can also be used to power air conditioning in work trucks.
"We're also seeing interest similar on the construction side to be able to operate that loader's air conditioning or other devices at 48 volts," he said.
48 volts catching on
While still not commercially available in Class 8 tractors, 48-volt hybrid systems have been the focus of R&D efforts among major truck manufacturers in the U.S.
OEMs participating in the Department of Energy's ongoing SuperTruck program, such as Daimler Truck North America (Freightliner, Western Star), Paccar (Kenworth, Peterbilt), Navistar and Volvo, have used 48-volt hybrid systems to power HVAC, power steering and other components. A driveline mounted device is used to capture kinetic energy that powers accessories and charges the battery bank. (See photo below.)
The 48-volt electrified powertrain was considered a milestone achievement in a SuperTruck II PACCAR 2021 Annual Merit Review presented last June.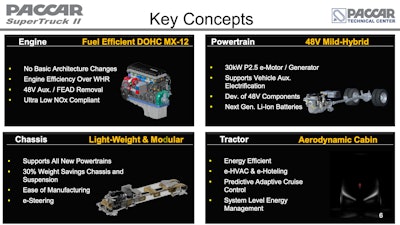 Forty-eight volt hybrid applications have also been at work in commercially produced domestic and foreign autos. Ram has offered a 48-volt mild hybrid option in North America for the last few years in their 1500 pickup.
"The eTorque 48-volt mild hybrid system delivers improved fuel efficiency in both V-6 and V-8 engines offered in the Ram 1500," a Ram spokesperson told CCJ. "In fact, the Ram 1500 with eTorque is more capable than the previous model. Offering improved fuel economy, drivability, performance and technology gives us an expanded consumer base who may not have considered a pickup before."
Chevy has made a 48-volt hybrid option available overseas in their Blazer. A Ford spokesman told CCJ that they currently "don't offer any 48-volt mild hybrids in North America." However, the Ford Fiesta Van, Transit, Transit Custom and Tourneo Custom are available with the fuel-saving option in Europe. 
[Related: More on the 48-volt mild hybrid in Super Truck II]
Smith sees 48-volt hybrids making their way to demanding work truck and construction segments where hydraulic systems lean on internal combustion. There are limits, however.
"I don't think 48 volts will ever replace ground engaging equipment," he said. "We just don't have the power to do it. However, there is a sweet spot where [48-volt] electric can replace hydraulic and that's in that 10- to 30-kilowatt range right now.
"A bucket truck is very similar to a scissor truck for what it's trying to do yet many of those, even though they may have electric motors, they're still running a hydraulic pump," Smith continued. "So yes, those hydraulic lines and hydraulic pump can be now replaced with electric motors to do that lift function."
Smith also envisions Class 8 long-haul as an ideal match for 48-volt hybrid power since other nascent options like all-electric and hydrogen fuel cell, both of which sorely lack fueling infrastructure.
"Let's just look at a sleeper cab," he said. "There is no infrastructure right now to charge a high-voltage electric vehicle or even a fully hybrid vehicle if it's going coast-to-coast with all of the routes that it has to go through.
"I can't pull over to a service station anywhere in Timbuktu and plug in an electric cord to charge my batteries at the rate we need. Forty-eight volts allows many of the advantages of a full hybrid system, but with 48-volt accessories on board while still utilizing an internal combustion engine for the motive power," Smith continued.