Trucking news and briefs for Thursday, Feb. 10, 2022
FMCSA bars Mexican-licensed truck driver
The Federal Motor Carrier Safety Administration has effectively shut down Mexican-licensed commercial driver (Licencia Federal de Conductor (LF)) J. Rafael Arizaga-Tapia, aka Nibardo Andrade-Mendoza, barring him from operating any commercial motor vehicle in interstate commerce in the United States.
According to FMCSA, on June 24, 2021, Arizaga-Tapia was notified he tested positive for controlled substances. As a result of the positive test, he was prohibited from performing any safety-sensitive function, including operating a CMV. At the time of the positive test, he had a valid LF and a valid Washington state driver's license.
FMCSA's review of Arizaga-Tapia's driver history for his LF and Washington driver's license revealed prior offenses for speeding, driving under the influence and refused tests. His Washington driver's license also has an ignition interlock device restriction.
After the positive test, Arizaga-Tapia obtained an LF under the name Nibardo Andrade-Mendoza. It is a violation of the Federal Motor Carrier Safety Regulations for a CMV driver to have more than one driver's license.
On or about Nov. 12, 2021, Arizaga-Tapia, using the name and LF of Nibardo Andrade-Mendoza, was operating a CMV on State Road 97 near Orondo, Washington. The vehicle he was operating failed to negotiate a curve, left the road, crashed through the guardrail and fell into a ravine.
Arizaga-Tapia was in possession of opened and unopened beer cans, FMCSA said, and subsequent blood tests showed a measurable alcohol concentration in his system. At the time of the crash, Arizaga-Tapia's LF was still listed as prohibited in FMCSA's Drug and Alcohol Clearinghouse.
ACT forecasts electric truck marketshare to cross 20% in five years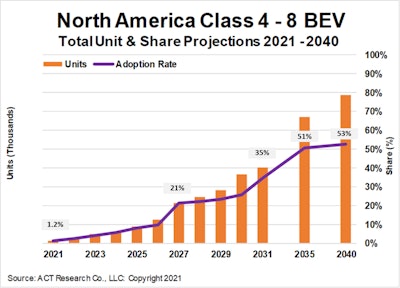 Battery electric trucks made up less than 2% of the market last year but are estimated to steadily climb before crossing the 20% mark in 2027, according to forecasts published by ACT Research.
As part of the second edition of its battery and fuel cell commercial electric vehicle report, Charging Forward, ACT Research analyzed and built economic-based, total-cost-of-ownership (TCO) algorithms to plot the baseline, slow-case and fast-case scenarios for adoption of 23 work applications of Classes 4-8 vehicles across North America.
"We've really spent a considerable amount of time looking at the regulatory landscape to understand how policies and regulations will impact BEV and FCEV adoption. Everything from ZEV mandates and NOx emissions regulations to relaxing weight penalties and local air quality rules," said Lydia Vieth, ACT's Research Analyst of electrification and autonomy. "Regulatory impacts are built into our TCO model, and we've made it easy for our clients to factor in their own subsidies and incentives."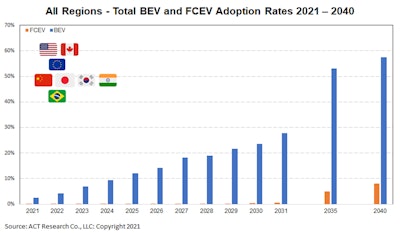 On the heels of Charging Forward, a North American-centric electric vehicle study, ACT's expanded global edition includes revised and updated forecast assumptions for U.S. and Canada, plus the addition of Europe, China, Japan, South Korea, India and Brazil. It also includes a new analysis of propulsion systems technology, related global regulations, and EV charging and Hydrogen fueling infrastructure.
"This has been a great multi-client study. The level of participation of our study participants has been amazing, ensuring that this is more than just some desk research project based on theoretical costs and projections," noted Ann Rundle, ACT Research vice president of electrification and autonomy. "For me, the best part of this study was the positive reception our clients had to the finished product; finally they have one source to help them plan for the future. It is very cool to know all of our hard work has tangible value."