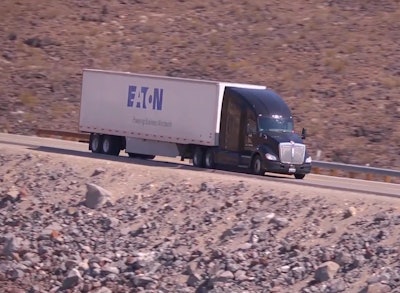 Mild hybridization in long-haul trucks is gaining momentum for fuel savings and emissions reductions.
The 48-volt system works in tandem with a truck's existing 12-volt architecture and includes an electric motor/generator (in place of the alternator), energy recovery during braking and deceleration, and batteries capable of high-power discharge and recharge.
Parasitic loads such as power steering, HVAC, brakes and the engine fan can be powered by electric motors. The savings add up. Eaton reports that its 48-volt mild hybrid regenerative accessory drive, which the U.S. Department of Energy adopted for its Super Truck II program, reduces fuel consumption by 2% to 3%.
"That may not sound like a lot, but that could be up to $1,500 to $2,000 a year in fuel that would be saved through that system," said Matt Nolan, eMobility global product strategy manager for Eaton.
But why 48 volts? Safety and savings.
"Using 48 volts make sense because it stays under the 60-volt safety limit, beyond which significant costs are incurred to keep the operator and first responders safe," said Dave Genise, director of engineering for Eaton.
In Dana's roughly five-minute-long "Electric Vehicle Maintenance Safety Tips" training video, the late Jessi Combs puts on two pairs of gloves, a hood, a special jumpsuit, an arc-resistant face shield and electrical-rated boots, tapes off her stall with yellow hazard tape and goes through critical shutdown procedures before even thinking of working on the high-voltage truck.
Though not as dangerous, mild 48-volt hybrid systems are not without risk.
"It's not the voltage that kills, it's the current," said Professor John Frala, who instructs classes on alternative fuels, including electric and fuel-cell vehicles, at Rio Hondo College in Whittier, Calif. "A small current of 500mA can stop a heart."
Besides offering safer working conditions, 48-volt hybrid systems cost less than all-electric; require fewer battery cells, which reduces weight; do not require costly charging infrastructure; and use smaller-gauge wires versus 12- and 24-volt systems, which reduces weight and cost.
"There is definitely a weight and cost savings to the wiring harnesses," Genise said. "For Eaton's 48-volt mild hybrid system, the main power harness is 40% lighter than the 12-volt cables it replaces, saving up to 50 kilograms per vehicle at the same power. However, this effect is quite small compared with the overall cost of the collision mitigation equipment. Another option, which Eaton often uses, is to keep the same cable size and increase the available power to four times. This provides increased power without adding weight."
During a presentation on 48-volt technology at last year's Technology & Maintenance Council meeting in Atlanta, Jim Bevan, eMobility manager for Daimler, said that while less wiring drops the price on one hand, additional technology required for a multivoltage system (i.e., converters and equalizers) would negate those savings and actually result in a higher upfront cost. The savings, Bevan said, would come over time through improved fuel economy, thanks to the truck's hybrid capability.
Other challenges for a 48-volt system include increased corrosion problems, particularly at ground, and dramatic arcs.
"Arcs can be dangerous," Bevan said. "This is something that needs to be considered when we're designing these systems."
Playing nice with others
Anyone who's ever handled a greasy 12-volt starter motor beneath a powertrain knows there is nothing light or small about them. About half as dense as gold, one cubic foot of copper weighs 559 pounds, which at current market value adds up to $1,542.84. A fourth of that weight is 140 pounds or $386.40.
Let that sink in for a second. A 48-volt system requires one-fourth of the wiring of a conventional 12-volt circuit. While the cost savings may be offset by other expenses brought on by 48-volt technology, using one-fourth of the wiring invites a welcomed reduction in weight and the size of motors and wiring harnesses. There's only so much room under the hood and only so much cargo that can be hauled. Every cubic inch and ounce counts.
So what about taking the entire system to 48 volts? After all, it would eliminate the hassle of dealing with a truck that has 12- and 48-volt circuits and cut even more cost and weight in wiring. Seems like a no-brainer, especially at a time when trucks are getting additional electronics such as collision mitigation systems.
"No," said Richard Beyer, vice president of engineering and research and development for Bendix. "There's not a significant cost reduction, since these systems are not high-power consumers. When you talk about the HDAD sensors, the cameras, the radars and all that —there's no benefit to those devices in going to high voltage. They're already working at 12 volts, and that's where the big volumes are. I think it boils down more to a total cost of ownership. When you look at the installed cost, that's what's going to drive the voltage. You can do it at 12 effectively and cost-effectively. That's probably the cheapest way to do it, because you have economies of scale."
Collision mitigation technology has been on the market for years in passenger cars, along with 12-volt lights, radios and GPS devices. Firmly established supply chains and production methods drive the Class 8 market, and hanging these low-watt electronics to 48 volts would entail much larger costs with no real benefit at the moment, Beyers said. Also, lights will last longer at 12 volts than 48, he said.
"If you look at the chassis itself, 12 being the standard here, 24 volts being the standard in Europe, there's no real drive to go to 48 volts," Beyer said. "And then on top of that, the problem is that the cost of the electronics to go to 48 volts would drive the cost higher, not lower, because of the protection devices that they have to put in to make it automotive-grade."
Other factors, however, may converge to push for a larger 48-volt footprint.
"If there's a benefit functionally or safety-wise for highly automated driving or greenhouse gas emissions, they'll go to 48 volts, but it'll be selective," Beyer said. "You can't do it at 12 or 24 volts. It's just impractical (to run accessories), because the motors just get so heavy. You need to have higher voltages, and 48 volts becomes a cross between safety and what you can do. You can handle the current and get enough power to do a 5- or 7-kilowatt draw for a prime device like a compressor or a power-steering pump."
Genise agreed that 12 volts will be here for a long time to come, especially in light of all the trailers that rely on the older power stream.
"Initially, Eaton sees early 48-volt commercial vehicle adoption in the United States using a dual bus of 48 volts and 12 volts," Genise said. "It is unlikely the 12-volt bus will be eliminated unless many of the tried-and-true basic 12-volt systems are available in 48-volt versions with the same economies of scale.
"Trailer fleet life also becomes important," he said. "With roughly four trailers in use for every truck, there will be a need for 12-volt trailer power for some time to come. For this reason, Eaton expects a 3-5kW 48-volt/12-volt DC/DC converter will be needed to cover the expected 12-volt loads. Over time, scale will grow on 48 volt-ready electric components, partly reducing cost, and the 48-volt/12-volt converter will also shrink, reducing cost further through smaller wiring harnesses and less powerful converters to support the 12-volt bus."
Though mindful of the challenges in adapting 48-volt circuits, Larry Rambeaux, sales manager for Purkeys, said collision mitigation systems may stand to benefit from an uptick in voltage.
"Higher voltage could allow the system to be more efficient and make them faster-responding," he said.
However, there are challenges, too.
"Another real concern over the higher voltage is the fact that the lower current can mean smaller wires used," Rambeaux said. "While this can be a great weight and cost savings initially, the risk of corrosion grows as the voltage increases, and all connections will have to be made more robust and better sealed to live the life of the truck. Also, any repairs will have to be done with higher-quality components and workmanship."
On the road again
The only factory-produced 48-volt truck currently available is Ram's 1500 eTorque, which features a 48-volt battery that provides boost to the powertrain with electric assist.
Brian Spohn, manager of vehicle electrification for Ram, said that since its mild hybrid is not all-electric but instead has a common ground, personal protective equipment is not required like it is on a high-voltage electric vehicle or hybrid. But before the hood goes up, technicians must undergo training.
"On top of the current training for the Ram 1500, the FCA Performance Institute initiated a special course on the eTorque mild hybrid and how to service and diagnose the system," said Brian Szalk, head of technical training for Ram. "We established this course as an online resource in different languages for quick proliferation and constant access. Technicians must complete the course before servicing the e-torque system."
One of the lessons that technicians receive focuses on cable colors. An electrified vehicle at or below 60 volts uses blue cable on the motor generator unit (MGU). Anything above that amount would use orange cable.
"The prime power unit and MGU carry protective measures for voltage control," Spohn said. "In all electrification powertrains, installation and removal must follow the ordered procedure."
In addition to Ram pickups, 48-volt systems currently are being used in Mercedes S-Class cars, Bevan said.
Jeff Williams, senior power electronics engineer for Volvo Group, spoke last March at TMC's presentation on 48-volt hybrids and said that larger voltage systems have been used successfully for years in aviation, military and European commercial vehicle applications.
"It's not new technology," he said. "There are billions of miles on this equipment."
Williams said that higher voltages enable brighter lights and more effective braking on trailers (especially on triples) and could "facilitate active aero, gap reduction, e-PTOs (power-takeoffs), solar features, etc."
He said additional components will be required in a multivoltage system, including a battery equalizer to maintain the stress equally in a multibattery configuration.
But no matter the battery, DC voltage is only as good as its ground, which some feel may prove to be an area of concern for 48-volt applications.
"Arc fault protection is currently being developed for higher-voltage applications – generally 400 volts to 1,000 volts – but not for 48 volts," Genise said. "However, Eaton, along with many OEMs that currently operate 24-volt systems, recommends managing the 48-volt grounding loop by using cables and connection systems to eliminate the challenges with voltage, corrosion and electronic noise associated with using the chassis as a grounding loop. This also eliminates any negative impact of a 48-volt system on sensitive collision mitigation systems."