Trucking news and briefs for Monday, Feb. 13, 2023:
Volvo scaling up VNR Electric trucks that service assembly plants
Volvo Trucks North America announced it is scaling up the number of zero-tailpipe-emission Volvo VNR Electric trucks that service its North American assembly plants.
In collaboration with four carrier partners, a total of 15 battery-electric Class 8 Volvo VNR Electric trucks will transport inbound parts and components to the Volvo Trucks New River Valley Assembly Operations (NRV) in Virginia and the Volvo Group's Lehigh Valley Operations (LVO) plant in Pennsylvania.
"We believe in leading by example, and this project is an important part of our strategy to create a world-class, sustainable transport system," said Peter Voorhoeve, president, Volvo Trucks North America. "By collaborating with our local carrier partners to deploy our own zero-tailpipe emission VNR Electric trucks to service our plants, we are able to improve sustainability within our value chain and in the communities in which our own employees work and families live."
Working with local suppliers and carriers, Volvo has deployed eight Volvo VNR Electric trucks to service its New River Valley Assembly Operations (NRV) in Virginia. The project was first announced in 2021, when Watsontown Trucking Company and Camrett Logistics ordered their first Volvo VNR Electric trucks. A third local carrier, Online Transport, has now joined the project, further decreasing Volvo Trucks' supply chain emissions.
The Volvo VNR Electric trucks are dedicated units for the NRV plant, with each truck running several daily round-trip routes across two shifts. The fleets take advantage of opportunity charging during drivers' 30-minute lunch on both the first and second shift, and then fully charge the trucks at the end of second shift when the companies can utilize off-peak utility rates. All three fleets have installed their own charging infrastructure at their facilities to support the VNR Electric trucks.
In December 2022 Ryder System began operating seven Volvo VNR Electric trucks to transport assembly kits of components for heavy-duty trucks at the kitting facility for Mack Trucks' (LVO) plant in Pennsylvania. The battery-electric trucks replaced the diesel trucks that were previously servicing the route to further support the Volvo Group's sustainability goal of reducing CO2 from its global operations.
Manhattan Beer Distributors receives BYD electric yard tractor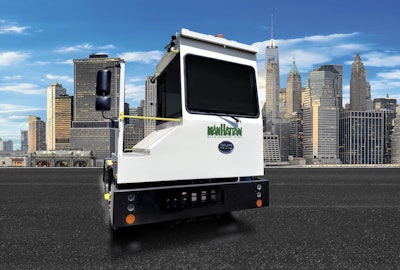 BYD (Build Your Dreams) delivered an 8Y terminal tractor last month to New York's leading beer and beverage wholesaler, Manhattan Beer Distributors. This is the first electric terminal tractor in the company's fleet of over 355 trucks, which work delivering its products to New York City, Long Island and the Hudson Valley.
Milea Truck Sales and Leasing, a BYD truck dealer, helped deliver the 8Y terminal tractor, which can provide 22 to 26 hours of consecutive operation.
"BYD applauds Manhattan Beer Distributors for their dedication to improving the quality of life in their community by switching to clean energy vehicles," said BYD Senior Vice President Patrick Duan. "Manhattan Beer's green initiatives truly show their commitment to helping the environment, and BYD is happy to work with a company so eager to make a difference."
Manhattan Beer Distributors has emphasized the importance of alternative fuel solutions for more than two decades in an effort to improve air quality for its communities and minimize its environmental footprint. Manhattan Beer's green initiatives can be seen throughout several areas of its business, expanding beyond their electrified fleets into recycling operations and solar panel investments.
"We're excited to partner with BYD and NYSERDA to electrify our yard tractor as part of our continued efforts to increase the use of sustainable fuels throughout our entire operation," said Juan Corcino, senior director of fleet and sustainability at Manhattan Beer Distributors.