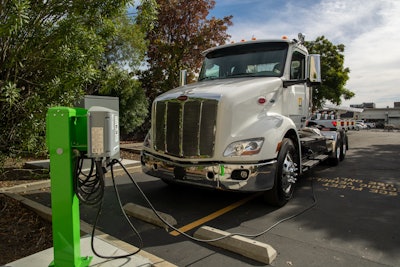 Southern California Edison
While most Class 8 electric trucks in California have been heading to the ports for drayage duty, Southern California Edison (SCE) and Peterbilt say utilities also make a good fit for the nation's biggest on-road workhorses.
SCE, no stranger to battery-powered Class 8, recently acquired a Peterbilt 579EV that it will be using to haul heavy crane tooling.
"We may also use it in our material transport fleet moving materials from warehouse to local service centers in the L.A. Basin," explained Paul Griffo, SCE's senior advisor of corporate communications.
SCE also recently added 15 electric Ford Lightnings as part of an ambitious plan to electrify its fleet by 2030, which is expected to cut roughly 6,000 metric tons of greenhouse gas emissions per year.
SCE's decision to buy its first electric tractor from Peterbilt is a start to further Class 8 electrification for one of the nation's largest utilities, which serves 15 million customers from over 100 locations across 50,000 square miles.
"We plan to replace most of our two dozen or so diesel tractors with EVs in the coming years. Our heavy haul tractors will likely be the last of those units replaced," said Griffo who added that the utility is "in negotiations with several manufacturers for several different types of EV trucks."
The electric Peterbilt, with a range of roughly 135 miles when fully loaded at 82,000 pounds (electric trucks are allowed an extra 2,000 pounds over the 80,000-pound limit given battery weight), is SCE's first Class 8 purchase and may be the first electric tractor purchased by a utility in the Golden State.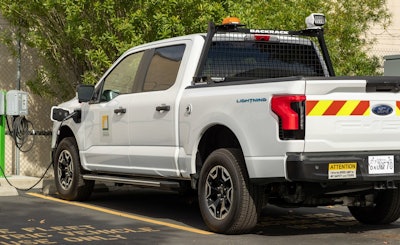 According to the California Energy Commission, which tracks sales of zero-emission medium- and heavy-duty commercial vehicles, there were 113 Class 8 electric trucks working in California at the end of the second quarter last year – its most recent tally. All of these trucks were being used at the ports either as terminal tractors or for on-road drayage transport.
Class 8 zero-emission proponents often point to the ports as an ideal launching pad for both all-electric and hydrogen fuel-cell trucks given their mostly short, predictable runs that align more nicely with the range and refueling constraints that keep ZEVs from being ideal candidates for long-haul.
The thousands of trucks that work at the nation's ports present plenty of opportunities for Peterbilt parent company PACCAR and other OEMs marketing Class 8 ZEVs. Drayage.com, an industry directory that seeks to connect drayage operators with loads, currently lists 6,109 drayage companies in the U.S.
But electric utilities also present a big foot in the door for zero-emission Class 8, particularly for EVs, given the fact that electricity distribution is their first line of business and is expected to grow as tighter emissions deadlines roll closer into view and merge with increasing government subsidies funding both EV acquisition and charger development.
[Related: Electric trucks as a service provide low cost of entry]
There are nearly 3,000 electric utilities in the U.S., according to the Department of Energy, and though collectively they don't have as many Class 8 trucks, they're viewed as big players on the front lines of vehicle electrification.
When asked if they anticipate selling more electric trucks to utilities, Peterbilt marketing manager Patrick Wallace didn't hesitate to answer.
"Absolutely," he said. "We believe more and more utilities will lead by example and show their customers how good the total cost of ownership can be and that as a utility they are ready to support the transition."
PACCAR, parent company of Peterbilt, also markets the electric Kenworth T680E.
"Utilities have entered new markets, selling energy to customers for their cars and trucks," Wallace continued. "It is important for utilities to lead by example and show how a company can transition operations to an electric vehicle."
Benefits and challenges of all-electric Class 8
Peterbilt and SCE think the Peterbilt 579EV is up to the task of replacing its diesel counterpart given the utility's typical duty cycle.
"The 579EV is a perfect fit for Southern California Edison," Wallace said. "It can carry up to 82,000 pounds with a trailer and will be used by Edison to bring equipment out to their job sites. With low maintenance, favorable electricity rates and government incentives, Southern California Edison will benefit from a low total cost of ownership."
Griffo said the utility saved "a lot on diesel fuel" when testing two electric Freightliner eCascadias. Valuable lessons were learned during that time, including the critical notion of driver acceptance.
"Our drivers were impressed with the performance of the eCascadia during the quarter that we were able to test it with Freightliner two years ago," Griffo said. "Quiet operation, less vibration and great low-end torque were among the comments we received."
Charging opportunities, particularly for large Class 8 trucks, proved challenging during that time.
"Availability of truck fast chargers at the time created some range limitations," Griffo said. "We expect to have dedicated SCE fast chargers available along most of SCE's typical material transport routes in the near future to address those concerns. If a driver can charge while taking a lunch break or loading or unloading material it will make a big difference."
[Related: Charging infrastructure challenges with electric trucks]
It wasn't just the lack of chargers that made it tough at times during the eCascadia trial; it was also the lack of accommodation.
"We learned that currently available public fast chargers are not usually configured or positioned for truck use," Griffo said. "Trucks are larger and don't fit very well into public fast charger parking positions at malls, pharmacies or big-box stores."
Range fluctuations also occurred depending on driving style and factors impacting driving conditions.
"We experienced battery ranges that varied based upon driving speed, load and change in altitude during hill climbing from the L.A. Basin to higher dessert areas," Griffo said. "The regenerative braking was a great feature all drivers enjoyed, and they used it as a tool to extend the range of the truck."
SCE will continue to apply lessons learned from working with battery-powered trucks as it pushes ahead to transform its fleet to all-electric.
"SCE has about 100 locations where trucks and vehicles are parked overnight, and we are well on our way to installing chargers at each of those locations," Griffo said. "Today we have many 50- and 100-amp Level II chargers installed for EV pickups and passenger vehicles. SCE is beginning to install 50-amp DC truck overnight chargers, 150-amp light-duty fast chargers and 350-amp truck fast chargers."