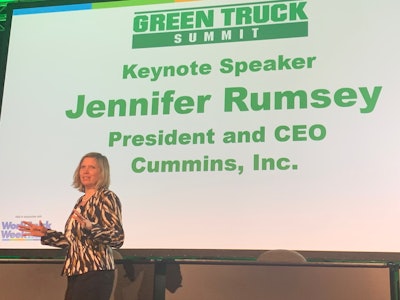 When Jennifer Rumsey was named Cummins President and CEO last year, the century-plus old manufacturer of diesel engines was already in the process of remaking itself. Now, seven months later, she's leading the company's evolution from a provider of diesel power solutions that Cummins invented to a provider of multiple green power alternatives.
Cummins earlier this year introduced its fuel-agnostic 10-liter engine for launch in North America in 2026. Positioned to replace both the L9 and X12, the bi-voltage X10 will roll out first as a diesel-fueled variant intended for both medium- and heavy-duty applications.
Cummins last year acquired Meritor for more than $3 billion, drawn to the company at least in part by its electric powertrain solutions. Cummins had been on the hunt for acquisitions in the emission-friendly space, having in 2019 closed a deal to acquire fuel cell systems provider Hydrogenics and last year picking up a 50% interest in Momentum Fuel Technologies, a natural gas (CNG) fuel system solution for Class 6-8 vehicles co-owned by Rush Enterprises.
Those acquisitions help insulate Cummins from a transformative time in transportation that looms ahead. "You can see a future where the need for engines will decrease," Rumsey said, speaking at the Green Truck Summit in Indianapolis Tuesday morning. "We've done five different acquisitions focused on our New Power Business," Rumsey said.
Cummins' New Power segment was formerly known as the Cummins Electrification Business Unit, and the shift in name reflects the company's shift in strategy; one that will include, yet not be limited to, electrification.
Rumsey noted last year that Cummins invested a record of $1.3 billion in research and technology with an emphasis on decarbonization, adding "we see decarbonization as a growth opportunity for Cummins."
However, that doesn't mean throwing its legacy business away. "We continue to invest heavily in our base engine solutions," Rumsey said, adding the near-term emphasis on Cummins' base business was in decarbonizing it. Cummins acquired Jacobs Vehicle Systems – the grandfather of the Jake Brake – bringing onboard its engine braking and cylinder deactivation technologies.
"There's not one solution that will meet all these customer needs at the same time," Rumsey said of a period of time generally referred to as the messy middle.
"If you look at the trucking industry today, it's pretty challenging," she said, noting there are four important questions fleet operators need to assess in making decisions when adopting new technologies: Can it get the job done? Is it economically feasible? Is the infrastructure in place to support it? Will I be able to have this equipment serviced and maintained?
The march to zero emission, Rumsey said, will take place in phases, and Phase 1 is already underway: focusing on a range of solutions that reduce, rather than solely eliminate, emissions. The second phase, she said, is investing in innovations that advance zero-emission solutions, whereas Phase 3 is a time where those zero-emission solutions are widely available.
What those solutions will be is still up for debate, but Rumsey said battery-electric and hydrogen (in some form) are the most likely winners long-term.
"We really see hydrogen engines and hydrogen fuel cells as complementary to each other," Rumsey said, adding that hydrogen engines may serve as a bridge to fuel cells. "Hydrogen engines by themselves can be zero carbon, but they do have a small amount of NOx. Hydrogen and battery are the two we really think are the broader long-term solutions."
California's 2024 emissions regulations and recently codified Environmental Protection Agency regulations for the 2027 model year pose hurdles for truck and engine makers, but Rumsey cites 2030 as a likely "tipping point for some of these alternatives (powertrain options)."
There are a number of reduced-emissions fuels that can carry a fleet into a period of reduced emissions, but with so much regulatory emphasis on zero emission, Rumsey sees those solutions – like CNG and renewable diesel fuel, for example – as a stop-gap.
"I think many of us would love a zero-carbon liquid fuel that we could burn in an engine today," she said. "You know, that silver bullet."