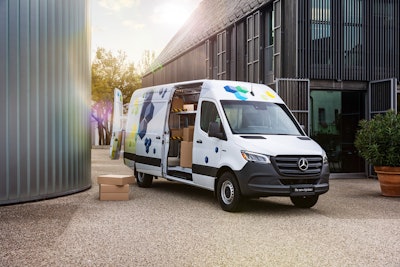 Mercedes-Benz
Mercedes-Benz will join a growing lineup of electric cargo vans in the U.S. with the 2023 rollout of its all-electric eSprinter, and they just might gain a competitive edge by playing it safe with the battery and torque.
Mercedes confirmed that van can be spec'd with a tow package which would give it another edge over competitors Ford and Rivian.
Mercedes recently announced that the all-new eSprinter will be available as a high-roof, long cargo van with "the largest battery available," a 113kWh pack that will provide up to 311 miles of range in the city and 248 miles combined city/highway.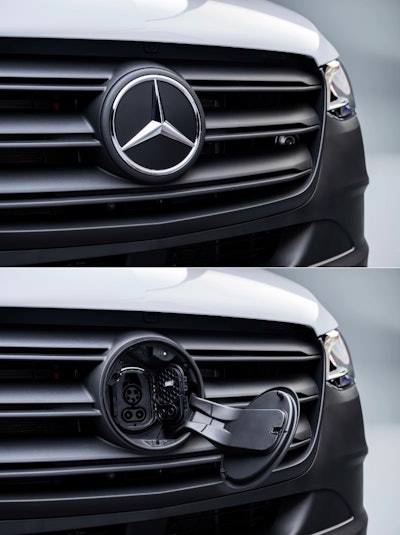 The 23.3-foot van will come with a lithium-iron phosphate (LFP) battery, which the German automaker reports "allows the battery variants to be kept free of cobalt and nickel, while active thermal management ensures maximum efficiency."
[Related: TCA: Long-haul electric trucks not coming anytime soon]
OEMs have been gravitating towards LFP batteries instead of lithium-ion batteries made with cobalt and nickel. According to Cummins, while LFP batteries are less energy dense than cobalt and nickel lithium batteries they do "come with lower manufacturing costs and are easier to produce than other Li-Ion and lead-acid battery types."
They also present a much lower flammability risk.
Fire hazard testing at the U.S. Department of Transportation revealed that "of all of the lithium-ion cells that were tested, LiFePO4 [also known as LFP] would be considered the safest cathode material because of the relatively low temperature rise and the resulting low likelihood for thermal runaway to propagate."
Other EV manufacturers, including Ford, Tesla and Rivian, have announced plans to switch to LFP, but in the meantime, electric vans from Ford and Rivian (Tesla does not offer a van) still use cobalt and nickel batteries, which could help give eSprinter the advantage when it rolls out to dealers in the second half of this year. Ford markets the all-electric E-Transit in five configurations while Rivian offers two models, the RCV-500 and RCV-700.
Like the E-Transit, eSprinter comes with rear-wheel drive only. Rivian's vans are front wheel drive.
Torque with eSprinter comes in at 295 lb.-ft. from an optional 150kW motor (torque for the standard 100kW motor is not listed). E-Transit is slightly higher at 317 lb.-ft., and Rivian's vans dominate at 413 lb.-ft.
Though having more torque has traditionally been viewed as more of an advantage with internal combustion vehicles, instant torque in EVs can increase tire wear according to Continental Tires. Less torque also means less draw on the battery.
[Related: Ford unveils 2022 E-Transit with 40% TCO savings]
Cargo space in the eSprinter is 488 cubic feet while E-Transit, depending on the model, goes up to 487.3. The Rivian RCV-500 and RCV-700 come in at 500 and 700 cubic feet respectively.
Max payload for eSprinter is 2,624 lbs. Numbers on towing and curb weight have not yet been made available. Instead, Mercedes lists eSprinter's gross vehicle weight (GVW) at 9,370 lbs. and its gross combination weight rating (GCWR) at 11,023 lbs.
GVW is "the total weight of the truck and payload," according to National Truck Equipment Association Director of Technical Services Bob Raybuck while GCWR "is the total weight of the truck pulling the trailer and the trailer itself."
Mercedes confirmed that eSprinter can be equipped for towing which gives it an additional edge over Ford and Rivian neither of which list GCWR or towing capacities for their electric vans. Ford towing guidelines posted at fordtransitusaforum.com list the E-Transit "as not recommended for trailer towing."
[Related: Electric Kenworth T680E delivers smooth, powerful ride]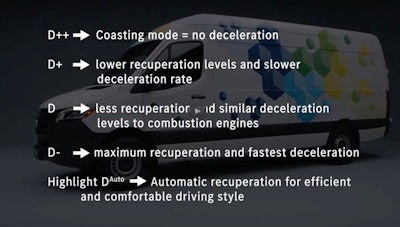 With a max payload of 2,624 lbs., eSprinter falls in between its competitors. The Ford E-Transit gets the top spot with up to 3,880 lbs. max payload while Rivian reports that max payload in their vans ranges from 1,960 to 2,750 lbs. depending on configuration.
Mercedes-Benz has teamed up with ChargePoint to offer home and fleet charging assessments along with help on building a charging depot from the ground up. Access to Mercedes me Charge, one of the world's largest charging networks, will help cover public charging needs.
AC charging from zero to 100% state-of-charge (SOC) at 9.6kW will take 12 to 13 hours. DC fast-charging from 10 to 80% SOC at 115kW will take 42 minutes while charging at 50kW will push that time out to 93 minutes.
There will be an integrated battery warranty and an optional extension as well. Further details will be available closer to launch. An integrated service package covers the costs of the first four services within the first eight years, or up to a maximum of 100,000 miles in accordance with the service manual and manufacturer's specifications.
The all-new Mercedes-Benz eSprinter will be produced in Charleston (South Carolina/USA) and Ludwigsfelde, Germany in the future in addition to the Mercedes-Benz plant in Düsseldorf. Additional features of the Mercedes eSprinter:
Body builder connector
Comfort and Electrically Adjustable Seats (including memory function)
270 degree rear doors with 90 degree stop
Digital rearview mirror
Blind Spot Assist
Active Brake Assist
Mercedes-Benz User Experience (MBUX) multimedia system with 10.25 inch screen
Navigation with Live Traffic capability
nstrument cluster with color display
Heatable steering wheel
THERMOTRONIC automatic climate control
Multifunction steering wheel (e.g. recuperation mode settings)
Smartphone tray with wireless charging
Remote cabin convenience and pre-conditioning
Regeneration Braking D-Auto
Three driving programs (Eco, comfort, max range)
Eco-Assist
Michelin all-season tires