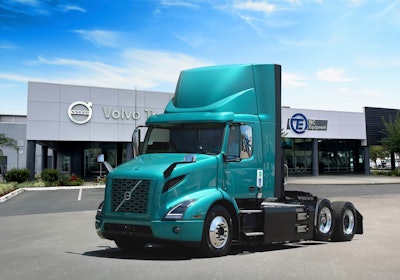 Volvo Trucks North America
It's no secret that the government-mandated march to zero emissions has sparked plenty of controversy and even division along the way.
Last month, to help with that long and challenging transition, the newly formed Clean Freight Coalition (CFC) emerged as a concerned intermediary between industry stakeholders and government agencies that keep dialing up demands for a quicker end to transportation emissions.
A week after CFC made headlines announcing its formation backed by founding members the American Trucking Associations, Truckload Carriers Association, National Tank Truck Carriers, Truck & Engine Manufacturers Association and the American Truck Dealers group, California announced a stricter path to zero-emissions effectively becoming the first government in the world to mandate zero-emission trucks.
The Biden administration followed last week with its proposal at the EPA for increased electrification requirements for both light- and heavy-duty vehicles amid growing concerns over climate change.
[Related: EPA holding hearing on Phase 3 GHG regulations]
As emissions regulations continue to tighten, Commercial Carrier Journal reached out to manufacturers who are members of the Truck & Engine Manufacturers Association (EMA) to gauge their support for the CFC. After all, it's these EMA member companies that have the tough task of developing, testing and marketing carbon-cutting powertrains and trucks. Four of the eight OEMs CCJ contacted responded with comments that are posted below.
Challenging government mandates for cleaner transportation can prove controversial, particularly at a time when companies are being more closely watched by major investment groups regarding their pursuit of Environmental, Social and Governance (ESG) goals.
[Related: Trucking groups respond to Biden's zero-emission proposal]
Ford dropped its membership with the EMA after speaking out last summer against the group's lawsuit challenging California's Heavy-Duty Engine and Vehicle Omnibus Regulation. EMA eventually dropped its suit. Ford did not respond to CCJ's inquiry regarding its decision to end its relationship with EMA.
Of course an OEM's non-participation in this brief Q&A does not necessarily mean that they do not support the CFC. Some simply did not respond to repeated inquiries while others politely declined to comment.
Taking a stand
Twenty-nine manufacturers from around the world are currently listed as EMA members. EMA bills itself in part as "a not-for-profit trade association that represents worldwide manufacturers of internal combustion engines and on-highway medium- and heavy-duty trucks."
CCJ reached out to eight OEMs involved in medium- and heavy-duty manufacturing for the North American market. Cummins, Daimler Truck North America, Isuzu and Volvo Trucks North America responded to the following questions. Some emailed responses took on each question separately while others offered a blanket statement.
1. Does your company support the Clean Freight Coalition's mission to:
· Educate policy makers on the incredible progress the trucking industry has made in reducing emissions and protecting the environment.
· Promote the work underway to reduce greenhouse gas emissions from freight transportation.
· Advocate for sound public policies that transition toward a zero-emission future in a manner that assures affordable and reliable freight transportation and protects the nation's supply chain.
2. Some fleets are concerned that upcoming emissions deadlines do not give OEMs enough time to test and prove-out new clean truck technologies. What are your thoughts?
Cummins, Katie Zarich, director of on-highway communications:
"Destination Zero is our strategy to go further, faster to reduce the greenhouse gas (GHG) and air quality impacts of our products and reach net-zero emissions by 2050 in a way that is best for Cummins and all stakeholders. It's based on our mission because making people's lives better by powering a more prosperous world requires a healthier planet. We recognize that we must work together as an industry to develop and implement practical solutions that help get cleaner technology on the road faster. As such, we appreciate these important advocacy and educational efforts."
Daimler Truck North America, Fred Ligouri, communications manager:
Question 1: "While we're not members [of CFC], in principle, we support their stated mission."
Question 2: "EPA's Clean Trucks Plan sets challenging targets for our medium- and heavy-duty engines and vehicles," said Sean Waters, vice president of product compliance and regulatory affairs at DTNA. "We're ready to rise to meet the technological hurdles of the plan and help reduce emissions from conventionally-powered vehicles even further. This is an important and intermediary step on our pathway to the goal of offering exclusively CO2-neutral (in driving operation) medium- and heavy-duty commercial vehicles by 2039."
Isuzu Commercial Truck of America, Brian Tabel, executive director of marketing:
Question 1: "The overall trucking industry is the backbone of our country and economy, proven during the pandemic. The industry continues to grow and will continue with the expansion of final-mile delivery. We support the need for a cleaner environment and advancement in new technologies to provide a better environment for all of us. The OEMs need time to develop them in a safe and economical timeframe. Along with having the infrastructure to handle and accommodate the demands that the truck and automobile industries will need."
Question 2: "The timelines are very tight to meet these new requirements to prove they will work and in a way for customers to be able to afford the new technology in the trucks. The support that all the different truck associations are providing will help support a realistic timeframe for everyone."
Volvo Trucks North America, Dawn Fenton, vice president, government relations and public affairs:
Question 1: "The Clean Freight Coalition's mission of educating stakeholders and advocating for policies that will help us reach a zero-emission future for trucking is consistent with Volvo Trucks' goals. We have expressed our support for the Paris Climate Accord and agreed to have all of our products be 100% fossil fuel free by 2040. This will be a paradigm shift for the trucking industry. It requires support, understanding and cooperation among many stakeholders who have not traditionally worked together. As a result, we are all learning and need to manage our interdependence if we are going to be successful."
Question 2: "In December, U.S. EPA Administrator Michael Regan signed the strictest-ever regulations on heavy-duty vehicles, which will reduce NOx emissions another 80% from the current standards in 2027. While these will be extremely challenging, we are making significant investments to not only achieve the cleanest possible diesel vehicles, but to also accelerate the availability of zero-emission products in the marketplace."
Editor's note: Should other OEMs choose to respond following publication, we'll be sure to note their feedback above.