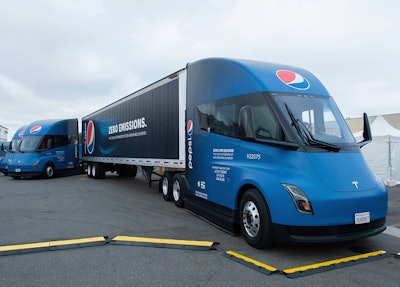 All photos PepsiCo
PepsiCo, the only commercial customer of Tesla's supposedly game-changing Semi truck, has finally opened up about the truck's nuts-and-bolts performance stats, including all-important range and weights.
The news comes as part of the North American Council for Freight Efficiency's Run On Less program. PepsiCo's 21 Sacramento-based Tesla Semis, along with some BYD electric yard tractors and Ford E-Transit vans, have been reporting data back to NACFE at a slow trickle, but now the company has shed more light on its private fleet's adventures in e-trucking.
The Semis in Sacramento "run two different types of routes: long-haul routes that transport between 250 and 520 miles per run and with a gross vehicle weight plus load of up to 82,000 lbs," as well as other routes under 75 miles per day, "hauling a diminishing load that leaves nearly full and lightens throughout the day as deliveries are made." NACFE previously indicated that diminishing load is beverages.
The three specific Semis reporting data to the Run On Less program "are driving slip-seated long-haul transport routes" totaling 19,122 miles since the start of the program on Sept. 11.
Now for the most crucial, previously hidden detail: "Approximately 65% of miles driven during the first two weeks of Run on Less were loaded to a gross vehicle weight plus load of over 70,000 pounds," PepsiCo wrote.
The actual payload figures, how much the truck is hauling, remain a mystery, as does the Semi's tare weight.
Previously, Mike Roeth of NACFE had hinted that the Semi's loads may be slightly diminished due to the EV's increased weight, but that PepsiCo wasn't "gaming" Run On Less with empty trailers. In a press conference, Roeth said it was "hugely disappointing that we're not able to track payload," but that ultimately, even without granular data on how much the Semis hauled, it shed needed light on fleet electrificaiton.
Data from the Run On Less event shows some Semis doing up to 800 miles in one day, but that's with charging breaks, and almost certainly not fully loaded.
So Elon Musk's claim of 500 mile range at 81,000 pounds has not yet been entirely vindicated, but for now PepsiCo sounds like a happy customer.
"In PepsiCo's journey to net zero emissions by 2040, we are constantly looking to scale our impact beyond our own operations," said Todd Squarek, Senior Vice President, Chief Sustainability Officer for PepsiCo Beverages North America. "As we electrify our fleet to reduce our emissions, we've captured insights around infrastructure, charging, training and partnerships that we are excited to share along with metrics captured in the Run on Less challenge."
Tesla Semi's charging infrastructure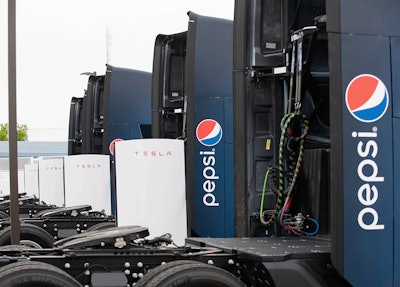 PepsiCo's Run On Less trucks have "demonstrated the capability of megawatt charging in transport operations enabling slip-seat, continuous transportation capabilities with an electric vehicle," the company wrote.
PepsiCo powers the Semis with "four 750-kilowatt Tesla chargers for a total of 3 megawatts of installed charging capacity at a time at the Sacramento facility," on which they worked with their local utility. "The chargers are supplemented with the Telsa Megapack Battery Energy Storage System," it said.
What drivers think of the Semi
PepsiCo has released positive reviews from drivers before, and included one in its most recent press release:
PBNA Sacramento-based Transport Driver Casey Thijon has been driving for 25 years and volunteered to be among the first to drive the Tesla Semi. "People are sometimes still surprised to see a woman driving a Semi, imagine their surprise when it's a Tesla Semi!" said Thijon. "When I started driving the Tesla Semi on my regular business routes, I was getting questions about if it really was working off a charge, how much it could haul and how it felt to drive. Some people thought it was all too good to be true. But, it's been fun to say it's all electric, can haul our regular shipments of beverages and feels great to drive."