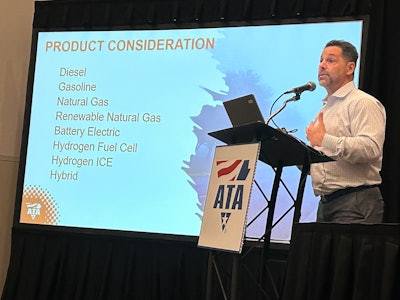 Motor carries as early as next year will need to be prepared for ever-evolving EPA/CARB powertrain regulations – either reduced emissions or zero emission regulations – that will impact fleet purchase decisions over the next four years and beyond.
The California Air Resources Board in July entered into a "Clean Truck Partnership" with the nation's leading truck manufacturers and the Truck and Engine Manufacturers Association that advances the development of zero-emission vehicles (ZEVs) for the trucking industry. The full agreement can be seen here.
The terms of the Clean Truck Partnership include:
CARB will align with EPA's 2027 regulations for nitrogen oxide emissions. CARB also will modify elements of the 2024 ultra-low NOx emission regulations for which manufacturers will provide offsets as necessary to maintain California's emission targets.
CARB commits to providing no less than four years of lead time and at least three years of regulatory stability before imposing new requirements.
Truck manufacturers commit to meeting CARB's zero-emission and criteria pollutant regulations in the state, regardless of any attempts by other entities to challenge California's authority. As such, the OEMs and EMA have agreed that they will not legally challenge or support others' legal challenges to any state's adoption of CARB's regulations.
OEMs also committed to putting "forth their best efforts to sell as many zero-emission trucks as reasonably possible in every state that has or will adopt CARB's ACT regulations, even potentially exceeding any future U.S. EPA Phase 3 Greenhouse Gas requirements, irrespective of the outcome of any litigation that has been filed or may be filed challenging the waivers or authorizations for those regulations or CARB's or any state's overall authority to implement those regulations."
[Related: California becomes first government in the world to mandate electric trucks]
Speaking on a panel discussion Saturday at the American Trucking Associations Management Conference and Exhibition in Austin, Texas, Daimler Truck North America & Detroit Diesel Corporation Vice President of Product Compliance & Regulatory Affairs Sean Waters noted the regulatory climate – both in California other states – is driving not only the development cycle for OEMs but also the decision process for fleets and dealers.
"In order to be successful in zero emission trucks, we have to have product," he said, "and you have to have a total cost of ownership. Electric trucks today are expensive. There's a lot of government incentives but certainly there is a lot of work to do to get the cost down."
Yet cost and the truck itself aren't the tallest hurdles to clear, Waters said. That distinction lies with infrastructure.
"Frankly, this country is not ready yet for charging for heavy duty trucks," he said, noting that trucks can't be charged at home like passenger cars because they require so much power.
To mitigate these limitations most fleets will continue to embrace diesel, albeit in a cleaner format.
CARB's Omnibus rule drives additional technology for model years 2024 to 2026 in California and other CARB states. While CARB expects to harmonize its regulations with EPA's 2027 low NOx rule, Waters said those interim three years "will be tough" as OEMs balance varying regulatory compliance state-to-state.
Before ordering trucks, fleets will have to inform their dealer where the vehicle will be registered and determine whether the California Clean Idle Label is needed.
"I feel bad for Californa fleets and the OEMs and the delaers," said Paul Rosa, Penske's senior vice president of procurement & fleet planning.
Penske is itself in a unique position. It is both a major customer of truck manufacturers and it is a supplier of trucks to many fleets.
"There's not going to be enough trucks," Rosa said. "We're going to relive what happened in '04, '05, and '06 with a pre-buy, and there's not going to be enough trucks to go around."
There will be no fewer than eight powertrain decisions to make, Rosa said – diesel, gasoline, natural gas, renewable natural gas, battery electric, hydrogen fuel cell, hydrogen ICE and hybrid – leaving more frustration and questions than answers. Each fleet is going to require a customized plan to decarbonization, Rosa said, causing many fleets to completely reinvent how and when they spec trucks because considerations like range and weight become more important.
"To think a fleet can make an easy and sound decision quickly... it's not going to happen," he said.
Renewable natural gas, UPS Vice President of Public Affairs Andrew Okuyiga said, has been the Big Brown carrier's most valuable tool to reduce emissions from its fleet of nearly 18,000 vehicles – about 10% of which run on alternative fuels. Okuyiga added UPS has been working to help policy makers understand that there are alternatives to battery electric that can be a more cost effective and a offer more immediate decarbonization solution.
A unified regulatory frame work that would recognize natural gas is needed, said Matt Spears, Cummins executive director of regulatory affairs, because its total lifecycle emissions (from wheel to well) is relatively low compared to battery electric.
"We are trying to advocate for these zero carbon fuels," he said.