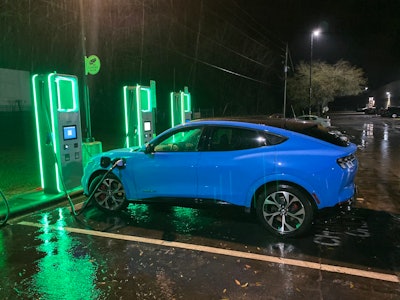 Sergio Rodriguez grew up in a trucking family, helping dispatch rigs for the four-truck reefer outfit his mother owned and operated, and his step-father was a driver for more than 20 years.
He's seen his fair share of long hauls, and this month checked off one of his own.
Sergio capped a six-day, 2,466 mile trip from Santa Monica, California, to St. Marys, Georgia, and managed to do so without a single drop of fuel in the tank – helpful since his Ford Mustang Mach-E doesn't come equipped with tanks anyway.
Ford's first all-electric crossover Mustang went on sale last year, badged alongside the iconic model that gave rise to the pony car segment.
RELATED: Electric trucks face hurdles from the 'cost of technology,' infrastructure
"I reserved the vehicle in November 2019. I lived in California at the time," he said, adding he moved to Georgia in April last year. "I decided once the vehicle was built I would drive it and test its capabilities. I love cars and I love to drive. I couldn't drive a big rig. I don't have the restraint they have for four-wheelers."
The car itself is striking. If there was ever a perfect color on the perfect car, Sergio's Grabber Blue Mach-E is it. But that's the least important part of this story.
Sergio's coast-to-coast fully battery electric run wasn't the first of its kind. Having previously driven his Tesla from California to Georgia while towing a travel trailer, it wasn't even Sergio's first. But that doesn't tamp its significance. It did serve as a showcase that long-distance runs are feasible, and that you don't have to map the Tesla charger network to pull it off.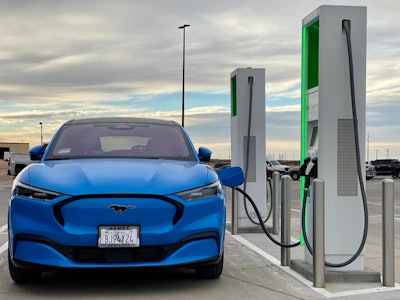 Using electric charging station app PlugShare to plan the trip, Sergio stopped for "fuel" 23 times, hitting his wallet for about $160. The Mach-E's navigation also plotted his stops with charge times, he said. "The navigation system plans your stops based on state of charge. The Ford's navigation system showed me the available fast chargers for the route," he said, adding the Ford Mustang Mach-E can't use Tesla's fast chargers.
Even with Tesla stops out of the mix, Rodriguez's choices were plentiful. The majority of available chargers were Electrify America, "but it showed ChargePoint, EvGo and even Volta," he said.
Charging time varied by station, as "some were faster than others," he said. His maximum time for charging was 38 minutes, but he averaged about 28 minutes across all chargers.
Sergio averaged about 3 miles per kilowatt hour – a very apples-to-oranges equivalent of just more than 101 miles per gallon – at speeds of 70 to 75 MPH.
Sergio's Mach-E is more touring car than commercial truck. Heck, his run in the Tesla was closer to trucking since he was at least towing something. "That was brutal," he said. "I got 90 to 100 miles per full charge. I ran low and had to stop twice. I had my 10,000W generator incase I ended up in a bind."
If nothing else, Sergio's coast-to-coast run proves there is sufficient infrastructure in place for long distance runs if you plan far enough ahead, but he recognizes there are vast differences between what he's done and what truckers do every day.
"Unless a manufacturer can produce a battery pack large enough to produce 700 to 1,000 miles, I think it's going to be a challenge," he said. "I know some manufacturers are claiming around 500 miles with a full load."
RELATED: Ryder set to unfurl industry-first electric vehicle charging infrastructure
Given that truckers have access to a vast network of truck stops, Rodriguez – whose step-sister and her husband are still owner-operators – thinks the infrastructure to support electric trucks could be achieved, but charging speeds would need to be accelerated.
"If it takes more than an hour to recharge, it's not feasible. Drivers that run to the DOT limits don't need an hour or two worth of waiting around to charge up," he said. "If a driver is able to pull into the truck stop, shower, grab whatever they need and the truck be charged, that would be a win."
Additionally, he suggested chargers could also be installed near resting and sleeping areas for topping off.
"Basically, I pull in, connect my charger or chargers, go inside while charging, shower or use the facilities, warm up my meal or whatever, go back outside and my truck is at 80%. I move to the parking area and top off 20% while sleeping the mandatory DOT sleep time," he said. "I'm conflicted on the commercial truck side of electrification. Never did I think I would drive an all-electric vehicle, yet, here I am. Is electric commercial trucking possible? Absolutely, once they get the infrastructure figured out."