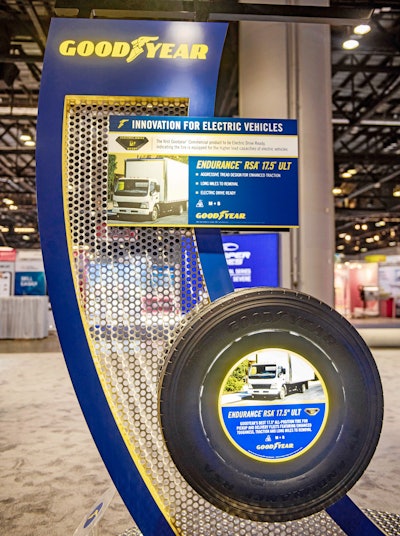 Goodyear
Similar to fuel-saving measures on their internal combustion counterparts, when it comes to maximizing range on electric vehicles, experts advise being mindful of rolling resistance.
"Improving rolling resistance is essential to get the best range for an electric vehicle, that is, the largest possible distance traveled before recharging," said Helmut Keller, Continental's truck tire brand manager for the Americas.
Keller explained that a lower rolling resistance is achieved through a blend of tread compound, tread pattern and the construction of the tire, the sidewall in particular.
"All of these measures need to be carefully coordinated in order to ensure that these tires retain traction, safe handling properties and tire mileage," Keller said.
[Related: Volvo unveils electromobility cost of ownership tool]
Continental offers a tire for electric trucks and buses with low rolling resistance dubbed the Conti Urban HA3.
Bridgestone is also manufacturing a tire for electric trucks and buses that delivers low rolling resistance.
"The R192E offers ultra-low rolling resistance and high load capacity, increasing daily ranges and maximizing vehicle operation on a single charge," said Robert Hamby, director of commercial product strategy, Bridgestone Americas.
Though Michelin does not manufacture tires specifically branded for EV use, they're approach to low rolling resistance for EVs is the same.
"Lower rolling resistance is the X factor," Michelin B2B product category manager Mike Tolman said on the company's website.
Dustin Lancy, commercial product marketing manager at Goodyear North America, said fleets should consider OEM recommendations for load, torque, noise, range and rolling resistance.
"For Goodyear, an easy way to ensure tires meet the specifications for EV is to look for tires with the 'Electric Drive Ready' designation on the sidewall of the tire," Lancy said. "This indicator ensures fleet owners that the tires can handle the heavier load capacities of the electric vehicle needing the extra range and carrying the extra battery weight."
This past March, Goodyear rolled out the industry's first tire developed for electric last-mile delivery trucks, the Endurance RSA 17.7" ULT which is also compatible with internal combustion vehicles.
EV tire wear
The extra weight of an electric vehicle brought on by its powertrain batteries, more powerful instantaneous torque and regenerative braking results in faster tire wear, according to Tolman. On average, tires on EVs wear out roughly 20% faster than internal combustion.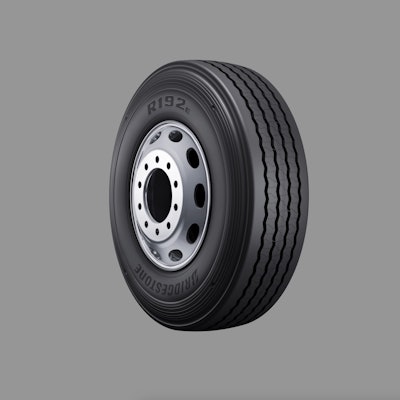 Tire casing life also comes into play given additional vehicle weight.
"Electric vehicles can also have a unique impact on a tire's casing, and the R192E is a good example of utilizing retreading to extend the life of an EV tire," Hamby said. "It features thick tread gauges and an advanced base tread compound to allow for enhanced retreadability."
[Related: No range or payload concerns with Mack's first electric truck]
Keller said shoring up tires to take on the extra weight of an EV is key to longer casing life.
"The additional weight of EVs can be covered by increasing the load-bearing capacity of the tire casing," he said. "This is accomplished using components inside the tire especially casing reinforcement components."
Goodyear has turned to other technologies to help extend tire life on EVs.
"With the Goodyear Endurance RSA 17.5" ULT, the tires were designed with Intellimax Rib Technology that stiffens tire tread, resulting in longer tread life so that truck drivers can experience the same tread life benefits they've always experienced with our Endurance RSA line," Lancy said.
Tim Reeser, CEO of Lightning eMotors, which builds electric powertrains for medium and heavy-duty trucks and buses, said while electric passenger cars experience greater tire wear than ICE vehicles, commercial EVs are subject to different use cases.
"Commercial vehicles are governed by their Gross Vehicle Weight Rating (GVWR) and that rating does not change when it is electric or gasoline, so in practice, the extra weight of the batteries is offset by lower payload, so the vehicle is only heavier when it is empty, which is not the general use case for a commercial vehicle," Reeser said. "Further, most commercial vehicles are not dramatically quicker than their ICE equivalent, so again, this passenger vehicle analogy does not apply."
Monitoring EV tire pressure and driver behavior
Tire pressure has long been linked to fuel economy, traction and treadwear. That's also the case with EVs, though Keller stressed it's even more important.
"Tire inflation pressure is critical for electric vehicles due to two factors: the extra weight carried by the tires and the desire for maximum range before recharging," he said. "Tire pressure management can help with both aspects."
Since EV tires are already more prone to wearing out faster, maintaining proper air pressure should be a top priority.
"Ensuring proper inflation pressure maintains the ideal contact patch of the tire on the road and reduces stress on the components, which improves tire runout and minimizes irregular wear," Helmut said. "It also delivers 20% longer casing life for retreading versus a tire that is just 10% underinflated."
Hamby said air pressure requirements for an EV can vary. "Depending on the EV or ICE and those specific load requirements, additional air pressure may be required to support the load," he said.
While psi requirements vary by vehicle, Lancy said EV tires can have greater air pressure because of vehicle weight.
"We've also observed that some fleets upsize their tires to increase air volume and offset the extra weight on their vehicles," Lancy added. "That isn't always an option but it is a trend we've seen."
In addition to monitoring tire pressure, Reeser said it's a good idea to keep an eye on driver behavior in EVs.
"Lightning leverages our telematics to provide fleets with data on their driver behavior, and then works with fleets to provide specific driver training," he said. "In general, if the driver accelerates more slowly, and decelerates more slowly, the fleet will see better efficiency, better range, and longer tire wear."
Quiet is king
Electric trucks are exceptionally quiet which means any rattles, squeaks and tire noises that were once drowned out by a growling engine are now more easily heard by drivers and others nearby. During a media roundtable discussion in August at Kenworth's headquarters in Kirkland, Wash., executives pointed out how they had new NVH (Noise, Vibration, Harshness) challenges with electric trucks. Kenworth currently offers the electric T680E, K370E and K270E.
"You don't have the shaking. You don't have the diesel motor," said Andy Zehnder, Kenworth's director of fleet sales for advanced technologies. "What you have are things you've never heard before like tire noise. It's very different. There are lots of new things to consider in battery electric."
With tire noise becoming more of a concern on electric trucks, Keller points to the Conti Urban HA3 which he said delivers "a comfortable ride for driver and passengers through extremely quiet-running tread and durable casing for retreadabiilty and enhanced mileage."
MIchelin has also seen growing interest in quieter tires for EVs.
"While it's not a primary factor, drivers and passengers of electric commercial vehicles in our field research have expressed interest in a tire with low tire noise," Tomlin said. "Bus passengers immediately notice the difference when traveling on EV buses vs. conventionally powered buses in city routes. One major city bus fleet discovered that this led to higher passenger traffic on quieter EV bus lines. When we run noise evaluation tests for the interior of cabins, our tires perform exceptionally well for low ambient noise levels."
Goodyear attributes additional tread noise to the extra weight of EVs.
"Another issue we've uncovered with consumer electric vehicles is that the heavier weight and friction on the road tends to create more road noise," Lancy said. "To address this issue, Goodyear has been relentlessly innovating consumer and trucking tires with 'Electric Drive Ready' designation that specifically meet the higher load capacities that EVs require, while reducing road noise."