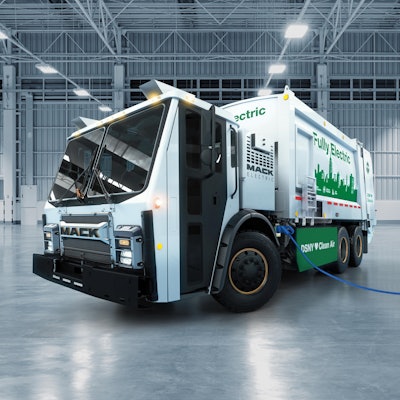 While concerns have been repeatedly raised about the payload and range of all-electric trucks in general, Mack believes the refuse industry will prove to be a good fit for its first battery-powered truck.
Powered by an electric Mack drivetrain, the Mack LR Battery Electric Vehicle (BEV) demonstrator will begin real-world fleet testing in 2020 at New York City Department of Sanitation. The truck was unveiled last week at Waste Expo 2019 in Las Vegas.
"Actual range is dependent on a number of factors, but we designed the Mack LR BEV to complete a typical DSNY collection route without disruption of service," said Curtis Dorwart, Mack Trucks refuse product manager.
The constant stop and go duty cycle particular to refuse hauling will actually help improve battery pack performance while lessening maintenance demands.
"We will likely see similar braking performance compared to a diesel-powered Mack LR model, but do anticipate a significant improvement in brake lining life," Dorwart said. "This is due to the regenerative braking system, which will slow the vehicle without having to use the service brakes and at the same time provide recharging of the batteries."
Dana, a star player in vehicle electrification, has seen a big drop in maintenance requirements for commercial EVs.
"When you take the diesel out of the solution, you're not going to have to deal with the oil changes. You're not going to have the diesel particulate filter," said Harry Trost, Dana's senior manager of product planning for commercial vehicle electrification. "All of that maintenance associated with a diesel. Just that alone is a significant benefit.
"Transit buses have gone from three-month replacement cycles on brakes all the way to three years. We're seeing 60 to 70 percent maintenance reduction with these vehicles," Trost continued.
Dorwart said Mack doesn't anticipate any significant loss of payload or productivity when the Mack LR BEV is deployed on its two-year pilot at DSNY.
The Mack LR BEV is powered by Mack's integrated electric powertrain consisting of two 130-kW motors producing a combined 496 peak horsepower and 4,051 lb.-ft. of torque available from zero RPM. Power is sent through a two-speed Mack Powershift transmission and put to the ground by Mack's proprietary S522R 52,000-lb. rear axles. The Mack LR BEV features a copper-colored Bulldog hood ornament, signifying that it's an electric vehicle.
Mack does not require a specific charger manufacturer for the Mack LR BEV. A 150kW, SAE J1772-compliant charging system will recharge the truck's four NMC lithium-ion batteries (Lithium Nickel Manganese Cobalt Oxide).