Trucking news and briefs for Wednesday, Nov. 16, 2022:
Volvo, Mack to work with Pilot on EV charger buildout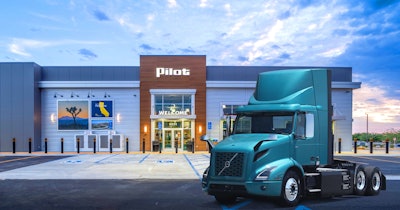 Volvo Group, the parent company for Volvo Trucks and Mack Trucks, signed a Letter of Intent with Pilot Company on public charging infrastructure buildout.
The deal calls on Volvo Group to provide expertise in helping identify which locations should be prioritized for electromobility infrastructure, based on current and expected battery-electric truck adoption, customer charging requirements, as well as the availability of federal and state funding to offset capital expenses, while Pilot Company intends to install high-performance charging infrastructure at select "mutually identified travel center locations" at its Pilot and Flying J travel centers across the U.S.
Mack Trucks currently offers the Class 8 Mack LR Electric refuse model. Volvo's VNR Electric, which has a current range of up to 275 miles, was designed for urban and regional distribution with zero-tailpipe emissions.
Early adopters of both models have leaned heavily on depot/terminal charging to support their daily routes, where trucks return to one location to charge. The introduction of public charging infrastructure that can accommodate medium- and heavy-duty fleets goes hand-in-hand with recent bipartisan support of the goal to increase BEV charging capabilities and reduce the carbon footprint of the transportation industry.
Once deployed, the Pilot and Flying J charging network will be open to heavy-duty vehicles of all brands. Chargers will be located at select Pilot and Flying J travel centers, which are ideally positioned along transportation corridors and are well-equipped to serve professional drivers. Pilot Company recently embarked on a $1 billion 'New Horizons' initiative to upgrade and prepare its locations for the future of travel, further enabling the development of charging networks for both passenger vehicles and Class 8 trucks.
Former FMCSA employee charged with bribery, extortion
A federal grand jury in Houston has returned an indictment charging a former Federal Motor Carrier Safety Administration employee with bribery and extortion.
Patrick Gorena, 54, of Lyford, Texas, was scheduled to make his initial court appearance Monday, Nov. 14.
According to court documents, Gorena was a border investigator for FMCSA. In exchange for minimizing purported safety violations he encountered while auditing a trucking company, which would have exposed the company to potential fines and the loss of their ability to operate, Gorena allegedly demanded a $3,500 cash payment.
The charges allege Gorena ultimately accepted a $2,000 bribe from an undercover law enforcement officer posing as a representative of the trucking company.
Gorena is charged with one count of bribery and one count of extortion under color of official right. If convicted, he faces a maximum penalty of 20 years in prison on the extortion count and 15 years in prison on the bribery count.
A federal district court judge will determine any sentence after considering the U.S. Sentencing Guidelines and other statutory factors.
Carriers set to participate in Wreaths Across America convoy
The convoy to deliver memorial wreaths from Maine to Arlington National Cemetery gets under way Saturday, Dec. 10, and includes, among others, tractor-trailers from 12 different carriers.
The official route, which can be viewed here, will travel down the East Coast stopping at schools, memorials and other locations along the way to spread the year-long mission of Wreaths Across America to remember the fallen, honor those that serve and their families, and teach the next generation the value of freedom.
Stops with public events will be held in Maine, New Hampshire, Connecticut, New Jersey, Pennsylvania, Delaware, Maryland, and Washington D.C., before arriving at Arlington National Cemetery on the morning of Saturday, Dec. 17 – National Wreaths Across America Day.
The Escort to Arlington will include tractor-trailers from:
Gully Transportation
Witte Bros. Exchange, Inc.
Hartt Transportation Systems, Inc.
Delhaize Transportation LLC (DBA Hannaford Supermarkets)
American Trucking Associations – Workforce Heroes
Pottle's Transportation
Cargo Transporters, Inc. (No. 170)
Boyd Grain Inc.
Hampton Roads Moving & Storage
Prime Inc. (No. 16)
Tyson Foods, Inc.
These companies will haul a portion of the sponsored veterans' wreaths heading to Arlington National Cemetery for placement on Dec. 17. Additionally, Load One Carriers (No. 176) will once again serve as the ceremonial wreath transporter for the escort.