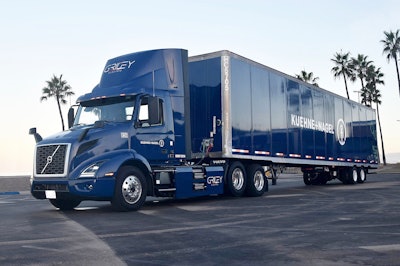 Kuehne+Nagel
What do you do if your company is interested in adding an electric truck to the fleet but doesn't want to endure a long waiting period or invest heavily in charging infrastructure, maintenance equipment, maintenance training or even the electric truck itself?
For longtime global transport firm Kuehne+Nagel the answer was found in Zeems Solutions' fleet-as-a-service. California-based Zeems Solutions is part of a growing lineup of companies offering fleets an easier option for going all-electric without a lot of the headaches associated with buying EVs outright.
OEMs are catching on too, including Mack Trucks with its vehicle-as-a-service (VAAS) program that enables dealers to offer customers a quicker path to getting behind the wheel of their electric LR refuse truck without worrying about diving into costly and time-consuming entanglements that the transition to all-electric can bring. Growing government subsidies extending beyond California are expected to expand the fledgling commercial EV sector where service providers eager to get EVs into the hands of fleets can quickly tackle tough questions and help get piles of paperwork across the finish line.
"There are a number of both federal and state incentives available now, and many more coming, for our customers regardless of the purchase method," said Ryan Saba, Mack Trucks energy solutions manager. "We have a dedicated resource on the Mack team who supports dealer partners and customers with this process."
[Related: Knight-Swift receives first electric Kenworth]
Fleets can start with one truck and opt for a 60- or 72-month lease option backed by Mack's Ultra Service Agreement, which Saba said ensures that "all maintenance and service will be performed by an EV-Certified dealer within the vehicles area of operation."
Mack also supports charger installation.
"We have a full portfolio of strategic partnerships to assist our customers depending on what their specific needs are," Saba said.
Kuehne+Nagel goes all-electric fast
Like a lot of other companies steeped in trucking, Swiss-based Kuehne+Nagel is always looking for ways to cut emissions without harming their bottom line.
With nearly a 100 locations in the U.S., it was in California where Kuehne+Nagel came across more promising zero-emission vehicle opportunities that could help it reach its 2030 goal of reducing CO2 emissions by 33%.
Bill Kascel, Kuehne+Nagel's senior vice president of sustainability solutions in North America, said the company narrowed its search a couple years ago at the Advanced Clean Transportation Expo in Long Beach, California, where Zeems Solutions Co-founder and CEO Paul Gioupis introduced himself and an electric fleet-as-a-service model.
"We were looking for a way to embrace EVs but as a 3PL we are asset light. We do not buy trucks generally," Kascel said. "Paul asked us what our goals were, where we were going, and we basically told him what our achievements were to date and what we were trying to do in the future. And he said, 'Listen, I think I can help you. I can come up with this model whereby your vendors could lease vehicles from me at the same price as diesel.'"
And he did. Thanks to subsidy-rich California, Gioupis was able to offer EVs in a three-year lease to Kuehne+Nagel's vendors at Los Angeles International Airport (LAX) that would put all maintenance and charging on Zeems at their fleet hub in nearby Inglewood.
"When the drivers show up in the morning, they've got a cleaned, fully charged truck. They go out, do their runs, bring it back, rinse, repeat the next day," Kascel said. "We don't take on any of the maintenance costs. These are all inclusive leases."
Kuehne+Nagel's LAX vendors are driving a Volvo VNR Electric, three Sea Electric Hino 195 box trucks and one Lightning 6500 XD built on a Chevy low cab forward platform.
With cargo ranging from chocolate to specialty aerospace parts, Kuehne+Nagel uses the electric trucks to make pickups and deliveries serving regional warehouses and distribution centers within a 60-90 mile radius of LAX. Drivers learn to maximize mileage on a charge with training from Zeems, which helps drivers optimize range through proper use of regenerative braking, while gaining other new operating skills.
"We work closely with our fleet operators to make the transition to EVs smooth and seamless," Gioupis said.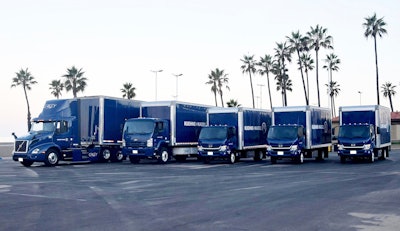 Success at LAX has Kuehne+Nagel looking to put electric VNRs to work in New Jersey in a drayage capacity thanks to Zeems' ongoing expansion plans enabled by growing government subsidies.
"We're looking at not just our air freight and sea freight activities, but also the trucking, the dray, the pickup and delivery guys out there, so this is really another step in us providing our customers with end-to-end CO2-free logistics," Kascel said.
Zeems and Kuehne+Nagel remain in constant contact, Kascel said, which helps them to more quickly determine where they can roll out additional electric trucks. Those roll-outs largely depend on government subsidies like those found in the Inflation Reduction Act.
"One of the great things that Zeems brings us is they're all over that legislation," Kascel said. "They know where, how to file, where to get the funds, et cetera. So as we keep challenging them in different markets, they come back to us with the information and say, 'Okay, not quite there yet. Yes, we think we can do it. This is what will open up in the first quarter of 2023, et cetera.' We would like to replicate the LAX air freight set-up throughout the United States and for that matter, North America, maybe even globally."
The vast reduction in upfront capital and far fewer entanglements that come with installing chargers make the fleet-as-a-service option very compelling Gioupis said.
"To take an [electric] tractor and get out the door is anywhere between a $600,000 to $700,000 venture and about 12 months to actually get done," Gioupis said. "In this case, $15,000 to $17,000, you're rolling out the door with a brand new tractor, fully electric with the charging, the parking and all the services."
Not necessarily a long-term fix
While some fleets, particularly asset light 3PLs, may see EVs as a service an easier way to transition to zero emission vehicles, Mike Roeth, executive director the North American Council for Freight Efficiency, thinks it may be a short-term venture.
Having a third party handle the bulk of the work of transitioning to EVs – including subsidy opportunities, charging, maintenance schedules and even EV selection itself – is nice at first, but for some fleets accustomed to more closely watching and managing truck ownership it could prove to be a temporary bridge.
"I think it has a shelf life to it because if you're a trucking company, you want to make those decisions yourself but right now it's just too much for them to do that," Roeth said.