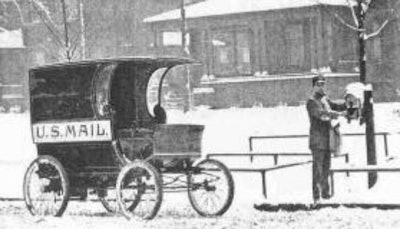 USPS
Dad's work as an electrical engineer at a major corporation for 30-plus years put him in touch with plenty of marketing and sales pitches.
He learned to take new technology with a grain of salt, realizing that promising attributes can also come with their share of challenges. Naturally, it's up to marketing and sales to constantly embellish the positive — sometimes while taking time to carefully address concerns and sometimes not.
It's the over-embellishment of product that led Dad to hold onto a line that he still uses to this day when kidding around about the latest, greatest thing: "Guaranteed not to rot, chip or smell bad!" His carny persona makes me crack a smile and remember to carefully consider all product before buying.
Dad's line started coming to mind years ago when all-electric trucks and vans started gaining more traction at trade shows.
Polished presentations, literature, video and photos played up not only the importance of adopting zero-emission battery-powered vehicles but also reaping the benefits of lower maintenance and reduced energy costs compared to diesel and gas.
Maybe they were onto something? After all, I'm a proud EV owner who will be the first to say that such vehicles require far less maintenance and parts and cost much less to fuel.
Keep in mind that I'm talking about my 1994 Marathon E-Z-Go golf cart. Truth be told, the only things I've had to do with this thing over the past 20 years is replace the tires, fix the light switch, add a new headlight and replace the batteries.
Other comparable equipment we have like the gas-powered riding lawnmower and four-wheeler have brought on more maintenance headaches and have required a lot more time to keep them up and running. The four-wheeler is still parked because of a compression issue.
But ultimately, more money has been spent on the golf cart because of battery replacements. The last go 'round was about $600. The 48-volt system requires six 6-volt lead acid batteries. We're typically getting seven to eight years out of a set of batteries. Pushing battery life can mean sacrificing speed and prolonging charge time.
Battery replacement is something that came up during this year's Green Truck Summit at Work Truck Show in Indianapolis. This year's summit was a lot more candid in terms of EV ownership, which is sorely needed and welcomed.
[Related: Quick spin in the all-electric Nikola Tre]
Dr. Giorgio Rizzoni, director of the Center for Automotive Research at Ohio State University, pointed out that fleets will have to factor in how many battery packs they may require over the life of an EV.
With battery prices on the rise — lithium alone is up 166% from September 2021 according to dailymetalprices.com — fleets have cause to not only be more concerned about battery replacement but also battery lifecycle management.
In other words, when the battery is no longer viable for powertrain use, it can be used for stationary power storage and later recycled. Some fleets may be prepared to take on battery lifecycle management, while others may not, which brings up the possibility of battery leasing.
"There are a lot of options out there that haven't been figured out," Andrew Wrobel, director of auto and mobility at Escalent told the sold-out crowd. "That's one of the big questions: who's going to own the battery moving forward?"
OEMs playing a big enough role?
The Dependable Companies has been on the forefront of electric truck adoption and battery lifecycle management. Dependable uses solar panels to charge stationary batteries during the day that, in turn, charge electric trucks overnight.
Read more about that here.
Once powertrain batteries are past their prime for use in their trucks, Dependable plans on using those batteries in their solar-powered microgrid, which is known as an energy storage system (EES). Get used to that term because you'll be hearing more about that as EVs continue to roll out.
Troy Musgrave, Dependable's director of process improvement said he'll be speaking at the Advanced Clean Transportation Expo this May about the importance of OEM roles in EV battery lifecycle management, a role he said is not well defined.
"We absolutely have to think about that," Musgrave said. "We have to put demands on OEMs. Explain how this is going to happen. How are you going to transfer a truck battery to an EES system? You have to program them to do a different type of duty. The cost to retool this and to make this transition is not easy, and I'm very concerned that they have not given this enough thought."
[Related: Hino rolls out all-electric trucks]
Fleets need to also sharply consider their role in battery lifecycle management. While lithium battery recycling has improved, the process still renders toxic slag. Who's on the hook for that?
When it comes to battery spec'ing, Rizzoni pointed out that fleets need to lean more on understanding the duty cycles of their vehicles and then come up with battery sizes and charging solutions to optimize EV performance.
"Once you can charge at 50kW at home base, you have satisfied about 60% of [work truck] applications. You don't necessarily need a large battery pack," Rizzoni said.
Notice Rizzoni said 50kW — not the DC fast-charge rate of 350kW or more. I wonder why?
"Fast-charging is not good for today's batteries," Rizzoni said, adding that moving forward batteries need to be better engineered "to withstand excessive charging."
It's tough finding a battery expert that actually endorses consistent DC fast charging. Yes, the battery may be able to handle the increased load, but for how long? There's no question that DC fast charging leads to faster battery degradation that can result in more frequent pack replacements.
Cold weather impact on EV range was also addressed at Green Truck. Much like people, batteries like to be at room temperature. Temperatures above and below that comfort zone shorten range so if you're in an area prone to extreme temperatures, then batteries may need to be spec'd accordingly to help make up for the loss of range.
Diminished payload and towing capacities versus internal combustion also came up, meaning that fleets will again have to be careful when spec'ing an EV to replace an existing ICE vehicle to ensure that it's up for the job.
There's no doubt that EVs have been the favorite child at alt fuel shows the past several years so hearing some candid talk at this year's summit about the challenges they present was a welcomed change.
"Last year was all rainbows and unicorns. Everything works. There are no problems," said Todd Mouw, Roush CleanTech executive vice president of sales and marketing. "This year they've recognized that the push is going to be much tougher.
"There's a lot more to get done, which at least that's part of it. I mean at least accept and recognize what the challenges are because then you can put the smart people in at companies to try and solve it," Mouw added.
So true.