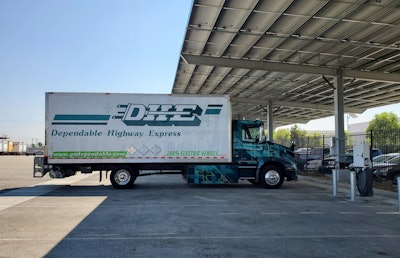 DHE
A 70-year-old trucking company may be offering a glimpse into the future with a solar charging system that can use repurposed lithium-ion batteries to power their building and charge their electric trucks, their employees' cars and other equipment.
As part of the Volvo LIGHTS project, Dependable Highway Express (CCJ Top 250, No. 124) in Ontario, Calif. installed more than 2,300 roof-mounted solar panels that provide an estimated 1.29 GWh of electricity each year.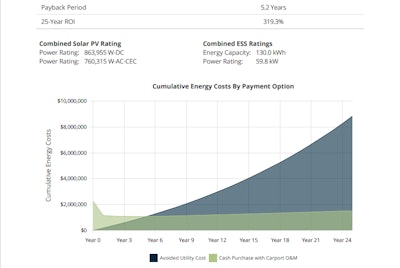 "We are currently charging—with solar renewable energy five days a week—four heavy-duty Volvo electric VNRs, two yard tractors, fourteen forklifts and two employee (plug-in hybrid electric) Prius cars as well as generating the total kWh used by our facility and still have a surplus of kWh," said Troy Musgrave, DHE's director of process improvement.
Surplus power, in turn, is sold to their utility.
"Based on the initial data (two months) I am positive on our decision to invest in solar and eager to explore microgrid solutions to support increased energy demand, managed supply and cost," Musgrave continued.
DHE is currently using new lithium-ion batteries for energy storage and plans on eventually adding batteries from their equipment when they're no longer suitable for powertrain use, which typically occurs when the batteries reach roughly 80% charge capacity.
"The Volvo LIGHTS project includes a future objective to use second-life batteries when they become available from our fleet for additional energy storage systems," Musgrave said. "Today the fleet is new and second-life batteries are not available."
DC fast-charging is rated at 150 kWh which Musgrave said recharges the trucks in about 70 minutes. The microgrid system is a work in progress that DHE continues to evaluate and amend as necessary. Vehicles are charged through the interconnection of utility grid, the solar generating system and battery storage.
[Related: Pros and cons of electric commercial vehicles]
"The battery storage system installed currently was originally planned to mitigate utility demand charges, however, the utility waived them for three years," Musgrave said. "We have re-tasked the battery storage to discharge during on-peak utility hours (4pm-9pm) when the rate is the highest and recharge when solar generation is highest."
DHE worked with Solar Optimum and Chint Power Systems North America to install the grid-connected system which uses two 65 kWh battery banks and two 30 kW inverters. Installation took about 14 months.
DHE estimates an ROI payback period at five years with 319% ROI anticipated in 25 years.
[Related: Quick test-drive in electric Volvo VNR]
"The system was planned for expansion of our ZEV fleet," Musgrave said. "Today it supplies enough energy to offset all energy consumed at our address and has a 50-60% surplus."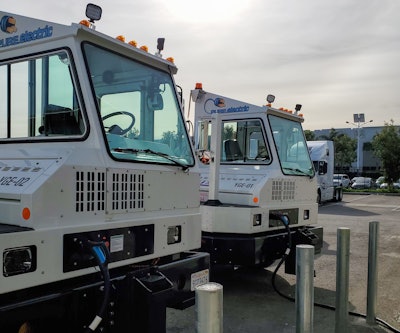 While having a microgrid seems like a viable solution to power outages brought on by such things as severe weather or insufficient grid networks, Musgrave said their "interconnection does not address resiliency. Micro grids look to be a solution to resilient energy supply and require more investigation on our part."
DHE, a division of Dependable Supply Chain Services, provides LTL and FTL transportation, harbor drayage and intermodal services.
This past September, DHE began piloting two Volvo VNR Electric trucks out of its Ontario facility. They've since added two additional trucks, have another one coming in mid-August and have committed to acquiring more in 2022. Operating between 60 and 80 miles daily, the vehicles continue to transport goods between warehouse facilities throughout Southern California.
Through the Volvo LIGHTS project, all of DHE's freight equipment at its Ontario location has been replaced with battery-powered models. In addition to their electric VNRs, DHE is operating 14 Yale electric forklifts and two Orange EV yard tractors.
"DHE is a prime example of a fleet leading the path towards sustainable freight movement," said Peter Voorhoeve, president, Volvo Trucks North America. "DHE's partnership has been critical to the success of the Volvo LIGHTS project over the past two years. We are proud that DHE is planning to deploy additional VNR Electric trucks in the very near future — a true testament to moving electromobility and sustainable transport solutions forward in the trucking industry."
Volvo will continue to view DHE's solar-powered microgrid as an important learning opportunity that could have implications for additional fleets in the years ahead.
"There will likely not be a one-size-fits-all approach, but the DHE system will provide valuable insights to other fleets and be used as building blocks for others to consider when designing a system," said Brett Pope, director of electric vehicles at Volvo Trucks North America.
"There are several other customers looking at the system design and other concepts," Pope continued. "As an industry, there will be the need to test several approaches to understand how to scale electrification at different sites as each site is unique depending upon location, utility rates, regulatory requirements, and other key considerations for their business."
Volvo LIGHTS is part of California Climate Investments, a statewide initiative that invests billions of Cap-and-Trade dollars aimed at reducing greenhouse gas emissions, strengthening the economy and improving public health and the environment particularly in disadvantaged communities.