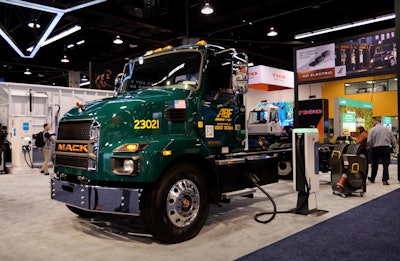 Lawson Rudisill
Get a closer look at the Mack MD Electric as Zachary Bourn, regional vice president for Mack Trucks western region, provides details on the truck which provides up to 220 miles of range if spec'd with the 360kW battery pack. A 240kW pack provides roughly 120 miles.
Bourn points out that range is impacted by various factors like application and driving conditions. For instance, highway driving renders less range since regenerative braking is typically not used as much as it is while driving city streets. The Mack MD Electric is scheduled to roll out in the fourth quarter with full production following in 2024.
Video transcript:
Zachary Bourn:
Hi, my name is Zachary Bourn. I'm the regional vice president for Mack Trucks in the western region. I oversee 11 western states helping to manage overall dealership operations, both from the sales and customer experience network.
This is the Mack medium-duty electric. It was released in March of 2023. It is currently a sister truck to our MD6 or MD7, but fully electrified. We're looking to roll this out to customer's hands in the fourth quarter of this year with full production in 2024.
The MD Electric's three-phase Permanent Magnet Synchronous Motor and all on-board accessories are powered by Nickel Manganese Cobalt (NMC) Oxide lithium-ion batteries, either in a 150kWh or 240kWH configuration.
So definitely as we look forward to getting this truck into customer hands, we're looking at more box van, Reefer, stake bed, where there're going to be in applications where you're doing start and stops in city driving to extend the range as we move forward.
Continuous power, roughly 196 horsepower and 960 torque. The typical charge is anywhere between a hundred to 150 minutes. It depends on the charger that you're using.
The biggest differentiator for the MD Electric is it's got the Mack Bulldog. It is a tried and true Mack truck. The only thing that's different is that it's an electric chassis, so you get everything that comes behind it. We have an ultra service agreement, so we stand behind it for five years, basically bumper-to-bumper warranty, so anything that goes down on this truck, we will stand behind it and we will cover the repair. So it does not differentiate from any other thing that Mack Trucks does.
So there'll be limited production of the MDE in Q4 2023, and then both full production slated for 2024. Fleets, if they're interested in this medium-duty electric should be starting to talk to their dealers, starting to ask for spec content information because we are going to have a limited production in Q4 of 2023 with full production in 2024 for those customers that are interested.
The biggest thing that I would tell a customer out there is go talk to your local Mack dealer. Most dealerships are going through electric certification right now to update, not only their capabilities in their shops, but also in their sales departments as well, as well as behind the scenes within the Greater Volvo group. Specifically with Mack, we have internal resources to help facilitate grant writing, as well as find out where that money is to offset some of the initial costs.