Trucking news and briefs for Thursday, May 18, 2023:
Cummins partners with EV charging supplier Heliox
Cummins announced this week it is partnering with fast-charging solution provider Heliox to provide both the sale and service of EV chargers in North America. The collaboration marks a significant step forward in providing electric vehicle charging solutions for diverse markets and customers, Cummins said.
The agreement will bring both a mobile 50 kW DC charger, Mobile 50, and a stationary 180 kW DC charging system, Flex 180, to market.
The Mobile 50 easily plugs into 480V AC wall sockets and can be used anywhere there is a compatible power source. Its portable design does not require fixed installation, which will save fleets thousands on infrastructure costs as they transition to battery electric vehicles.
The Flex 180 provides up to three dispensers capable of static, sequential and dynamic charging for optimal flexibility in charging for fleets. Dispensing options can come in both plug and pantograph options for transit bus customers.
"We have a storied history of building innovative partnerships that combine strengths to create incremental value for our customers," said Zach Gillen, General Manager of Cummins Sales and Service North America. "Our relationship with EV charging partners builds on this legacy, and we are excited to work together to better serve customers who rely on battery electric technology. It's yet another step in our journey to Destination Zero. Our collaboration with Heliox will deliver a reliable solution to support fleet customers in reaching their sustainability and emissions goals."
The collaboration between Cummins and Heliox reinforces the companies' shared commitment to supporting customers in their transition to Destination Zero and aligns with Cummins Planet 2050 Strategy. Recently, the company launched Accelera by Cummins, rebranding its New Power segment, to bring zero emissions solutions to markets even faster.
"We look forward to working with Cummins to accelerate their efforts to provide electric vehicle charging solutions for fleets," said Michael Colijn, CEO of Heliox. "Charging infrastructure is a critical component in adopting electrified technology, and we're proud to play a role in helping Cummins customers on their journey to zero emissions vehicles."
Both EV charger products are available through Cummins' North America distribution network. Cummins Sales and Service also has the experience to deliver repairs and planned maintenance for EV chargers as it does for power generation products and EV powertrains today throughout its 180+ service locations in North America.
U.S. Xpress recognizes multi-million-mile safe drivers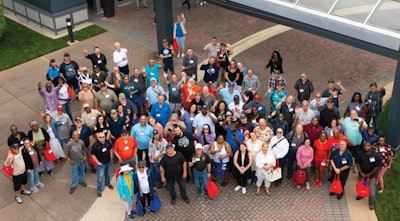 U.S. Xpress (CCJ Top 250, No. 19) recently honored 149 of its truck drivers for more than 218 million combined miles of safe driving. The group of drivers hit these safe driving milestones during the 2022 calendar year and were honored this week in an awards ceremony in downtown Chattanooga, Tennessee, and a reception at the company's headquarters.
"Every year, we look forward to celebrating the professional drivers who are the backbone of our company," said U.S. Xpress President and CEO Eric Fuller. "These professionals all have decades of experience in making goods move better, and it's a privilege to bring them together for a few days of recognition and celebration."
This year, U.S. Xpress celebrated a history-making four 4 Million Milers:
Randy Earl: A back-to-back over-the-road Team Driver of the Year winner, Earl is a longtime trainer who has helped launch successful careers of other professional drivers.
Guy Moore: A professional driver for U.S. Xpress for 27 years, Moore has teamed with his wife, Linda Brown, for 20 years.
Robert and Kendra Kennedy: This husband-and-wife duo have been driving together for nearly 30 years and have been with U.S. Xpress all that time.
In addition, U.S. Xpress honored 14 drivers who have driven 3 million safe miles, and 29 drivers for driving 2 million safe miles. Also recognized were seven Drivers of the Year, and one Trainer of the Year.
Drivers with 3 million miles to their credit include:
Carol Bell
Charles Lemmons
Domingo Sanchez
Donavon Cooper
Donet Benwarisingh
Herman Littig Jr
Jimmy Caudill
Lewis Benwarisingh
Linda Brown
Sita Sierra
Timothy Keiter
Tolly Taliaferro
Tracasa Cooper
William Siters
The Million Miler celebration is a two-day event hosted by U.S. Xpress for drivers and their guests, which has been a company tradition since 1995. In addition to the awards ceremony, drivers were celebrated by office employees in an Honored Driver Walk of Fame and breakfast at company headquarters followed by an afternoon of activities and socializing in downtown Chattanooga with office staff and company leadership. Each driver also received a personalized award and company merchandise, including Million Miler jackets.
Carrier Transicold adds electric reefer units to BluEdge service platform
Carrier Transicold's BluEdge service platform now offers fleets protection from expenses related to premature failure of transport refrigeration unit (TRU) batteries, provided that the TRU is supported by a Carrier Transicold solar charging system.
During extended dwell periods, even fresh TRU batteries can be drained by current draw from peripheral devices, the company said, including telematics systems that are now widely used by fleets.
"Our TRU Battery Protection option helps avoid a leading reason for emergency call-out service, premature battery failure because an out-of-service TRU simply ran out of fuel and couldn't charge the battery via its alternator," said Stuart Johnson, BluEdge Commercial Lead, Carrier Transicold. "Solar panels maintain battery charge without requiring the TRU to run, saving fuel, ensuring uninterrupted performance and helping fleets avoid these inconvenient and potentially costly situations."
TRU Battery Protection requires a Carrier Transicold unit to have:
A BluEdge Core or Elite service plan
A PowerRush wet cell or PowerRush Platinum (AGM) battery, both of which are engineered to meet tough cycling demands of TRU applications
A Carrier Transicold solar charging system
The TRU Battery Protection option also extends the standard warranty of PowerRush wet cells from 18 months to two years.
Carrier Transicold's TRU Battery Protection applies to X4 7000 and Vector 8000 series trailer units, Vector HE 19 and 1550 intermodal systems, and the Solara heating unit. Coverage can be applied to existing TRUs already equipped with Carrier Transicold solar charging systems and PowerRush batteries.
FleetPride donates $185k to St. Jude hospital
FleetPride announced it has donated $185,000 to St. Jude Children's Research Hospital on behalf of the company's 2022 Giving Tuesday and employee and customer campaign.
FleetPride's 2022 Giving Tuesday effort on Nov. 29 encouraged customers and employees to make a purchase through FleetPride.com, with a percentage of online sales from that day benefiting St. Jude.
"Giving back to our community is a core tenet at FleetPride, and we are proud to partner once again with St. Jude Children's Research Hospital as the focus of our Giving Tuesday Campaign," said Beth Corl, FleetPride senior vice president of human resources. "We want to thank all of our customers and employees who contributed to our campaign, allowing us to make an impactful donation to St. Jude, to support their important, and life-saving work."