Trucking news and briefs for Friday, June 2, 2023:
Hino and Fuso merging
Daimler Truck's Mitsubishi Fuso brand and Toyota's Hino Motors announced this week the companies will merge and jointly develop alternative fuel and zero emission solutions and autonomous technologies.
Details on the scope and nature of the collaboration including the name, location, shareholding ratio and corporate structure of the new holding company will be decided over the course of the next 18 months. The parties envisage signing of definitive agreements in the first quarter of 2024 and aim to close the transaction by the end of 2024.
"This close collaboration will enable us to accelerate the decarbonization of the transportation industry, creating an even stronger Japanese commercial vehicle manufacturer," said Karl Deppen, CEO of MFTBC. "Under the two well-established brands of Fuso and Hino, we will continue to take a leading role in serving customer needs in Japan, Asia and beyond."
Daimler Truck in April launched its Rizon brand, an all-electric medium-duty truck OEM that will debut with three cab-over Class 4-5 trucks, which was part of the market that Fuso once focused on in North America.
Medium-duty electric Mack now eligible for Calif. HVIP
Mack Trucks announced Thursday that the recently introduced Mack MD Electric model is approved to be a part of California's Hybrid and Zero-Emission Truck and Bus Voucher Incentive Project (HVIP).
HVIP can help accelerate the commercialization of zero-emission trucks by offering point-of-sale vouchers to increase the affordability of advanced technologies. The MD Electric is the second Mack model to be a part of the program. The first is the Mack LR Electric refuse vehicle, which became eligible for HVIP in 2021.
"Mack applied to the HVIP administration to be included in the green funding project to help encourage the further adoption of battery-electric vehicles (BEV)," said George Fotopoulos, Mack Trucks vice president of e-mobility. "Inclusion in this program is another effort by Mack to drive decarbonization, while also helping customers with their purchases."
The MD Electric is approved for an $85,000 voucher, and the LR Electric is approved for a $120,000 voucher through HVIP.
The Mack MD Electric, introduced to the trucking industry in March 2023 during the 2023 Work Truck Show in Indianapolis, complements its highly efficient, diesel-powered MD model sibling. The addition of a zero-tailpipe emissions battery-electric vehicle to the Mack medium-duty lineup also supports the company's long-term sustainability goals.
The Mack MD Electric will be available like its diesel counterpart in Class 6 and Class 7 ratings. The Class 6 model has a Gross Vehicle Weight Rating (GVWR) of 25,995 pounds, and the Class 7 model has a GVWR of 33,000 pounds. Both models are exempt from the 12% Federal Excise Tax (FET). The MD Electric will be produced at Roanoke Valley Operations (RVO) in Roanoke Valley, Virginia, where Mack began production of the Mack MD Series in 2020.
The MD Electric's three-phase Permanent Magnet Synchronous motor and all on-board accessories are powered by Nickel Manganese Cobalt (NMC) Oxide lithium-ion batteries, either in a 150kWh or 240kWH configuration. The MD Electric can be charged through AC or DC charging units. The regenerative braking system helps recapture energy from the multiple stops the vehicle makes each day.
[Related: Mack adding all-electric option to its MD models]
Former Ohio fleet owner sentenced for stealing goods
Former fleet owner and fleet manager Gurtej Singh, aka Gary Bhullar, was indicted by a grand jury on May 18 for his alleged involvement in a scheme to steal from interstate shipments.
Singh was charged with one count of conspiracy to steal from interstate shipments, two counts of stealing from an interstate shipment, and one count of making a false statement. He was the owner of Bhullar Transport Group LLC and former manager at Cargo Solution Express, Inc. (CSE).
The indictment alleged that Singh and others who own and operate several motor carriers conspired to steal cargo from interstate shipments that were supposed to be delivered to Amazon and Bath and Body Works. Singh allegedly directed CSE drivers to stop at the CSE warehouse in Columbus, Ohio, so employees could steal cargo from their trucks.
The employees allegedly accessed the trailers by removing locking mechanisms on the trailer doors, making it appear as though the trailer doors were never opened during transport. Additionally, Singh allegedly submitted a falsified application for motor carrier authority to the Federal Motor Carrier Safety Administration.
Marathon donates tanker truck to CDL school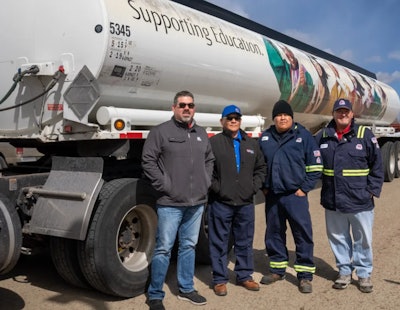 The commercial driver's license program at Navajo Technical University recently added the program's first tanker truck, which was donated by Marathon Petroleum's midstream segment, MPLX, from its existing fleet.
"This cab unit and liquid tank trailer will help the program build capacity and more effectively train students to drive in the energy industry," said Marathon ESG and Stakeholder Engagement Manager V.J. Smith.
Located in Crownpoint, New Mexico, NTU was the first university established in the Navajo Nation and is the largest tribal university in the U.S. The CDL program is a one-semester certificate program that prepares graduates for employment as professional over-the-road drivers and drivers for local companies or to establish their own trucking companies.
MPLX Transport Driver Jonathan Begay, a member of the Navajo Nation whose routes include the area where NTU is located, spoke during the truck donation ceremony.
"I'm proud to be part of a company that is committed to making our shared communities stronger by aiding programs that promote the education and advancement of the local workforce," Begay said.