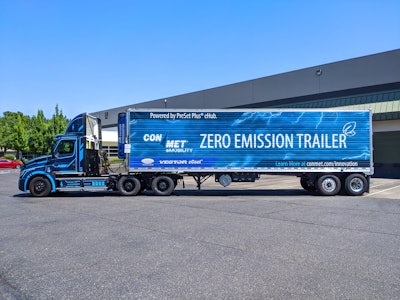 Trailers are the absolute backbone of the trucking industry, and their impact on fuel economy, emissions and wear and tear on the tractor have long been accepted as a price of doing business.
Through the years impressive gains in aerodynamic trailer design have helped improve fuel economy, and now with vehicle electrification gaining more steam than ever before, electric trailer manufacturers are applying some of the same technology used in electric trucks to power the vital equipment that has long been a literal drag on the bottom line.
Two such manufacturers recently made news following their ongoing work in electrifying cargo and reefer trailers.
California-based Range Energy announced last week that its 53-foot electric trailer, the RA, was the first electric trailer approved for an incentive valued up to $80,000 through the California Air Resources Board Clean Off-Road Equipment (CORE) Voucher Program.
RA's battery-powered propulsion, according to Range Energy, improves fuel economy up to 40% while reducing wear and tear on the tractor and trailer. Brake life is extended through brake regen, and the tractor does not have to work its powertrain as hard to pull a load.
Later that same day, ConMet eMobility in Vancouver, Washington, announced that Penske Logistics had become the first third-party logistics provider to successfully pair its electric nMotion TR 160-45 equipped reefer trailer with an electric Freightliner eCascadia. A battery-powered refrigeration system takes the place of diesel, which eliminates emissions while avoiding the high cost of diesel fuel.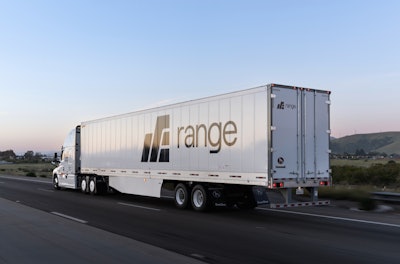 Adding batteries typically means introducing extra weight, and in the case of Range Energy's RA that adds up to roughly 4,000 pounds more than a conventional trailer. ConMet's TR 160-45 weighs in at around 1,800 pounds and according to ConMet Vice President Marc Trahand may not add additional weight because the system will replace a diesel engine and fuel tank.
[Related: CARB, trucking industry partner on clean air goals]
The California Air Resources Board is looking to extend an extra weight allowance currently in place for electric commercial vehicles but not trailers that CARB categorizes as off-road equipment.
"The Zero-Emission Vehicle (ZEV) and Near-ZEV Weight Exemption already allows zero-emission or near-zero-emission vehicles to exceed weight limits on the power unit by up to 2,000 pounds," a CARB spokesperson explained. "California state agencies are considering the impact of the increased weight on roads and bridges and increased congestion and are contemplating requesting the Federal Highway Administration to allow a temporary increase in gross vehicle weight rating to allow for an increase in the weight of advanced technologies greater than 2,000 pounds."
Promising tech headed for court?
Rick Mihelic, director of emerging technologies at the North American Council for Freight Efficiency, said electric trailers are not only bridging the gap to zero-emission freight but also may hint at the future of freight movement. Mihelic moderated a panel on the topic of electric trailers during the Advanced Clean Transportation Expo in May.
"They are a stepping stone to zero-emission freight, especially for those regions that are regulating/requiring eTRU (electric transport refrigeration unit) refrigerated trailers," Mihelic said. "I've seen ConMet's system at prior industry events. It is one of many potential solutions to the challenges of running eTRUs."
[Related: Don't put off CARB compliance]
With autonomous trucking on the rise, Mihelic suggested that electric trailers may have a bright future ahead.
"Powering trailers for their own benefit is a stepping stone to potentially helping the tractor as well in a future transportation world," Mehlic continued. "Combine that with evolving automation technologies and the door opens to perhaps some future revolutionary concepts in vehicle design. A driverless powered trailer or combination unit may become a distant future reality."
Mihelic added that the humble trailer's newfound wheels may also be taking it back to the nation's highest court.
"The Supreme Court legal ruling in 2021 that exempted trailers from EPA GHG HD emissions requirements did so on the conclusion that trailers are not powered," he said. "This, even though the trailer is a clearly constituent part of the performance of the tractor/trailer as a system. If you have some doubts on that, just see SuperTruck 1 and 2, SmartWay and decades of other SAE, TMC and other industry research worldwide on the tractor/trailer as an aerodynamic system. That pretext of the legal ruling begins to get challenged when the trailer begins to use power from the wheels and/or applies power to them. It will be interesting to see where that goes."
Range Energy making drivers 'happy'
Whether it's being pulled in stop-and-go traffic, up a hill or down it, knowing when and how much energy to provide to a trailer's electric axle is key to its success. Too much propulsion, for instance, can provide an unpleasant driving experience akin to bobtailing according to Range Energy founder and CEO Ali Javidan.
The secret sauce for Range Energy rests with the kingpin.
"We put some intelligence in that kingpin," Javidan said. "Then, in real time, we can measure how hard the tractor is pulling on the trailer. If the trailer is heavier, the force is higher and it's all linear. It's all straightforward to measure because we're using physics. We're not taking accelerometers and trying to calculate what things are doing. We're measuring directly, and because we're measuring directly, we get a very high level of fidelity in the signal and a very high level of functional safety, and so we take that signal and send it back to our powertrain."
[Related: Spec the right mud flap for optimum aero gains]
The forward axle in the trailer is powered by a conventional electric axle made by industry icons like Allison or Meritor. A 200kWh lithium-ion battery pack is housed behind the trailer skirt and accepts either AC or DC fast-charging. The battery is also charged through brake regen, which can really come in handy on routes with steep grades.
While testing on a 6% grade in Southern California, known as The Grapevine along Interstate 5, Javidan said the truck traveled at "55 miles an hour up the hill passing every other semi truck and zero brakes on the backside of the hill. All regen. We put over 10 kilowatt hours back in the battery pack through regen.
"The best part for me is the driver was happy the whole time because he had throttle to get up the hill easy, and he didn't have to touch the brakes on the backside of the hill," Javidan continued. "His brakes were cold when he got to the bottom of that hill. So if somebody does pull a move on him or her, they have all the braking capacity they need, and it starts to kind of remove that anxiety when you're driving a truck and trailer."
Electric RA trailers are scheduled to hit the road next year in 2024 with production following in 2025.
ConMet fueled by new TRU legislation
Penske Logistics first deployed ConMet's electric nMotion TR 160-45 in February on a quick service retail delivery route in Southern California.
According to ConMet after covering over 160 miles each trip with eight delivery stops, the reefer has been able to consistently achieve 100% electric TRU run time. ConMet's in-wheel PreSet Plus eHub technology generates power for the reefer whenever the vehicle is in motion.
Following its February deployment, the fleet has completed more than 125 trips, covering over 20,000 miles and 2,500 TRU run hours, while maintaining cold cargo temperature and on-time deliveries.
Trahand said ConMet is initially focusing on electrifying reefer trucks given legislation in California where transportation refrigeration unit owners must turn over at least 15% of their TRU fleet to zero-emission technology each year starting on Dec. 31, 2023. All TRUs in the state are required to be zero-emission by December 31, 2029.
Currently, ConMet's nMotion TR 160-45 provides power for the battery only and does not include a propulsion system. However, that could be changed to meet demand down the road.
"We have a real motor inside the wheel. It's not just a generator. It's a full-blown motor inside the wheels, which allows us to do both things," Trahand said. "When magnets turn over our coils, we get the generation into the battery, but I can also do the inverse. I can take the battery and put energy back into the wheels, and then I'm creating propulsion right at the wheel. So if you were pulling it with a diesel tractor that would help save diesel on the main tractor in that case."
Trahan said they recommend charging the system prior to hitting the road, but there have been cases where customers have hauled loads without charging and have had no issues.
"No melted ice cream yet," Trahand said. "And that's really thanks to how energy dense this product is. We generate a lot of energy."