Trucking news and briefs for Thursday, July 27, 2023:
California gets largest BEV truck charging depot in the U.S.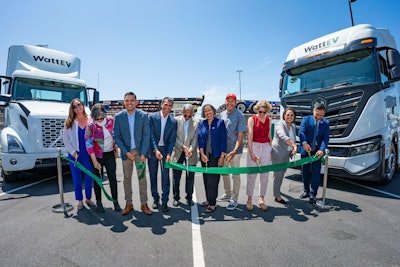 WattEV, a developer of commercial truck charging infrastructure, this week opened the country's largest of its kind charging station for electric heavy-duty trucks at the Port of Long Beach.
"There was a tremendous amount of effort that went into getting this site operational within 14 months," said WattEV CEO Salim Youssefzade. "WattEV has been working on opening four depots in California for the past few years. The Long Beach depot was actually the last of the four to go under contract and into development, but it's the first to open."
The site features 13 dual-cord CCS 360KW chargers with the ability to charge 26 trucks concurrently with 5MW of power provided by Southern California Edison (SCE). It is located directly adjacent to the Pier-A terminal in the Port of Long Beach (POLB) and will serve heavy-duty electric trucks with routes connecting to inland destinations throughout Southern California.
"We also plan to add megawatt charging at this depot which allows pass-through trucks to be charged in 20 minutes," Youssefzadeh said.
The POLB project is the first of several WattEV electric truck charging depots in the works throughout California, including warehouse districts in nearby Gardena, inland near San Bernardino, and north in Bakersfield. The WattEV POLB Depot will serve as the southern anchor of WattEV's planned electric-truck charging freight corridor, which will incrementally connect to major freight routes throughout the West.
Motor carriers that want input on emissions regulations will get their chance, and on the grandest of zero emissions stages: California.
CARB seeks input on Advanced Clean Fleets regulation
The California Air Resources Board (CARB) will hold a meeting Aug. 22 at 10 a.m. Pacific Time to discuss the formation of a Truck Regulation Advisory Committee (TRAC) for its Advanced Clean Fleets (ACF) regulation – a medium- and heavy-duty zero-emission fleet ruleset with the goal of achieving a zero-emission truck and bus California fleet by 2045 everywhere feasible, and significantly earlier for certain market segments such as last mile delivery and drayage applications.
The purpose of the TRAC, CARB said, is to identify best practices for implementing the regulation consistent with the regulation language and facilitating constructive dialogue to address key rule implementation issues.
"We are looking to the TRAC to help fine tune our outreach, training, and implementation strategies and materials, as well as increase awareness of the needs and opinions of affected stakeholders," the agency said.
Those interested can register via Zoom.
CARB last month struck a "Clean Truck Partnership" with the nation's leading truck manufacturers and the Truck and Engine Manufacturers Association that advances the development of zero-emission vehicles (ZEVs) for the trucking industry. The partnership includes flexibility for manufacturers to meet emissions requirements while still reaching the state's climate and emission reduction goals, according to CARB.
Point Pickup Technologies merges with PICKUP Now
Point Pickup Technologies, Inc., a provider of enterprise-only, retail-branded fulfillment and delivery services, is merging with PICKUP Now, Inc. an enterprise-grade, last-mile delivery service focused on larger item delivery and assembly. This strategic partnership creates a national on-demand last-mile delivery provider for retailers with needs ranging from small parcels to big and bulky goods.
Point Pickup is known for its nationwide network of over 500,000 flex workers utilizing proprietary technology to provide white label delivery and pick and pack services for its enterprise clients. PICKUP Now has extensive expertise delivering white glove services for larger items, including furniture, appliances, home improvement goods, and more.
The newly integrated platform creates significant synergies for clients, including a more complete, end-to-end solution for retailer and brand clients with unique delivery requirements across a full range of package service sizes and technology and service needs at a national scale.
Atlas Van Lines names new VP
Atlas Van Lines (CCJ Top 250, No. 63) has named Ryan Parmenter Vice President of Information Technology where he will concentrate on further enhancing Atlas' system efficiencies to provide a secure environment and a customer-centric approach. Along with guiding an experienced technology team, he will lead the strategic technology committee to ensure Atlas remains a technology leader in the relocation and logistics industry.
"With 25 years of experience in information technology, 22 of those years with Atlas, Ryan has proven his ability to elevate Atlas' technology with his relocation and logistics industry knowledge, aligning Corporate, Agent, and most importantly, customer needs," said Ryan McConnell, President and Chief Operating Officer.
Parmenter joined Atlas in 2001 as a software engineer and has held roles of increasing scope and responsibility over his time with the company. During this time, Parmenter provided guidance and enhancement of logistics and household goods transportation systems. In his most recent role as the Senior Director of Enterprise Architecture, he has been instrumental in developing the Atlas digital ecosystem, providing sales, operations, and a financial roadmap for the future.