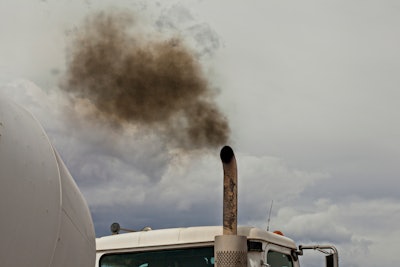 If you haven't started planning for a zero emissions future, Chris Shimoda with the California Trucking Association says it may already be too late.
"This is going to be a little bit of a moving target for the time being," Shimoda says. "But I would not recommend sticking your head in the sand. It's going to happen."
[RELATED: California's desire to set own emission standards is a problem]
Shimoda, the senior vice president for government affairs for the CTA spoke on a webinar Wednesday sponsored by Ryder Fleet Risk Services.
The California Air Resources Board (CARB) instituted emissions regulations and timelines for compliance that started clocks ticking earlier this year. Recently, it came to an agreement with truck and engine makers on the details of some of those regulations, giving companies and manufacturers alike more time to comply in some instances.
But as Shimoda says in the webinar, these are extraordinarily complex rules. Even the provisions and exemptions are complicated. Those who own, operate and maintain trucks in California should all be assembling teams to look at how these rules will affect their operations and locations, he says.
Additionally, Shimoda covered two other regulations that haven't gotten as much attention as the emissions regulations. One is the state's Clean Truck Check, which is similar to passenger vehicles' smog check, just for commercial trucks.
Clean Truck Checks will use roadside monitors and the truck's internal telematics for enforcement, Shimoda says. At the beginning of this year, California began using the monitors and issuing notices to potential high emitters whether it was by a malfunction or tampering with vehicle emissions. In October, truck owners will need to establish accounts and pay compliance fees in the Clean Truck Check database and by Jan. 1, trucks must comply with NST letters and reporting requirements to operate in California. By July of next year, there will be periodic compliance checks from onboard diagnostics.
[Related: California approves 'smog check' regulation for in- and out-of-state trucks operating there]
Shimoda says a certified diagnostics tool will be needed to transmit information to CARB initially twice a year, but, in time, on a quarterly basis. All truck owners need to do is install the tools, Shimoda says, and those tools will report to CARB in the background.
"By design, it's meant to minimize downtime and keep trucks moving in the state of California," he says.
California also rolled out new refrigeration unit regulations starting with 2024. All transportation refrigeration units (TRUs) operating in California must be reported to CARB and pay registration fees. A zero-emissions fleet requirement kicks in at the end of this year, with a 100% requirement by the end of the decade. Trailer TRUs aren't yet subject to this requirement, Shimoda says, but that's coming.
He also says the California Trucking Association is continuing to respond to and parse what these rules mean for the industry in the state and beyond. As he and Ryder's Sarah Wellman, the director of corporate affairs for the Ryder System pointed out, other states have agreed to move in tandem with California on their emissions rules.
"We are working these rules very aggressively," he says, and the association expects to litigate the emissions rules under the Advanced Clean Fleets requirements.
"If the industry can't comply, we need to turn to court," Shimoda says. "In 13 years of doing this, I've never had something so out of the realm of possibility. We really need your help in pushing back. This is the beginning of the journey, not the end."
The complex nature of these rules and timelines means anyone involved with the trucking industry needs to be looking at how they will affect them now. Everyone should expect the rules to be enforced, Shimoda says, whether companies are domiciled in California or not.
"Start today understanding your regulation and compliance options," Shimoda says. "Seek as much expert advice as you can to translate this into your operations."