Trucking news and briefs for Friday, Aug. 18, 2023:
Daimler exec joins U.S. government's Electric Vehicle Working Group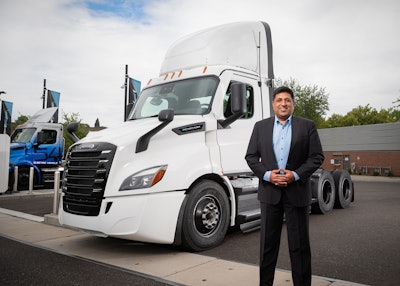 Daimler Trucks North America (DTNA) announced Aug. 17 that Rakesh Aneja, head of eMobility at DTNA, has been appointed to the newly founded Electric Vehicle Working Group (EVWG) by the U.S. Department of Energy and U.S. Department of Transportation.
The EVWG, established by the Joint Office of Energy and Transportation, is entrusted with providing vital recommendations to the U.S. Secretaries of Energy and Transportation for integrating light-, medium-, and heavy-duty electric vehicles (EVs) into the U.S. transportation and energy systems.
By collaborating closely with federal interagency working groups, especially on fleet conversion, the EVWG is looking to ensure effective coordination and insightful consultation. Additionally, the group will regularly report on barriers and opportunities to scale up EV adoption to the U.S. Secretaries of Energy and Transportation and key congressional committees, bolstering informed decision-making.
Under the guidance of the U.S. Secretaries of Energy and Transportation, the EVWG is made up of 25 members, encompassing six federal stakeholders and 19 non-governmental stakeholders.
"I am incredibly honored and enthusiastic to accept the invitation to serve as a Committee member of the U.S. Government's Electric Vehicle Working Group," DTNA's Aneja said. "This is a significant recognition of the strides that DTNA has made in eMobility and underscores our commitment to leading sustainable transportation. I am thrilled to collaborate with this esteemed group and the Joint Office of Energy and Transportation to help shape the future of mobility in the United States."
Bridgestone breaks ground on tire plant expansion
Bridgestone Americas recently celebrated the expansion of its Warren County, Tennessee, Truck and Bus Radial (TBR) Tire Plant located in Morrison with an official groundbreaking ceremony on Aug. 16.
The $550 million investment will add 380 new jobs and expand the plant's existing footprint by 850,000 square feet to support increased capacity and to accelerate the use of advanced technologies that support cleaner, safer and more efficient commercial truck and bus fleets. As part of the expansion, Warren County will be one of the first plants globally to add the capability to produce the company's Enliten technology stack, which is optimized for rolling resistance and wear.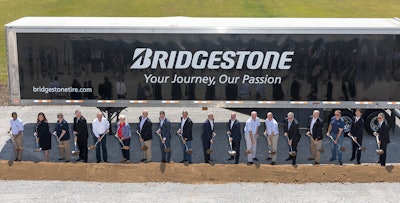 The investment will allow for all tires made in Warren to be equipped with RFID tags that enable more efficient asset management and optimization of fleets' investments in tires, including retreading. The plant will incorporate technology for digital readiness in tires, including the integration of tire-mounted sensors that support advanced, data-driven insights for more efficient fleet management.
Bridgestone will also invest in AI control technology that increases productivity and the application of knowledge and data in a digital manufacturing environment.
The expansion of the 33-year-old facility is underway, with construction expected to be substantially completed by the end of 2026.
Marten names new EVP and CTO
Marten Transport (CCJ Top 250, No. 43) has announced that its Board of Directors has appointed Randall J. Baier as its Executive Vice President and Chief Technology Officer, effective Aug. 15.
Baier has been Marten's Senior Vice President of Information Systems since December 2019 and served as the company's Vice President of Information Systems from January 2014 to December 2019 and Senior Director of Information Systems from April 2011 to January 2014.
He advanced through various professional capacities in Marten's information technology area, including Developer, System Administrator and Database Administrator from April 1993 to April 2011.
"I'm extremely pleased to announce the appointment of Randy Baier as our Executive Vice President and Chief Technology Officer," said Randy Marten, Executive Chairman of the Board of Directors. "Randy will continue to be a key member of our leadership team involved in our strategic business vision and day-to-day operations. Randy's exemplary professional and managerial skills combined with decades of experience are integral to the management of our adaptive and proprietary operating technology by our talented technology people."
Heartland Express recognized by FedEx as Carrier of the Year
Heartland Express, Inc. (CCJ Top 250, No. 45) recently received two service awards from FedEx Express for fiscal year 2023 (June 1, 2022, through May 31, 2023) – the FedEx Express "Platinum Award for 99.98% On-Time Service" and "FedEx National Carrier of the Year" award.
Heartland Express has received the distinguished "Carrier of the Year" award from FedEx Express 16 times in the last 17 years and now 13 years in a row. The company also reached nearly perfect service levels at 99.98% on time, on more than 21,000 shipments during the year, earning the Platinum Service Level for the ninth straight year.
"This year has truly been an amazing accomplishment in a challenging operating environment, and we couldn't be prouder of our professional drivers and our entire team," said Heartland Express CEO Mike Gerdin.