Trucking news and briefs for Friday, Aug. 11, 2023:
Schneider adds electric terminal tractors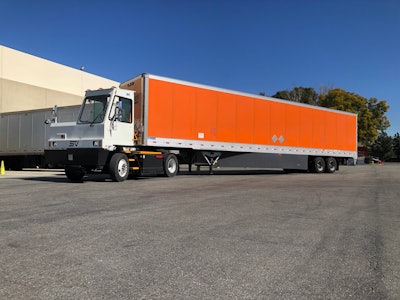 Schneider National (CCJ Top 250, No. 9) is now running two Lonestar Specialty Vehicles battery-electric terminal tractors, further advancing the company's commitment to lowering carbon emissions and expanding its electric fleet, now at a total of 94 vehicles.
The Lonestar S22 electric terminal tractors, which replaced two diesel units, are used to move trailers at Schneider's Rancho Cucamonga, California, cross dock.
Each tractor can run for an entire 24-hour period before needing to be recharged, and a full charge takes an estimated hour and a half.
"Implementing these tractors is a massive achievement as we move toward operating zero-emission vehicles at scale," said Schneider Vice President of Equipment Engineering Jake VandeLoo. "Adding the units is part of our efforts to reduce the carbon footprint."
The new tractors will save an estimated 35 tons of CO2 per truck each year, Schneider said.
"Scaling an electrified fleet requires intensive preparation," said Lonestar President Jay Simmons. "Terminal tractors ensure the barrier to entry is smooth as they are either restricted to yard operations or very short shuttles. When charging is performed on breaks and shift changes in the yard, "range anxiety" and other infrastructure complications associated with over the road vehicles are eliminated."
Schneider's collaboration with Lonestar is another essential investment to support the company's long-term sustainability goals and continuous growth of their electric fleet, now one of the largest in North America, to better the industry and the environment.
[Related: Schneider opens huge zero emission electric charging depot]
NYC installs weigh-in-motion sensors on major highway
Starting Thursday, Aug. 10, newly installed technology will be checking trucks to be sure they are within legal weight limits on a portion of one of New York City's major highways.
The city has installed "weigh-in-motion" sensors to identify and eventually fine overweight trucks on part of the Brooklyn-Queens Expressway.
According to the office of Mayor Eric Adams, under the new automated enforcement program, sensors will determine the weight of a given vehicle on the city-owned portions of the BQE and sync with license plate cameras to issue citations to those found to be in violation of weight limits outlined in state and federal law.
The new program will kick off for Queens-bound traffic with a 90-day warning period beginning Thursday, Aug. 10. Then, beginning Nov. 8, overweight trucks will be subject to a $650 fine per violation.
The weigh-in-motion program on the BQE applies to the section of highway from the vicinity of Atlantic Avenue to Sands Street in Brooklyn.
Infrastructure will be installed for Staten-Island bound traffic this year, with the same 90-day warning period taking place before violations are issued.
A statement from the mayor's office said the new program expands the city's efforts to enforce state laws designed to protect the lifespan of roads and bridges, and it builds on ongoing targeted enforcement efforts by the New York City Police Department as well as city DOT's track record of administering successful automated traffic enforcement programs.
The city's DOT is partnering with the trucking industry to educate truck operators about the new automated weight limit enforcement, with the goal of preventing overweight vehicles from ending up on the city's roadways in the first place. DOT is also working with the NYPD and other partners to identify and target enforcement along alternative corridors that overweight trucks may try to use as an alternative.
Musket adds another DEF terminal
Musket Corp., the trading and logistics arm of the Love's Family of Companies, has added an additional diesel exhaust fluid (DEF) terminal to its portfolio.
The Plymouth, Minnesota, location is Musket's third terminal to open in 2023 and will provide sustainable jobs for the community.
The Plymouth terminal will support bulk DEF demand, as well as packaged goods ranging from 375-gallon IBCs to 2.5-gallon jugs.
Musket's DEF terminals provide convenient and reliable 24/7/365 access to DEF for its customers with supply options to support wholesale distributors, retail outlets and commercial truck drivers, including Gemini Motor Transport, which supplies Love's Travel Stops throughout the region.
Musket currently has 25 terminals across 19 states with plans for additional terminals in 2024.
[Related: Musket opens new DEF terminal in Alabama]