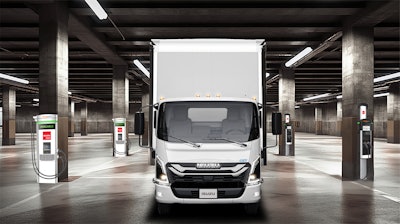 Isuzu Commercial Truck of America has appointed ChargePoint, a provider of networked solutions for charging electric vehicles (EVs), its official source of EV charging infrastructure and software solutions. ChargePoint will also provide training Isuzu's dealers and customers.
Isuzu in March announced it will introduce the NRR EV, a Class 5 battery electric truck, in early 2024 for the 2025 model year. The NRR EV is Isuzu's first all-electric production model. The 2025 N-Series EV features a redesigned cab with revised exterior styling and an all-new interior. It will be the first truck to feature Isuzu's global "cross flow" design that eventually will be applied to all Isuzu trucks in the U.S. and Canada: a fitting distinction since the N-Series EV is the first Isuzu commercial truck introduced simultaneously in Japan, the U.S., and Canada.
"Trying to find a reliable resource for the installation of the necessary charging and electrification infrastructure can be staggering," said Shaun C. Skinner, president of Isuzu Commercial Truck of America and Isuzu Commercial Truck of Canada. "Our relationship with ChargePoint will ease the transition for everyone."
With just over 31,000 locations and 56,000 Level 2 and Level 3 ports, ChargePoint operates the single largest EV public charging network in the United States. Brian Tabel, Isuzu Commercial Truck of America assistant vice president of marketing, noted ChargePoint's scale made the company particularly attractive as a partner.
"Nothing worse than setting up a number of accounts with a number of providers," he said, "so it's best to offer the largest to keep that to a minimum."
Tabel also noted ChargePoint's terminals ease of use. For ease of charging, all NRR EV models will be equipped with charging ports that accommodate the most popular charging connectors in the U.S. and Canada: DC charging (CCS1) and AC charging (J1772).
Under the terms of the agreement, Isuzu dealers will simply need to access a ChargePoint website portal using the dealer's own secure credentials. ChargePoint or one of its channel partners will then work with the dealer and/or customer directly to develop a customized electrification solution and identify available incentives from state and local agencies and utilities. ChargePoint or one of its partners will be able to manage all aspects of the project, from needs assessment through equipment purchase and installation and charging training.