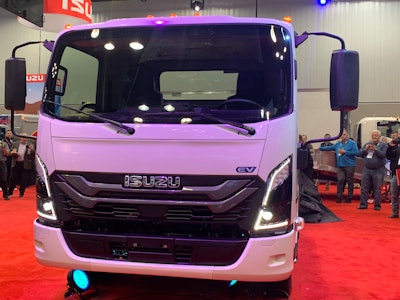 Isuzu joined a crowded battery-electric final-mile field – one mostly filled with commercial vans and startups – Wednesday at the National Truck Equipment Association's Work Truck Week in Indianapolis.
Available in mid-2024 for the 2025 model year, the Class 5 N-Series EV – Isuzu's first all-electric production model – comes with a full 19,500-pound gross vehicle weight rating, wheelbases ranging from 132.5 to 176 inches to accommodate a variety of body lengths, and an all-new cab design. Four battery capacity options will be available, the largest of which enables a range of up to 235 miles. The NRR EV will join N-Series siblings powered by a 6.6-liter gasoline V8 or Isuzu's 4HK1-TC turbodiesel.
To simplify charging, all N-Series EV models will be equipped with charging ports that accommodate the most popular charging connectors in the U.S. and Canada: DC charging (CCS1) and AC charging (J1772).
Powertrain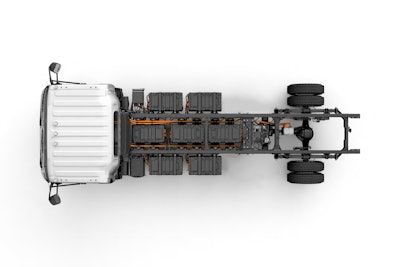 Depending on range needs, the N-Series EV can be powered by three, five, seven, or nine 20-kilowatt-hour, lithium-ion battery packs. Compared to conventional lead-acid batteries, lithium-ion batteries store more energy in less space; are lighter; longer; and don't require traditional maintenance.
Depending on the number of battery packs, N-Series EV trucks will have driving ranges from 41 to upwards of 235 miles. Three battery packs (60 kWh capacity) can facilitate between 41 and 80 miles; five battery packs (100 kWh capacity), 68 to 130 miles; seven battery packs (140 kWh capacity), 95 to 180 miles; and nine battery packs (180 kWh capacity), 122 to 235 miles.
To accommodate multiple battery packs and to provide reasonable charging times, N-Series EV trucks with battery capacities of 60, 100, 140, and 180 kWh, will have an AC Level 2 charging time range from 5.5 to 10 hours and a DC Fast Charging time range from 1 to 2.5 hours.
All new cab, inside and out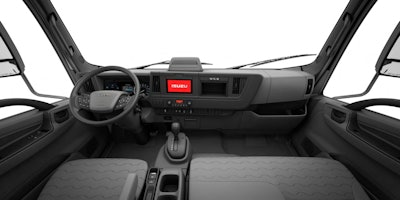 The 2025 N-Series EV features a redesigned cab with revised exterior styling and an all-new interior. It will be the first truck to feature Isuzu's global "cross flow" design that eventually will be applied to all Isuzu trucks in the U.S. and Canada: a fitting distinction since the N-Series EV is the first Isuzu commercial truck introduced simultaneously in Japan, the U.S., and Canada.
Shaun Skinner, president of Isuzu Commercial Truck of America and Isuzu Commercial Truck of Canada, noted the electric model is the company's most aerodynamic model to-date. A lighted Isuzu badge on the front panel is the most obvious sign of a new design and behind that sits a new grille that continues the "smile" theme of previous generations as it directs the flow of air around the sides of the cab.
The all-new headlamp assembly uses energy-efficient LED clearance lights, turn signals, high and low beams and side marker lights. A newly designed front bumper improves cooling performance and reduces repair costs.
The interior of the cab has been designed with driver comfort in mind. Driver and outboard frontal passenger airbags, provided as supplemental protection to work in combination with the seatbelts, will be standard on every Isuzu N-Series EV.
The steering wheel's position and angle have been changed to provide a better fit than previous N-Series cabs and its smaller diameter translates to easier handling, Skinner said. The steering wheel hub will contain switches that operate the new seven-inch color Multi-Information Display (MID), audio system, cruise control, hands-free phone calling and more. The MID is standard equipment on the N-Series EV and houses warning lights; status indicators of driver-assistance features; time and temperature displays; odometer; fuel gauge; shift position indicator and more.
Other new interior features include auto-on/off headlamps; electrically operated climate controls; variable intermittent windshield wipers; electronic parking brake; and driver's seat arm rest.
All N-Series EV models will offer three-across seating with new urethane cushions and upholstery. The driver's seat back will be 30 millimeters higher than prior N-Series seats to accommodate taller drivers, and both driver and outboard passenger's hip points have been lowered 10 millimeters for improved seating position and a more sedan-like feel, Skinner said.
New ADAS capabilities
Isuzu introduced an optional Advanced Driver Assistance System (ADAS) on its N-Series diesel models last year and the 2025 N-Series EV will get a revised package. The optional suite of features includes Automatic Emergency Braking and Lane Departure Warning Systems, which are part of the current N-Series diesel ADAS package. Full-Range Adaptive Cruise Control (ACC) improves on the current ACC feature with its ability to bring the truck to a complete stop and then return it to its original set-speed once the driver presses the accelerator.
The N-Series EV's optional ADAS package will also include Distance Alert System, which notifies the driver when the front of the truck is within a certain distance of the vehicle ahead, offering visual and audible alerts on the MID. Forward Vehicle Start Notification, from a stop, notifies the driver when the vehicle in front of the Isuzu truck has moved forward a certain distance (at a traffic light or stop sign, for example), and also offers visual and audible alerts on the MID.
Mis-acceleration Mitigation engages when starting to move from a stop. If an obstacle in front of the truck is detected and the accelerator is depressed more than necessary, output will be restricted. It also helps prevent or lessen the severity of accidents caused by mistaken accelerator pedal depression.