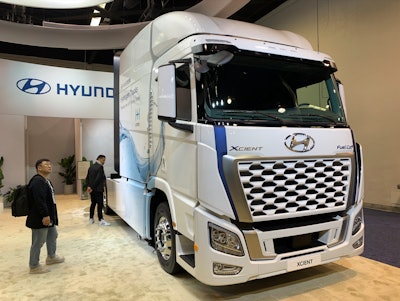 Tom Quimby
Hyundai Motor Company announced Tuesday that it will make its XCIENT hydrogen fuel cell tractor available in the U.S. market next year.
The cabover Class 8 6x4 fuel cell tractor offers up to 450 miles of range when fully loaded and can be refilled in roughly 30 minutes. The truck is equipped with two Hyundai-built 90 kW fuel cell systems that provide power for a 350kW motor that produces up to 1,650 lb.-ft. torque. Excess powered generated by the fuel cells is stored in a 72kW battery.
The truck was displayed this week at the Advanced Clean Transportation Expo in Anaheim, California, where Hyundai's head of commercial vehicle lifecycle management, Martin Zeilinger, reminded a large crowd of Hyundai's long commitment to fuel cell systems.
"Hyundai has been focusing on hydrogen for more than 20 years," Zeilinger said. "Hyundai's advanced fuel cell technology is already in various applications and, especially in the commercial vehicle sector, is showing its powerful performance and reliability."
[Related: Nikola partnership to spur hydrogen infrastructure development]
In addition to passenger cars, Hyundai's fuel cells have been at work in trucks and busses in Europe and Asia.
"The fuel cell bus was launched in South Korea in 2019 and over 330 busses are now in operation," Zeilinger said. "As a successful business case in Switzerland, 47 trucks are on the road with 23 operators since 2020."
Last October, Hyundai announced that XCIENT trucks in Switzerland became the first fuel cell trucks in the world to reach over 4 million miles of real world use in applications like logistics, distribution and supermarket fulfillment.
Other countries where Hyundai's XCIENT fuel cell vehicles are at work include Germany, Israel and New Zealand. XCIENT trucks outside the U.S. offer 250 miles of range. Greater range for the U.S. variant comes through 10 hydrogen storage tanks, Zeilinger explained, which store 68 kg of hydrogen at 700 bar (or roughly 10,000 psi). Hydrogen capacity in the 2023 Hyundai Nexo fuel cell SUV tops out at 6.33 kg. Of course, Nexo comes nowhere close to XCIENT's max GCWR of 82,000 lbs.
XCIENT's capability is front of mind for Hyundai, which also manufacturers all-electric passenger car vehicles but is betting on fuel cell for more demanding applications like Class 8. Since XCIENT offers substantially more range than a Class 8 electric truck, CCJ asked Hyundai's head of global commercial vehicle innovation, Mark Freymueller, if that would win over more fleets.
"Yes, definitely, because for commercial vehicle customers efficiency is crucial," Freymueller said. "In bringing stuff from A to B in the most efficient way, if you are lacking range or if you're lacking payload, or it takes too long to get back to that range [through charging], that's cutting the efficiency. That's why we think that this kind of fuel cell application in the heavy-duty trucking segment is the more appropriate technology."
Hyundai also plans to foster the development of a clean hydrogen ecosystem through a 'Waste-to-Energy,' in which the hydrogen production system uses the biogas extracted from organic waste such as food waste, livestock manure and sewage sludge. The clean hydrogen is applied in various industries, including transportation, construction and power generation. Hyundai is currently demonstrating the concept business model with a local Korean government and reviewing the expansion of the demonstration to cities outside Korea.