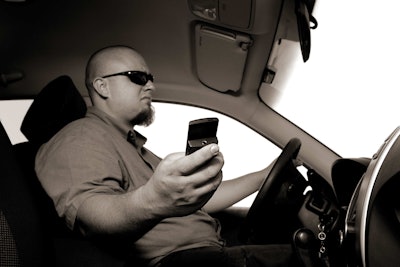 The Department of Transportation announced today, Jan. 26, that it has decided to use its existing regulatory authority to prohibit texting by drivers of commercial motor vehicles (CMVs). The ban, adopted as regulatory guidance by the Federal Motor Carrier Safety Administration, was effective immediately and applies to texting on "handheld or other wireless electronic devices that are brought into a CMV." Drivers who violate the ban are subject to civil or criminal penalties of up to $2,750 per occurrence.
FMCSA is relying on its authority under Part 390.17, which allows additional equipment and accessories on commercial vehicles "provided such equipment and accessories do not decrease the safety of operation of the commercial motor vehicles on which they are used." The agency cited research concluding that drivers who send and receive text messages take their eyes off the road for an average of 4.6 seconds out of every 6 seconds while texting. "At 55 miles per hour, this means that the driver is traveling the length of a football field, including the end zones, without looking at the road."
In a notice of regulatory guidance to be published in the Jan. 27 Federal Register, FMCSA said it acknowledges the concerns of motor carriers that have invested significant resources in electronic dispatching tools and fleet management systems, adding that "this regulatory guidance should not be construed to prohibit the use of such technology." The agency also said that the regulatory guidance should not be construed as prohibiting the use of cell phones for purposes other than text messaging.
FMCSA said it will address use of other electronic devices while driving in a future notice-and-comment rulemaking proceeding. "It is worth noting, however, that while fleet management systems and electronic dispatching tools are used by many of the nation's largest trucking fleets, the Department believes safety-conscious fleet managers would neither allow nor require their drivers to type or read messages while driving," the agency said. "To the extent that there are fleets that require drivers to type and read messages while they are driving, the agency will consider appropriate regulatory action to address the safety problem."
During the September 2009 Distracted Driving Summit, U.S. Transportation Secretary Ray LaHood announced the department's plan to pursue this regulatory action, as well as rulemakings to reduce the risks posed by distracted driving. President Obama also signed an executive order directing federal employees not to engage in text messaging while driving government-owned vehicles or with government-owned equipment. Federal employees were required to comply with the ban starting on Dec. 30, 2009.
"Highway safety is critically important to the trucking industry, commercial vehicles, passenger buses and the motoring public," said Bill Graves, American Trucking Associations president and chief executive officer. "Our nation's highways are the trucking industry's workplace, and we must continue to make them safer for everyone's benefit."
Texting on a handheld phone while driving substantially elevates the risk of being involved in a crash, said Graves, who added that ATA also supports states' efforts to ban texting by automobile drivers. He said ATA will continue to work with affiliated state trucking associations and diverse stakeholder groups to make that happen.
For more information on DOT's efforts with distracted driving, go to www.distraction.gov.