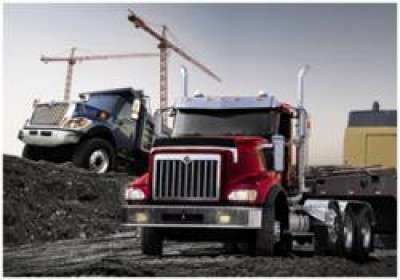 At a press conference at the annual World of Concrete trade show, Navistar International Corp. on Tuesday, Feb. 2, announced a number of customer-centric product enhancements to its International WorkStar and PayStar severe service trucks. The company also formally introduced Continental Mixers as the latest addition to the Navistar portfolio of brands.
New enhancements for the International PayStar and WorkStar models, which will feature MaxxForce Advanced EGR (exhaust gas recirculation) engines, include:
For WorkStar models:
• Heavy-duty diesel WorkStar models (7600 and 7700) are combined into one model with two variations, 7600SBA (46-inch set-back axle) and 7600 SFA (30-inch set-forward axle). Both models will feature a new 113-inch BBC (bumper to back-of-cab) for increased cooling efficiency.
• A crew cab configuration now is available in heavy-duty diesel models, with front axle ratings up to 18,000 pounds for select applications.
• All-wheel drive (AWD) now is available up to 18,000 pounds on front axles on mid-range diesel configurations.
• Steerable 20,000-pound lift axles now are available direct from the factory.
• Now standard on the WorkStar, aluminum fuel tanks improve corrosion resistance and reduce weight.
• HVAC system has been redesigned to improve in-cab comfort and system reliability.
For PayStar models:
• Electronic stability control now is available on all PayStar models.
• 8,000-, 13,200- and 20,000-pound lift axles now are available direct from the factory.
• New 10.25-inch-by-3/8-inch frame rails now are standard equipment on the PayStar 5900 SBA. The 10.25-inch frame rail provides customers with a strong vocational frame in applications where vehicle weight is important.
• MaxxForce 11 and MaxxForce 13 diesel engines will be available in the PayStar in the months ahead.
• MaxxForce 15 will be available in late 2010.
"We continue to focus on meeting the needs of vocational customers by delivering innovative, best-in-class products for a wide range of severe service applications," says Jim Hebe, senior vice president of Navistar's North American sales operations. "With great products, an extensive dealer network and the best after-sales support in the industry, International's severe service lineup continues to be the market leader."
Navistar says the new name of the Continental Mixers company signals a new chapter in the already strong heritage of Continental Manufacturing Co., which Navistar acquired in December 2009. Continental Mixers will offer a full lineup of rear discharge mixer products sold under both the Continental Mixers and CBMW Mixers brands. Continental Mixers will continue to operate independently, with operations based in Houston.
"We're excited to add Continental Mixers to Navistar's industry-leading lineup of vocational purpose-built products," says Steve Guillaume, general manager of Continental Mixers. "Bringing enhancements to what was already a very successful business will provide our customers with the highest level of service and support in the industry."
Along with the new name, Navistar communicated its vision to create one of the largest, most comprehensive and geographically diverse dealer networks in the industry. In addition to current Continental Mixers sales and service locations, Navistar is finalizing plans to add about 30 additional locations throughout the United States and Canada within the year. These locations will be affiliated with existing International truck dealerships and offer a full line of service parts for both mixers and chassis. In addition, service locations will have the equipment and capability to perform comprehensive chassis and body maintenance, from oil changes and tire rotations to complete mixer drum replacement and maintenance.
While Continental Mixers dealerships will provide service and support for integrated mixer bodies mounted to International truck chassis, Continental Mixers will continue to mount mixer bodies and provide comprehensive support on all makes of chassis. The Continental Mixers distribution strategy will provide enhanced levels of service for current customers and deliver an expanded service footprint beyond the Southeastern United States, where products primarily had been sold until now.
"Continental Manufacturing Company built a solid reputation by offering some of the most durable, driver-friendly and fastest-operating concrete mixers available anywhere in the world." Hebe says. "We're excited about taking the best of the company and introducing Continental Mixers to the Navistar family of brands. We have yet another opportunity to provide an integrated, one-stop shop for our customers."